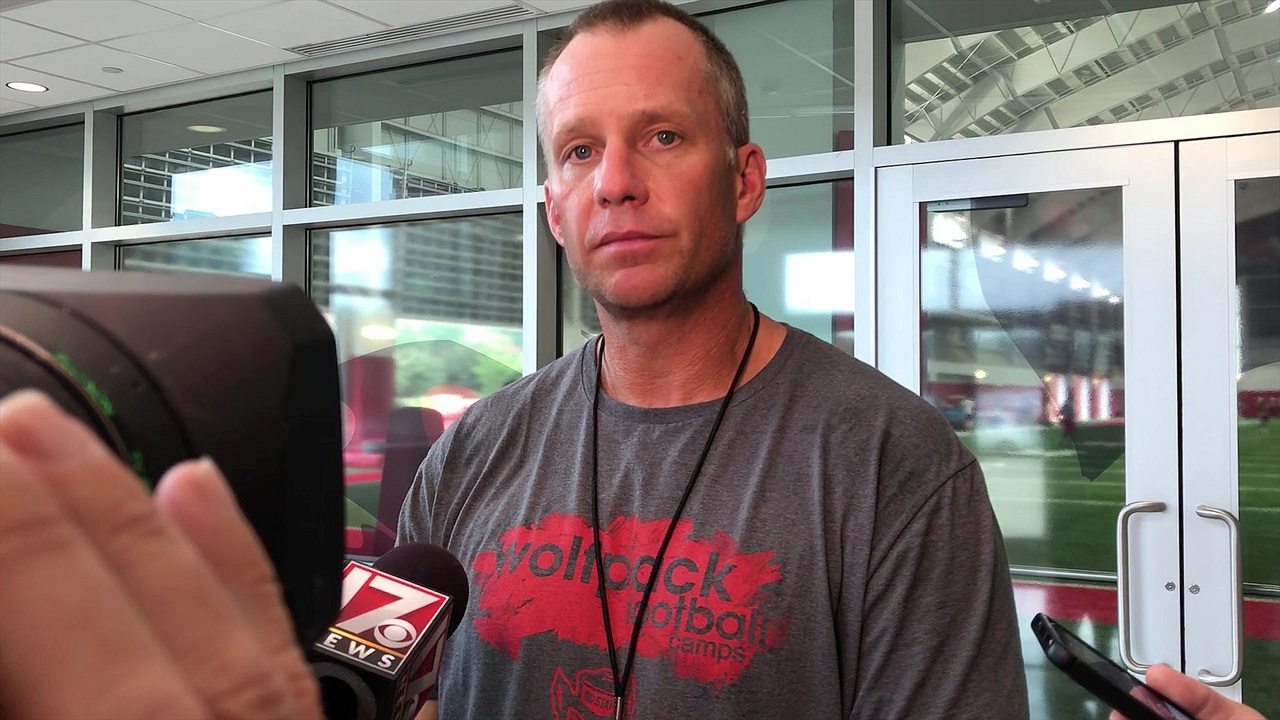 NC State Football
WATCH: Doeren Talks Injuries, Fall Camp, D-Line Rotation
---
NC State head coach Dave Doeren met with the media today and provided a variety of injury updates and position battles.
---
Where are you at right now injury-wise?
We have some guys that are banged up, but we're actually getting back some of the guys now.
There are a few guys that missed significant time like Ricky [Person], and now he's back and practicing. Stephen Griffin is a guy that still hasn't practiced, but we have to get him back out there. Shug was back out there today.
We had a lot of guys that missed, and it helped other guys get a lot of reps. Now those guys are coming back and we have to get the most out of them.
Some of it was not serious, but we wanted to make sure they were full speed when back so we don't have to deal with a long-term nagging deal.
How much time does Stephen Griffin need to be ready?
We'll just have to see.
The good news is he got soaked in the spring. He has played division one football for two years so he's a little different than most guys.
We are excited about what Tanner Ingle and Freddie Phillips are doing over there so it's not a position where we're out of guys by any means. We feel better about the depth there than we have in years.
Getting Stephen back will help us, no doubt. When he's ready he'll be out there.
Thoughts on the defensive line depth...
I think Larrell Murchison and Eurndraus Bryant have done a really good job in camp of solidifying the inside. Shug was, today, the first day he's been out there for every period. It was good to see that again.
We feel like that rotation with Grant Gibson gives us four guys inside.
Now it's really just getting the outside behind James and Darian. We think Ibrahim Kante has done a nice job. We've moved him back out to end. He can play inside or outside.
Deonte Holden has got a lot of reps in camp. It's good to see him healthy for the first time.
Larrell Murchison has made strides... where is he at right now?
He's a different guy. He's in the 290's with his weight and he's playing fast. He was strong when he got here but he didn't play under control. Now he's under control and he's very athletic. He's a quick-twitch guy in there.
I'm really excited with what he's been doing in camp.
Thoughts on the team captains...
Well, they are voted on by the players, first of all, so those are the guys our team looks up to the most.
It's well-earned and deserved because of their body of work over a long period of time. They all have really good stories to tell I think.
They've gone through a lot and are great leaders, really good human beings, and great football players.
Just to see the joy on their faces when they new their teammates looked at them that way was awesome last night.
What type of different responsibilities will they have from past captains in your program?
They won't have different responsibilities.
Their job is to lead our football team and lead us when the coaches aren't around... make sure the guys are doing what myself, the position coaches, and coach Thunder want done.
You talked about Ricky Person's health...
He's healthier. Today he got about half the reps in practice. We're not going to take a guy from zero to 100. He was back out there and he looked good.
Reggie is our starter, as you guys know, and we're still working on who is going to get the ball after him. I think there are options. Nakia Robinson, Trent Pennix, Ricky Person, Brady Bodine, but it's not solidified yet.
How has Kelvin Harmon looked so far in camp?
Really good. Like a grown man... looks really good.
Any position battles still hot right now or has the rotation settled down?
I think the rotation at corner is still going. The good thing is there are a lot of guys making plays.
I was impressed with Kishawn Miller the last couple of days. He's really come on, and Nick McCloud has had a very good camp. Just getting someone across from him... Chris Ingram has been out with a minor deal so we've been able to rep some of the younger guys.
Teshaun Smith is a freshman who has looked really good. He kind of hit the wall today with two-minute and redzone, but he's done some good things out there.
Tomorrow is a day off, first day of school. We'll get the guys back on Thursday and get going.
Where are you guys at with training camp?
Today was the last day of training camp.
We'll use tonight and tomorrow as a staff to finalize our James Madison first down, second-down gameplans, and we'll introduce those to the guys on Thursday. We'll get a little work Thursday and Friday on JMU, and Saturday we'll have a mock game and get going into normal game week on Sunday.
Thoughts on having a great quarterback meshed with great receivers right now...
The chemistry of those guys is special too... when Cary's out there, there's four dudes out there who can catch the football. The guys rotating in at receiver are getting better, and the standard Kelvin, Jakobi, and Steph have set for the younger players is fun to see.
It's a great luxury to have that, and to think where we were, our first year when we couldn't throw a forward pass and didn't have anyone over 6-foot, it's come a long way.
Coach Drink and Coach McDonald deserve a lot of credit.
Did you foresee Jakobi Meyers being this good?
After the first day I knew he could be really good. I didn't know if he'd buy in to being really good.
His skillset, for day one never going through a drill and to watch him run routes and flip DB's hips... it's taken him some time, but you could see it right away with his skillset.
Never miss the latest news from Inside Pack Sports!
Join our free email list