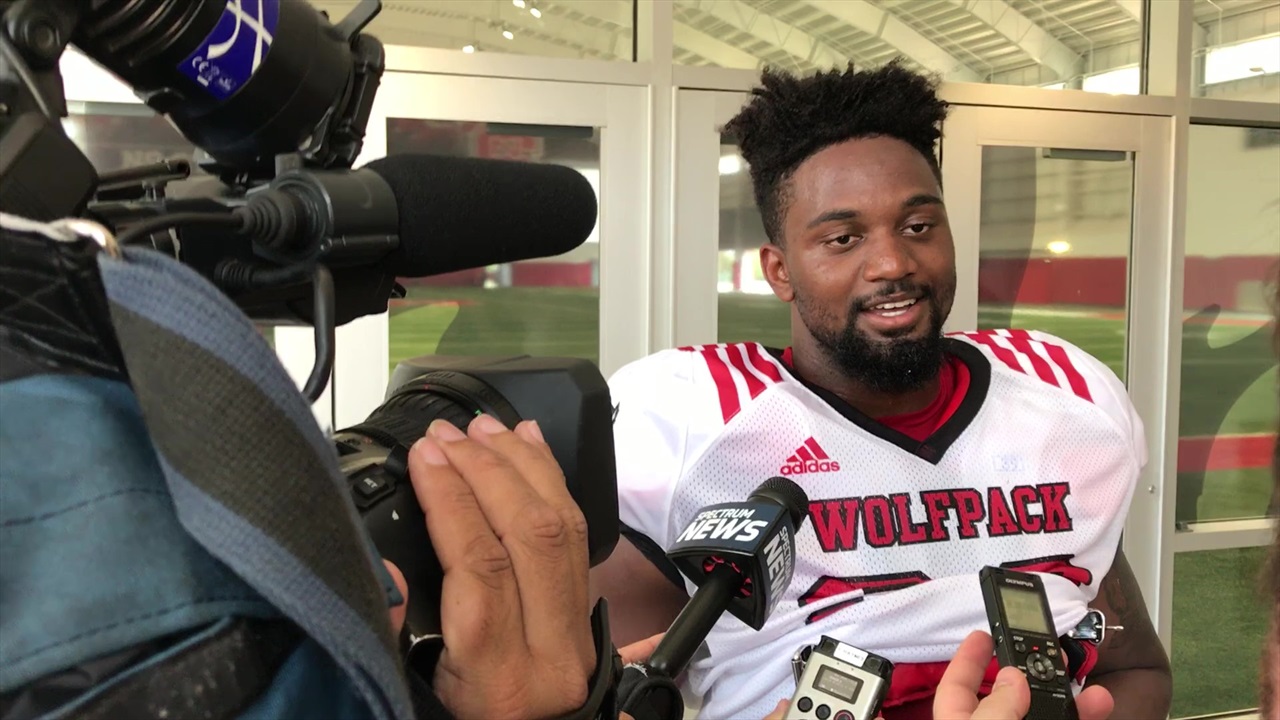 NC State Football
WATCH: James Smith-Williams Seeking Consistency
---
NC State redshirt junior defensive end James Smith-Williams is preparing for a major role in 2018. Here he talks about fall camp and much more.
---
Were you surprised when Bruce Feldman broke out (that Smith-Williams was a physical freak)?
A little bit, but I mean it was a good surprise. Those are always the best ones.
What were the best comments you received from other people after it came out?
A lot of teammates send me the emojis and, "Oh look what you did." and walk around the biggest freak... don't let it get to your head.
At the end of the day we don't lift weights, we play football. That's what matters most.
Why was that surprising to you?
It's a big... high recognition.
I wasn't expecting that, we were just grinding everyday in the summer so it caught me off guard. I wasn't even thinking about that. That's kind of where the surprise came from.
How much do you weight in your senior year at Millbrook?
195... that was about 70 pounds ago.
What has that journey been like?
Tough. It's been a long process, but you believe it, buy into the staff. They got me to where I am today.
How much does the added weight help you?
I think it adds to the durability... being bigger, stronger, faster. We're collisioning every play so being bigger help me win those battles and helps me stay safe... be able to absorb those blows and be able to play.
Were you tried at nickel when you first got here?
Yes, I was a nickel. I was a 6-4, 195-pound nickel.
What goes into being able to make those changes?
You just want to work, you want your shot. As a freshman coming in the plan was to play safety. I played with my hand in the dirt as a defensive end in high school so it's a big change with coverages but you just throw yourself into it.
I got a call one day from Hux... you're going to linebacker. I played well three weeks into camp and then coach Nielsen pulled me to the side and said, "Your future is back where you started, that's with your hand in the dirt."
Bradley Chubb had a similar transition.... does seeing his success encourage you to what can be done?
We've had plenty of guys.
The whole defensive line got drafted, and that's a testament to our coaching staff and the strength staff. if you buy in here you can accomplish a lot.
No. 5 pick overall, that's a huge deal.
Coach said he's noticed your consistency. How have you been able to get into the grind play after play?
A big thing is mindset. Just attacking the day because you want to be here. Talking to yourself and saying, "Hey, it's not hot. I'm here to get better."
It might be 105 degrees, but I can't tell myself that. The biggest thing... mentally has been the biggest battle. Physically, it paid off in the weight room so now it's just showing up on the field.
Never miss the latest news from Inside Pack Sports!
Join our free email list