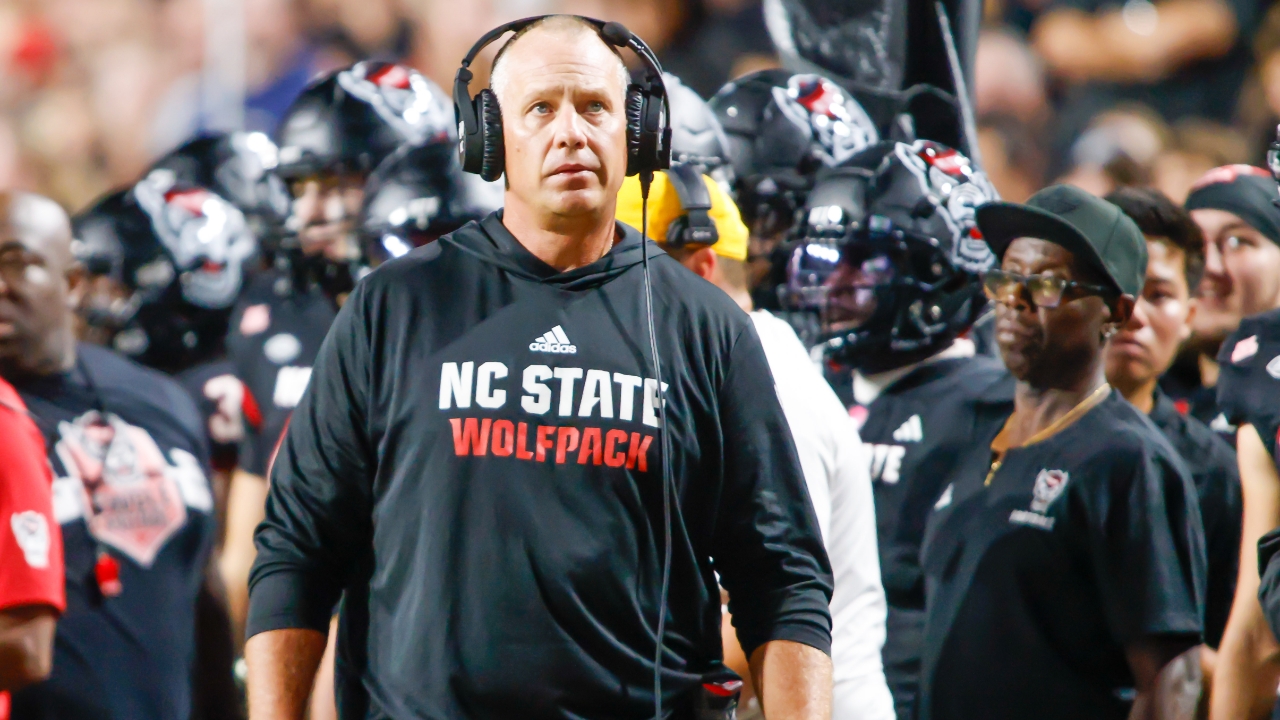 Photo by Steve Murphy/Inside Pack Sports
NC State Football
Dave Doeren: "We Have a Lot to Fix"
September 29, 2023
12,435
---
NC State head coach Dave Doeren met with the media following the Wolfpack's 13-10 loss Friday evening versus Louisville.
NOTE: Click on the video in the player above to watch Doeren's press conference.
---
Opening Statement
It's a very, very tough locker room right now. There's really not a whole lot to say. The defense played extremely well. The offense did not. It's pretty obvious what the issues were, between penalties and turnovers. I thought we played a pretty good first half, and the second half just wasn't good enough. There were some inopportune penalties and some tough calls. We have a lot to fix. This is a tough football team. They're good kids. We'll go back to work with them. I'm not going to be able to give you the answers without watching the film.
On bringing the team's confidence back up after this loss…
It's going to be tough. [Brennan Armstrong] is hard on himself, first of all. Nobody feels worse than Brennan does right now. We have work to do with the whole team, and I know he's going to own his part of it. There were a lot of things that happened around him that made it a hard night at that position, too. Every player has a part in a win. Every player has a part in a loss. There are a lot of things we have to improve on. It's football. You start blaming the head coach first, and then after that, you go to the quarterback. That's what people do. I understand that. That's the sport we're in, but that's not what I'm going to do. I'm going to get in there with these guys and try to help them get better.
On Sean Brown's impact on defense…
Sean's playing well. He played really well last week, too. It's unfortunate that he was ejected on that hit. I thought it was a great tackle. He's playing really well. He's a great team player, too. Whatever you ask him to do, he does it as hard as he can.
On Payton Wilson…
Payton's playing at a high level, and [he's doing] whatever we ask him to do. He said a lot of great things on the sideline during the game, encouraging his teammates in the locker room. He said some really powerful things down there to the team. He's playing a high level, and he's leading at a high level.
On having leaders like Wilson after a loss…
These [losses] hurt a lot. These guys are going to have a lot to do with what happens next. Like I told them in there, good teams stick together in tough times. It's easy right now for people to want to point fingers because that's what everyone on the outside is going to do, and I understand why. As a team, you can't do that. You have to stick together. You have to pull for each other, and you have to get better in the areas, and as coaches, we have to do an incredible job at helping them through that and putting them in the position to be more successful. That's what our responsibility is. Theirs is to execute. The leadership is going to be tested. Like I've told our team from the beginning, leadership is most profound in the most difficult situations. That's when leaders really step up. It's easy to be a leader in good times. We're going to need those guys to do that now.
On receivers not getting open versus pass protection failing…
There are a lot of things that happened. We got beat in pass protection multiple times. There were some blitzes that came free. There were times where we were not open, and there were times where there were guys open, but Brennan couldn't see them because of the pass rush. I know when you're in the stands, you see a guy open, and you're like, "Throw it to him." He might have a guy in his face, and he can't see him. Sometimes, that happens at the quarterback position. Again, [it's hard to assess] without really seeing the tape and knowing all those things as they happened in real time. I'll be able to give you a lot better detail in my press conference. From the sideline, they played a lot of man coverage. We weren't always open. There was a lot of pressure, and we were behind the chains too much. Whether it was a penalty that put us back there or negative plays, we were in a lot of bad down-and-distances, and that's tough on offense.
On what the offense can do to get better down-and-distances…
You can't beat yourself. The pre-snap penalties that we had, the holding penalties which are technique-oriented, those things hurt quite a bit. There were times where we were efficient and got second-and-one, but then the next play, we'd get a holding penalty. Our short-yardage has been good this year. That really hasn't been a problem. There are so many things that we've got to get better at. I could sit up here all night and talk around it, but until I study the film, I'm not going to make statements on what all those things are and be wrong. It's obvious; when you play this game, there's 11 guys out there, and they all have to perform well. There were certain routes where our receivers didn't release the correct way. They should've gone outside; they went inside, so now they're in the vision of where the throw was going to be on the No. 2 receiver. There's just a lot of things we need to clean up.
On taking positives away…
That's what we'll do as coaches. We'll sit down and show them what we did well and what we'd like to continue doing. There were a lot of good things on that side of the football, and we'll work really diligently on the things that weren't. It starts with us as coaches: "what do we have to do better?" You look at the personnel: "what does the personnel have to do better?" That's on us to get that right, and then it's on the kids to go execute it.
Never miss the latest news from Inside Pack Sports!
Join our free email list