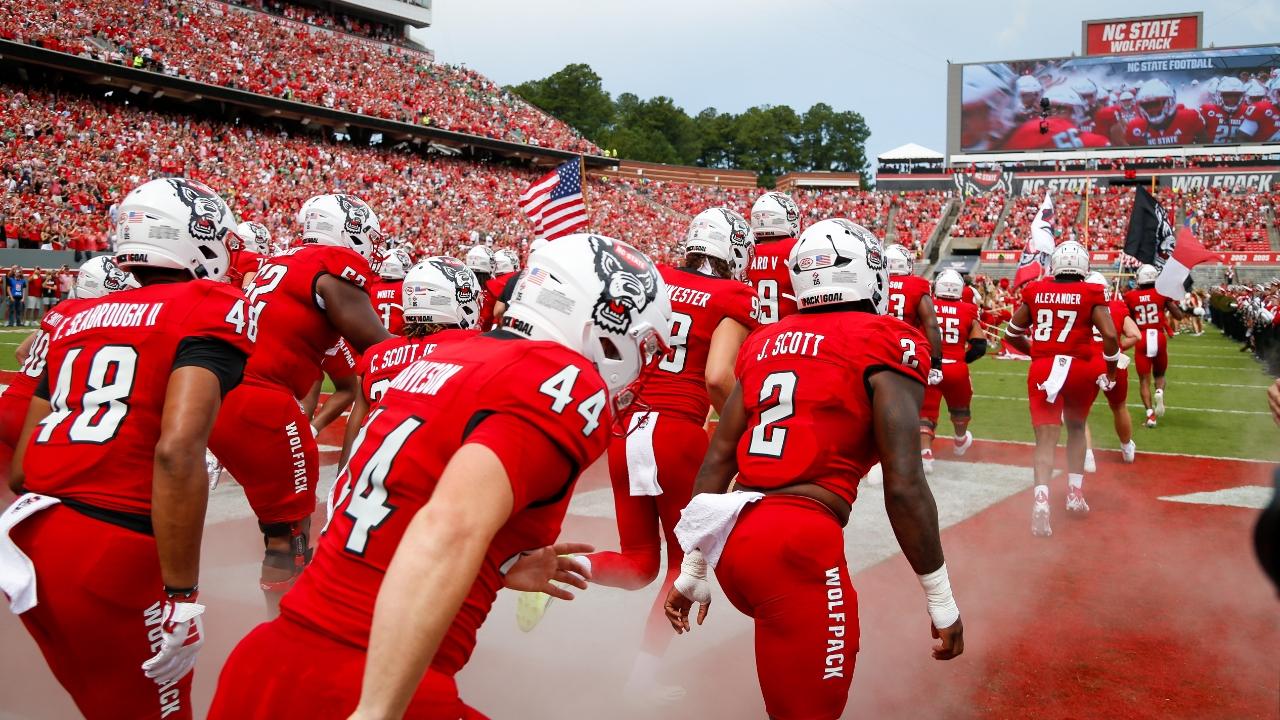 Photo by Steve Murphy/Inside Pack Sports
NC State Football
OUR FINAL TAKE: NC State vs. VMI
September 16, 2023
22,008
---
Several members of the Inside Pack Sports staff predict the winner of the NC State-VMI matchup.
---
James Henderson (IPS Publisher)
State 45, VMI 10
Pack rolls... no need to spend a lot of time on this one.
Steve Williams (IPS Football Recruiting Analyst)
State 38, VMI 10
I'd love to see the Pack put up 40+ but I just don't know if we're there yet. In any event, this is a game that the Pack should cruise in. Just focus on getting better and let's get out of it healthy.
Bryant Carson (IPS Football Analyst)
State 41, VMI 17
I'm hoping 17 points is way too high a number for VMI to achieve, but I'm baking in an offensive mistake or a defensive miscue that gives away an easy score or excellent field position at some point. Past that, I think State takes care of business in the 1st half and then sets cruise control early in the 3rd.
Phillip Danford (IPS Football Analyst)
State 42, VMI 7
Sitting 1-1 after the first two games isn't a surprise to most. But it's the missed opportunities and mistakes from these opening games that lingers for many. This is a chance to put on film a crisp performance, from both sides of the ball, and truly dominate an opponent.
I think NC State should be looking to define positional hierarchies and rotations during this game. Play a clean contest and hopefully come out injury free, as the true goal of a conference championship gets underway next week.
Rob McLamb (IPS Writer)
State 45, VMI 7
It is hard to imagine a scenario where NC State does not score at least 40 points in this contest. Will it just be a situation of sheer manpower dominating an inferior opponent? Or will the Wolfpack find some value in the game -- such as developing an offensive identity, finding the players who get the bulk of time on the field, finding the skill players who are the top threats for explosive plays, and limiting explosion plays from the opponent, among others.
The value of this win (and it absolutely should be a comprehensive victory for NCSU) will be determined by how well NC State does at Virginia, against Marshall, and so on.
Alex Gee (IPS Analyst)
State 45, VMI 0
141-3 is the combined score of the last three FCS games N.C. State has played.
Coach Doeren isn't prone to running the score up in these games. I expect a big first half, 35 or so points, and then taking the foot off the pedal and becoming very basic in the second half. This game is all about chemistry. From a player's perspective, I'm sure State is still very confident.
The locker room doesn't ebb and flow like fanbases do. That's why I'm looking to see State execute at a high level and progress the chemistry between QB and WR, LB and Safety, etc.
Jake McSwain (IPS Writer)
State 45, VMI 7
Let's not over think this, State is going to win and it will be in a dominating fashion. I'm looking for the offense to establish some positive momentum and come out swinging.
Jake Caccavaro (IPS Writer)
State 45, VMI 0
The Wolfpack should obliterate this team.
Jeff Reeves (IPS Photographer)
State 34, VMI 7
NC State's offense is able to move the ball against the VMI defense but can't put the ball in the endzone on several redzone trips and settles for field goals. The Wolfpack defense stymies the VMI offense from the start with only a late touchdown ending a shutout.
Runa Cooper (IPS Sponsor)
State 49, VMI 10
When NC State has the ball, I hope that they tighten the rotation at WR and look to give Armstrong plenty of opportunities in a game to begin to build a connection with Vereen, KC, Rozner, Collins, etc.
I would like to see them not rest guys at all.
This offense is young and new. They need as many game reps as possible, and I hope they take the opportunity to give these guys as many positive plays as they can fit into Saturday afternoon. As far as the running game goes, I think they can run the ball with success. The amount of carries they give to each RB will be interesting. Are they going to try to work in Raphael a little more this week?
On defense it's very similar to the offense. This is a chance to make some decisions on personnel and soak them with reps. Betty or Fordham? What are they going to do personnel wise in the secondary? I just want to see no explosive scoring plays; VMI should not be running away from this defense, and I don't think they will.
With all that being said, I expect State to jump out to a large lead and then bleed the clock. The only time I ever remember Coach D putting his foot on an overmatched opponent's neck was that one year with ECU.
BP Cox (IPS Photographer)
State 52, VMI 9
NC State came back out from the weather delay against Notre Dame flat on both sides of the ball.
This game sets up as an opportunity for the Wolfpack to reset and re-center themselves. I anticipate State to jump to a lead from the get go and give the backups a possible full second half of reps.
VMI comes into this game at 1-1 with their lone win coming against Davidson in week one (who then lost to D2 Barton College the following week).
State needs to get the kinks out before the ACC portion of the schedule kicks in. VMI offers that sparring partner.
Never miss the latest news from Inside Pack Sports!
Join our free email list