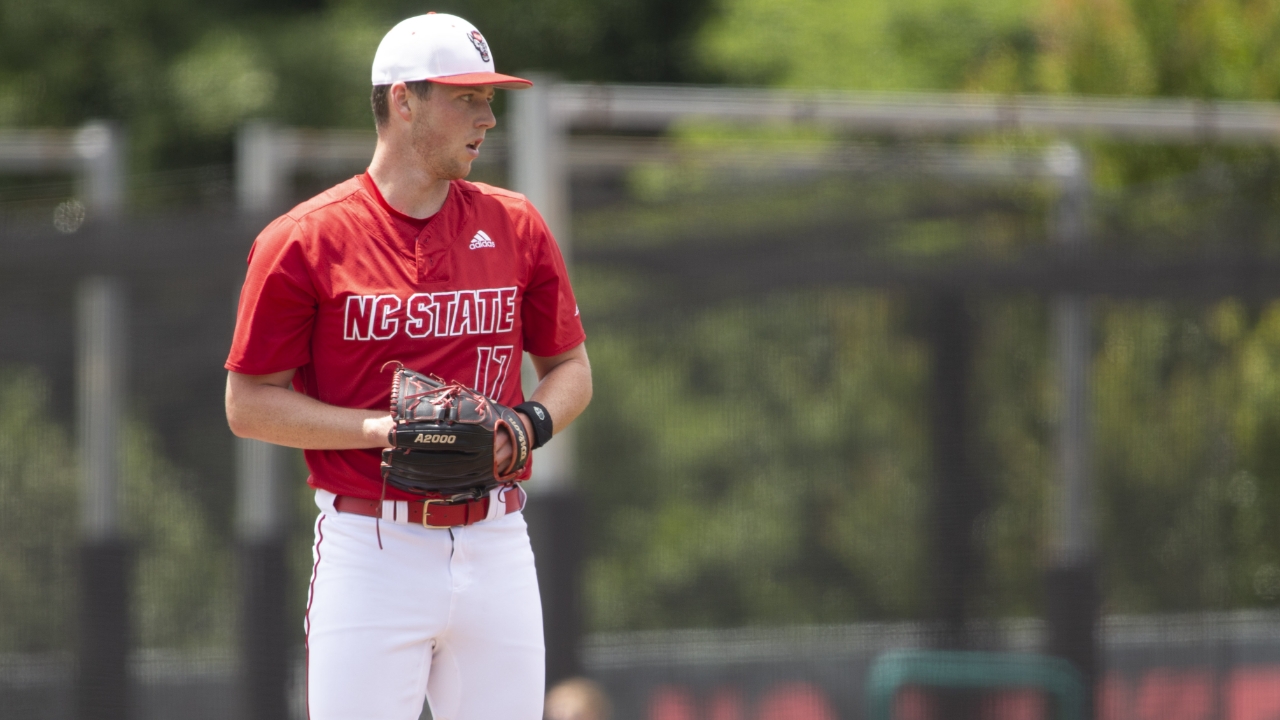 Photo by Steve Murphy/Inside Pack Sports
NC State Baseball
BASEBALL: Wolfpack sweep Pitt, ACC Tournament next
---
The Wolfpack played their best series of the year against Pittsburgh with their tournament hopes hanging by a thread. Next up is Duke and Miami in the ACC Tournament
State dominates Pitt
The version of NC State we saw this weekend is what we've been looking for. This is the ceiling they've flashed but have not been able to string together the consistency.
The pitching was there, defense was there, and the Pack hit .361 with runners in scoring position. Outside of Matt Willadsen getting knocked out early on Saturday, none of these games were ever in doubt.
It was exactly the type of showing you need against a bad team to build some momentum headed to Durham.
Duke, Miami up next in pool play
State will face the Blue Devils Tuesday at 7 pm and Miami on Thursday at 7 pm in Durham. NC State needs to win both games to advance to the semifinals on Saturday.
The Pack did not face Duke this year while they lost 2 of 3 down in Coral Gables to the Hurricanes back in March. Miami finished up 18-12 and will be a regional host in the NCAA Tournament. Last year, State beat Miami 9-6 to advance to the semifinals in Charlotte.
Duke was maybe the hottest team in the country in April but has cooled off in May with two straight series losses. They are looking to play their way into a host spot come selection Monday. In 2021, Duke beat State 1-0 in the ACC title game.
Pitching wise, nothing has been announced yet. Duke has started eight different pitchers this year in games, and only Alex Gow has started each week. 12 guys have thrown at least 25 innings this year; that's a big number. They lean on their depth, and in a Tuesday game it's easy to expect more of the same. Miami has started Gage Ziehl and Alejandro Rosario all year, and State will see one of them.
As for State, they could go a number of different directions. Last year on Tuesday in Charlotte they started Justin Lawson. Matt Willadsen threw 60 pitches against Pitt on Friday. Baker Nelson has started midweek games this year. None of those three options would surprise me. Personally, I would go with Willadsen. Of note: the Pack has advanced out of pool play the last four ACC Tournaments
NCAA Tournament hopes
Last week I said I would not be talking about NC State as a potential NCAA Tournament team if they swept Pitt. Well, I lied. I'll just start with this: I don't think the Pack will be selected as an at-large team. They've got to be playing this week as if they don't win the tournament, their season will end.
But they are way more in the discussion than I expected them to be. State's resume is right there with other bubble teams. D1 Baseball projects the Pack the last team in right now. On their podcast they discuss how light the bubble is, as they only had 65 teams on their "board."
There will be stolen bids, so being the last team in means you will be out by the end of the week. My concern with State is that I don't think the committee will care about anything they do this week – they never do.
The biggest selling point is the RPI at 26, but the Pack also picked up a series win over fellow bubble team Notre Dame and had nice non-conference wins over ECU, Coastal, and UNCW.
There's a case to be made if the committee wants to put the Pack in. And who knows, maybe State can win some games this week and the committee will decide to care about them.
Never miss the latest news from Inside Pack Sports!
Join our free email list