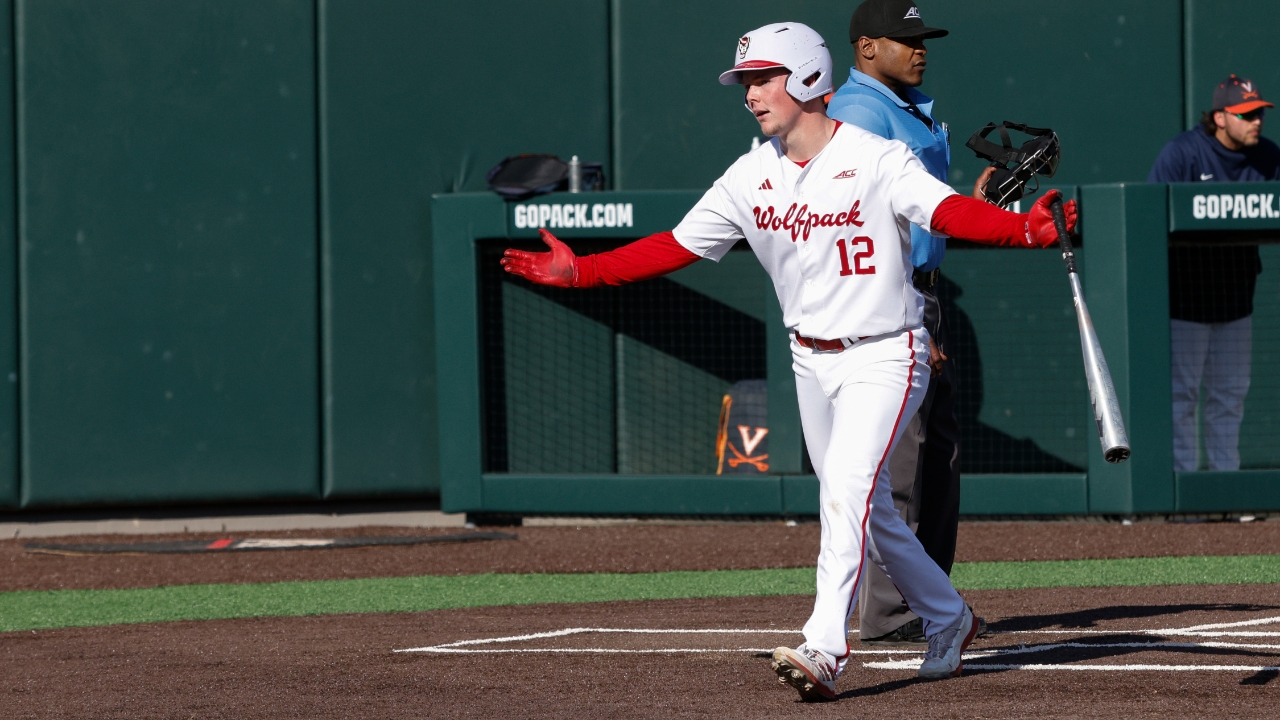 Photo by Steve Murphy/Inside Pack Sports
NC State Baseball
BASEBALL: Pack struggles to start league play
---
The Pack is 15-5 overall and 2-4 in ACC play after series losses to Miami and Virginia. What are the concerns heading into a brutal 3-week stretch?
Defense
ACC play started with a defensive collapse in the second inning against Miami. Before ACC play started, I talked about how clean the Pack played but that changed very quickly and hampered them all weekend at Miami. The Pack was charged with 9 errors in that series, 3 in each game.
They've been charged with 4 errors in the 4 games since that series, which is better, but not where it was before ACC play. 24 errors on the season so far, 13 in a 7 game stretch. That's how you lose games in ACC play.
Pitching
It's hard to evaluate pitching when the defense struggles as much as they have. It's difficult to ask pitchers to get 4 and 5 outs in an inning against ACC lineups. Regardless, you have to be pleased with the starting rotation so far. Yes, Sam Highfill should still start, but Logan Whitaker, Matt Willadsen and Dom Fritton have been the bright spot so far in ACC play.
Highfill continues to look great in his role which is important. Justin Lawson got knocked around by UVA for really the first time in his career at NC State. They had some sort of read or report on him because they crushed everything against him. Not something to worry about unless it continues.
Depth arms continue to be, well, depth arms. Andrew Shaffner continues to impress, he needs more innings. Rio Britton, Baker Nelson, PJ Labriola, Carson Kelly, sometimes they're good, sometimes they're bad. You'd like somebody to emerge from that group and be more reliable, that's what midweeks are for. Britton and Nelson are the two main candidates to emerge.
At the Plate
The offense has been a mixed bag at this point. It was good against Miami and bad against UVA, who doesn't have a great pitching staff. However, you can't ignore how unlucky the offense was this past weekend.
Jacob Cozart has been excellent, Cannon Peebles and Kalae Harrison have been varying degrees of positive surprises.
Payton Green has struggled in conference play, Gino Groover and Carter Trice haven't heated up yet. You can tell Elliott Avent is still trying to figure his offense out because there's a different lineup every day. Regardless, you know this team will be able to hit at the end of the day.
Moving forward
All that said, my concern level is at about a 2 out of 10. My general rule is that I never worry about one-run losses in the regular season. It's not an indicator of how good a team is. The Pack is 1-2 in one run games in ACC play and 3-2 overall.
Starting 2-4 in conference play is not an issue. What is an issue is the schedule that gets harder before it gets easier. Certainly, Miami and UVA is not an easy start, but at BC, vs Louisville and at Wake is an absolute wringer the next three weeks.
BC is the most surprising team in college baseball. They've won road series at VT and at FSU and a midweek game at Tennessee. They've got a couple blue-chip bats as usual but the pitching is where they've made huge strides this year. Plus, in Boston in March is just gross for baseball, this is the Eagles' first home series of the year.
You can't start 0-5 in ACC series, it just can't happen. State could be kicking themselves for not finding a way to snag one of these first two series in a month. The good news is the RPI is smiling on State very early in the year so they've got a larger margin for error than usual as it relates to the NCAA Tournament.
The back half of ACC play is much lighter, only one of the final five series look like tournament teams at this point and three are at home. State just can't dig a huge hole the first five weeks, that's why avoiding sweeps is important. We will see if the thrilling comeback win Saturday to avoid the sweep can get momentum back on State's side.
Never miss the latest news from Inside Pack Sports!
Join our free email list