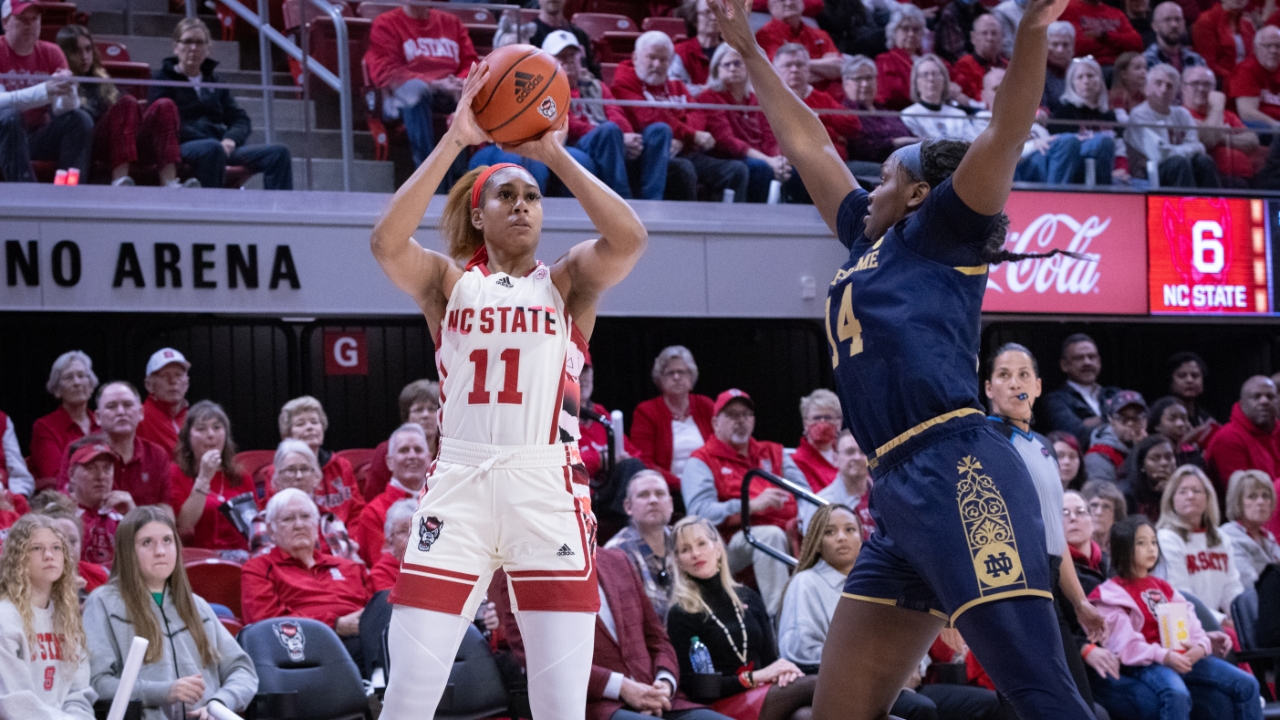 Photo by Steve Murphy/Inside Pack Sports
NC State Women's Basketball
MCLAMB'S MUSINGS: The Wolfpack Continues To Search
---
An Offensive Display
NC State's recent offensive output is enough to offend the sensibilities of many hardened fans. It is also costing the Wolfpack dearly.
Wes Moore, like most who follow NCSU, is looking for answers. A team that torched top-5 Iowa on the road and did what it wanted at home when Notre Dame was in town, has been stifled in road games at Georgia Tech, Wake Forest, and now Virginia.
The Wolfpack is 7-7 in the ACC this season.
NC State was 43-7 in the ACC over the previous three seasons (2019-20 through 2021-22).
Fundamental offense, not anything intricate, should be enough for NC State to beat both Georgia Tech and Virginia. The offensive display NC State put forth in the home loss to Boston College would have likely sufficed.
Moore probably wonders where the crisp play his four-out, one-in system has created in most of his NCSU tenure has gone. Before hitting the road, the Pack lost at home to Virginia Tech -- a program that is the spitting image of what NC State was in 2019-20, when the Wolfpack began its march to ACC Tournament domination. The Hokies showed NC State how top-10 basketball looks these days, and the win over Notre Dame seems almost ancient now. The road triumph at Iowa? That feels like a completely different era.
A 40-percent effort from the floor almost certainly gives NC State a win over Virginia. The Wolfpack shooting stats are wretched.
Field goals: 22-of-75 = 29.3 percent
Three-point field goals: 4-of-28 = 14.3 percent
Free throws: 68.8 percent
Diamond Johnson was 1-of-12 (0-of-8 from three-point range) from the floor in a game where the two senior forwards, Jada Boyd (22) and Jakia Brown-Turner (11), led the Pack with a combined 33 points. Saniya Rivers was 1-of-9 (1-of-6 from three-point range) for only three points despite hauling in 13 rebounds.
Average games from the guards likely would have handed NC State a victory to carry home ahead of Thursday's showdown against North Carolina.
Instead, NC State did what inconsistent teams do -- which is come up short in just enough areas where they have the ability to excel so that they stunt their own growth while giving inferior teams hope of better days.
NC State is playing like an also-ran.
That is directly antithetical to what Wes Moore's coaching and NC State's investment with renovations to Reynolds Coliseum meant for the program. Everyone has to look within first, then lift each other up through selfless play. Someone also needs to lead. If the seniors cannot, or will not, do it, let the younger players do it for the benefit of this season and beyond. It took years to build to a three-time conference champion, but it does not take long to tear it down.
Moore Assessment
I travel as much as I can to cover NC State's women's basketball, and for several reasons.
Fans care about it.
Seeing the growth of women's basketball has been fun. NC State fans used to cuss and ridicule me for live-tweeting women's basketball games, but I knew better. The school of Yow along with its fans will care, especially when NC State is good.
NC State deserves it.
The struggles of this season notwithstanding, the Wolfpack are three-time ACC Tournament champions, defending ACC regular season champs, and has been one of the best programs in the nation over the last five years. They deserve a beat writer. It is the least I can do.
What is the difference?
I enjoy women's basketball as much as men's. In terms of media coverage, it is usually better because you don't have to deal with the cattle herd of reporters. It is fairly laid back.
It also means that, through attrition, you get less of the stupid questions and narratives. Could you imagine someone asking Wes Moore about NC State jinxes?
And that leads to this season's coverage. Moore has been accommodating with his time and I think all NCSU fans should appreciate that. I know I do.
Moore is a stand-up fellow. This is not the end of NC State's reign of dominance in the ACC. It is a blip in the journey. Some adjustment, and even rebooting, will be required, but he will be up to the task. The Wolfpack's incoming freshman class is some proof of that. It might be that next season is similar, but I would not be surprised to see NC State back in the mix, and perhaps make its long-awaited return to the Final Four, in 2024-25.
Never miss the latest news from Inside Pack Sports!
Join our free email list