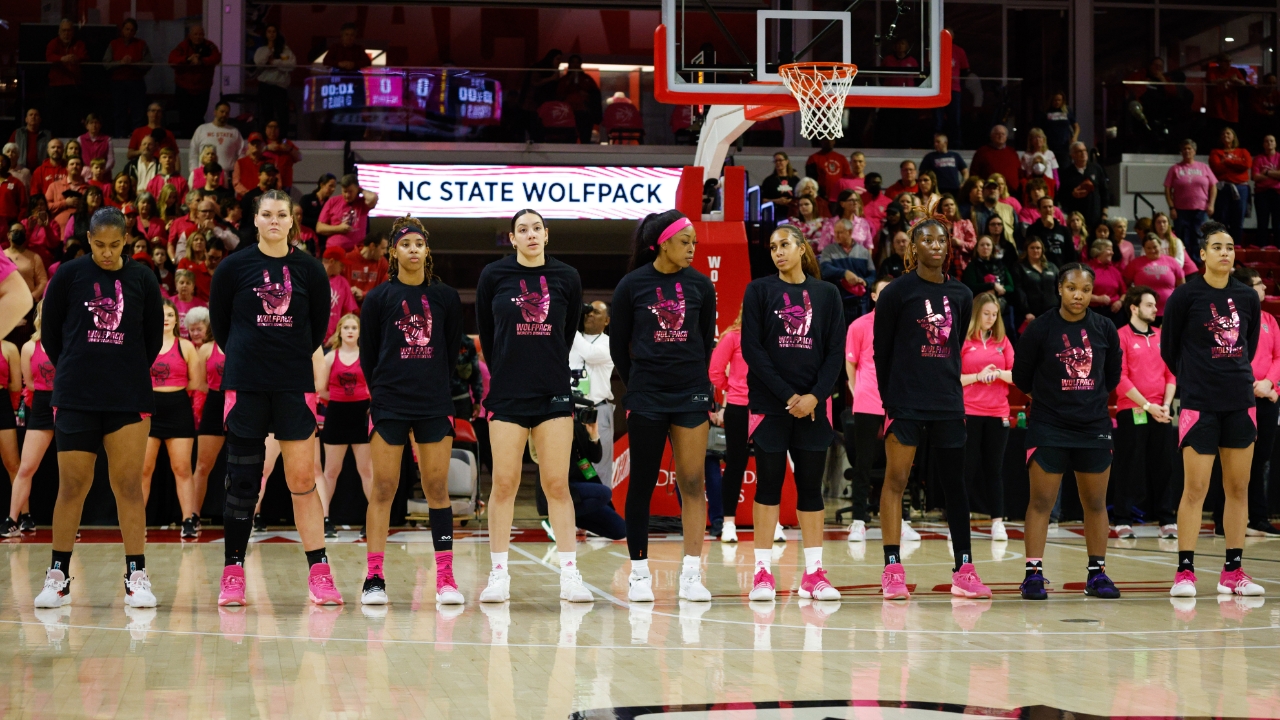 NC State Women's Basketball
LOCKER ROOM REPORT: No. 22 NC State Snaps Losing Streak on Road at Wake Forest
---
No. 22 NC State's Wes Moore and Saniya Rivers met with the media following the Wolfpack's 51-42 road win over Wake Forest Thursday evening.
Rivers led the way with 12 points over the Demon Deacons with 10 of those coming after the halftime buzzer. The Wilmington, N.C. native also tacked on four rebounds, two blocks, one assist, and one steal inside Joel Coliseum.
NOTE: Click on each respective thumbnail to watch each interview in the player above. A transcript of Moore's comments is provided below.
---
"I'm thrilled. Again, leading up to Virginia Tech, I didn't think we prepared well. They killed us with the high-ball screen. You go from [the Hokies' Georgia] Amoore who lit us for 27 [points] to [Wake Forest's] Jewel Spear. It's a pretty tough back-to-back challenge. I just thought we did a much better job tonight. Saniya Rivers and, at times, Madison Hayes, did a good job on her, but it was a team effort. We were doing some switching and different things. It was a great job to try and slow her down a little bit. She's such a great player. Offensively, we're struggling. We've got to try and figure it out because we've got another tough road game coming up Sunday at Virginia. Hopefully, in the next couple of days, we can try and figure some things out offensively."
"[Diamond Johnson's] ankle is still bothering her, so she has a hard time pushing tempo. When you're struggling offensively, you need to try and get an easy bucket or two. It wasn't a tremendous amount, but we did outscore them, 10-0, on fast break points. That's what I was trying to do: get Saniya to push tempo and allow Diamond to get down the court and possibly get spotted up for a shot or two. I hated to take Madison out of the starting lineup because Madison's done everything we've asked of her, but I just felt like we had to get Saniya in there. We'll probably move forward with that and see how that goes."
"That's definitely been happening. It's kind of like a baseball player in a hitting slump, and then they go out there on the field and make a couple of errors. At times, we do that; if we're not hitting shots, we lose our energy on the defensive end. Tonight, you're right: we did a good job. That's what you've got to realize. You think about, 'Do you need to sub to get more offense on the court?' But then, 'Are you going to let the other team go on a run on the other end?' There's no guarantee your offense is going to pick up. It's a tough call. We've got to get it all clicking. Again, this is a tough stretch. Four out of five are on the road, and it [continues] with Virginia. I heard they gave Louisville a great game tonight, and I know they're one of the top rebounding teams in the league. It's one where we're going to have to bounce back pretty quick."
"Yeah, I thought the last couple of days have definitely been better. You play like you prepare. Like I said, we had two bad practices leading up to Virginia Tech, and it showed. I thought we had two pretty good practices leading up to this game, and we were able to go out and perform well enough to get a win. Hopefully, we can stay locked in like that defensively and maybe start hitting some shots. I think we were 0-for-10 from three, maybe the first time we've done that since I've been here. To win on a night like that, we're just not clicking. Two assists, 10 turnovers… There's a lot of ugly stuff on the offensive stuff. Hopefully, we can fix it."
"[Virginia] has a new coach. [Amaka Agugua-Hamilton] is doing a great job. Like I said, rebounding is an emphasis for them, so we're going to have to do a better job of that. They've got some people who can score the ball, and it's another road game and our third game in seven days. The conference is giving us a real challenge here, and we're going to really have to fight to get through it."
Never miss the latest news from Inside Pack Sports!
Join our free email list