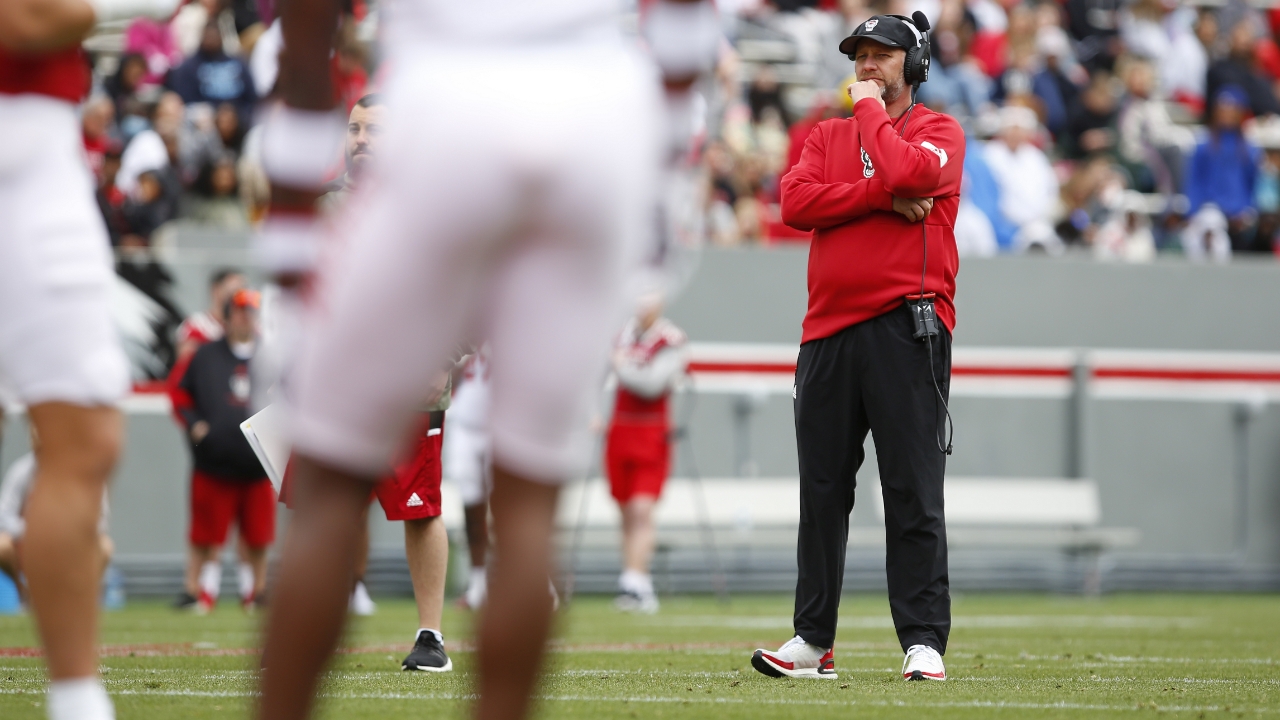 NC State Football
Dave Doeren: "It Comes Down To Executing"
---
NC State head coach Dave Doeren met with the media to discuss the upcoming matchup against North Carolina.
NOTE: Click the video above to watch the interview.
---
Opening Statement...
Starting with the game with Louisville, knew going into that game, with the injuries that we had, that it was going to be a game we really needed to win on special teams. I knew both teams had highly ranked aggressive defenses, and the weather forecast with the wind and the cold, regardless of who was playing quarterback, was gonna be a different day.
So I just felt like the two defenses with the [way] they were playing, the fact that Cunningham was out and that we were down, it was gonna be a game that maybe came down to the third phase. The game was kind of playing out how I thought it would, I mean, have 0-0, 3-3, and we give up a kickoff return on a play where the ball's bouncing around and shoot. Everybody thought we're gonna end up tackling 'em inside the 10.
And unfortunately, our guys got outta their lanes chasing the ball instead of playing with lane integrity, and they made a play. And with that being said, we're down 13-10 to start the fourth quarter. It could have been 10-6 in our favor without the kickoff return.
Obviously you can't take those off the board, but that was a critical play. And, when you're in a position like we're in, where you're beat up on offense, we had five starters out. Your margin for error is not much and, and so defensively, we didn't give up a touchdown until the ninth drive of the game. Think they kept us in the game, and, we needed to get some turnovers forced, and we didn't. But the complimentary aspect of the game is intensified. You know, when you're not able to put points on the board and you just kind of hang in there and fight for that final possession, and we just weren't able to get it done.
I thought some positives, Ben Finley did some good things; there's things he didn't do well, but for [a] guy that was on the Scout team until two weeks ago, I was impressed with just the way he handled himself. He threw some good balls in there. He, he read the RPO game well. Going against our defense for 10 weeks probably helped him seeing all that stuff that we do. And I think Ben will learn a lot from that game and improve. And Jack still has a role and has a place in our offense. It was a tough day to throw the football, which is what gave Ben more reps, just because we needed his arm when we got behind two possessions. You know, I thought Dylan McMahon playing his first full game at Center, did some good things.
Darryl Jones really had a good football game for us on offense and special teams. Mike Allen got his first career touchdown on a nice throw and catch from Ben to him on a wheel route. And we protected the football well on the road and cold weather with the wind, and really playing with our fourth string quarterback when Ben got in there. Did some good things that were negative; obviously we didn't score enough. We got stopped on two short yardage plays. Really disappointing on the fourth and one, I think it, it was what I thought it was gonna be. You know, they had a whole bunch of guys inside, and if we get one block that we should have gotten, that's a big hit in the game. And, I don't know if we win the game because of it, but we definitely get in scoring position on that play.
And I'd do it again. You know, guys have to execute in that situation. It's disappointing that we didn't, they did a good job defensively at times, got us in some negative yardage plays. And, that made it hard. You know, like I said earlier, the defense to only give up one touchdown, we were putting them in some tough spots there in the second half, just having to go for it being down two possessions, but they hung in there, really played hard, did give up too many yards rushing at times. You know, they got on the edge a couple times. We got out of our gap a couple times. You know, really the biggest disappointment, I, there were some third downs where we should have got off the field, normally would, and our corners gave up leverage three times on routes with blitzes that were coming home.
So we gotta get better there. Special teams, Chris Dunn, Joe Shemko, Caden. Can't say enough about that tandem, those three guys. The way they performed kicking into the wind; mentioned the kickoff return being a pivotal play. And I think Keyon was saying, and Darryl Jones deserves a lot of credit for how they cover punts. And there's probably the best tandem of, of gunners that I've had in my tenure as a head coach. We've had one guy that was special at it, but to have two, I can't believe their punt returner held onto that on Keyon's tackle. Moving on, rivalry week big, big opportunity to play there. And number one offense probably almost every category in our league, averaging close to 40 points a game. And, they're balanced. Phil Longo does a good job and does a nice job tweaking their offense each year.
You know, last year at this time, they'd given up 40 sacks and, only 14 this year, 180 yards rushing a game, 300 yards plus passing the game. And whereas last year they were really one running back. They're rotating guys and they've got a good running back by committee group right now. They all run hard. They're averaging over five yards a carry, I think Maye is, really playing good football, at quarterback, taking care of the ball. He's running well. He is their leading rusher. He's got very talented skill around them, as we know with Josh Downs, number three is averaging almost a hundred yards a game with 22 yards a catch. Defense, they've gotten better. They struggled early for sure, and as the year's gone on, they've gotten better and better and better. And they're not giving up as many points or as many explosive plays.
You [have a] big defensive front, their two linebackers make a lot of tackles for 'em. They run well. Their dbs are long guys, their nickel is a physical player. I'm looking forward to competing with them. You know, I think these kind of games, records don't matter. It's a group that doesn't like each other and, uh my feelings on it. And even though this season has taken a different path for us with our injuries, I can't say enough about the spirit of this team and the staff. It's a great group of people. And, and I think in week of Thanksgiving, I'm truly thankful to have had the opportunity to work with these guys, and the staff and the players, we're gonna fight. You know, we're looking forward to getting on that field. Embrace the opportunity to compete against a nine win team. We got a great group of guys, and we will be physical in this game. We're gonna compete until the clock runs out of time and look forward to seeing our guys play and practice and celebrate and Thanksgiving week with them. So with that, I'll open it up.
Dave, you mentioned how proficient the UNC offense has been, but they were held scoreless against Georgia Tech in the second half. Have you had any time to watch that game and kind of see what Georgia Tech did so successfully?
Yeah, I watched the whole game on the way back, on the airplane, and then watched it multiple times since we've been home. But they played hard; they did a good job. They covered them. UNC also missed some opportunities. They dropped some passes and uncharacteristically dropped one in the end zone. So some of that was self-inflicted as well. But, they were the benefactors of that statistically, I guess you would say. But yeah, I mean, you gotta give Georgia Tech credit and they played really hard in that football game. They played keep away offensively. They did a nice job winning the time of possession and helping their defense that way, too.
I wondered if you could talk a little bit about Drake Maye and what you've seen outta him. You probably saw him in high school and kind of the player that he's developed into, so quickly.
Yeah, he was a really good player in high school. And, he was a good basketball player, too; he's just one of those guys that's a good athlete. He's got good spatial awareness, body control, balance; he's faster and quicker than people give credit. I think he's pretty elusive. You can see his competitive spirit when he plays. He's accurate. He gets rid of the ball in time, throws a nice catchable football, he's a really good quarterback. And, it's not a surprise, obviously the bloodline, they've had a lot of good athletes in their family that have done a lot of high level things. So he's a good player and he's taking their offense to as good as they were with Sam, he's taking it to another place. I mean, he is getting rid of the football faster, and Sam took a ton of hits when he was playing there in the same system. So you can tell the timing he's getting rid of it.
Dave, is this game kind of coming at a good time? You guys can wipe away a whole lot of disappointment with a win on Saturday, I'd imagine?
Yeah, I don't know. I mean, I think rivalry games being at the end of the year is great, period. You know, I think the timing of that, just from a history standpoint and for all the teams that play 'em, when I first got here, we played them early one year, and it's kind of weird playing a team like that so early in the schedule. Just the long standing game. It's the oldest rivalry in the league, back to 1894, so wherever this falls on the calendar is meaningful, but I do like playing it last. I think just this week of college football is pretty awesome. You get to see all the different rivalry games.
Dave, obviously you've coached in this series a while now. When you look back at the series as a whole, was there a common theme you stress with your team going into this matchup each year?
You know, I think, for us it's, particularly with our injuries right now, it's just gonna be about executing. I think the team, you can get all the hate and trash talk you want involved in stuff like this. It comes down to executing. We gotta make more plays than them and fewer mistakes than them and play harder than them. And [it] sounds simple, but it's pretty true. You know, I think that's how you win this football game. And there's a lot of, within the game statistics that are gonna matter, whether it's rushing the football or stopping the run or big plays or special teams, all that stuff matters, but the details of your execution and making plays at the right time, that's what matters, and you gotta finish no matter what. You gotta finish the game.
Dave, you've had some challenging times as a coach before, but just what's it been like the last week or so with the beginning, I guess, with the UVA shootings and, and dealing with injuries and trying to get a team ready for a tough road game, and of course, with, yourself personally with some other things that were going on. What's it been like for you this last week to 10 days?
Yeah, I think outside of the covid year where it was tough for everybody to be a head coach, this last week was the hardest in my career. You know, coming off the BC game with the officiating call that was made, and then rolling over to Sunday with the UVA and then into Monday with the threats that were made and, and how all that took time away from my life and stress that put on my life. And then into the injuries, not having Grant Gibson or MJ, Peyton Wilson, there was a lot going on, man a lot more than just coaching football last week for me. And so it's not an excuse. It's the reality and I, I'm proud of our players and our staff, for rallying and fighting, scrapping.
I mean, it's 13-10 in the fourth quarter with all that going on. We were in that game and had achance to win it and just didn't get it done. But I'm happy to be into the next week and do a new day and thankful that I have one and that I have the people I'm with and the opportunities to coach another game with us. Such a great group of guys. You know, I mean, that's, when I think about this season there's a lot of things we wanted to have happen, they didn't, but we were ranked for 12 straight weeks. You know, I get to coach Grant Gibson and Isaiah Moore and Peyton Wilson and Drake Thomas and Corey Durden, and on and on and on and on. A bunch of awesome human beings. Tanner Engle, Chris Dunn, you name them. It just keeps going, to be with the staff that I'm on and now have a chance to go play a really good team. You know, one more time here before Bowl game, I'm gonna remember the relationships more than anything. And, and last week's a tough week for sure, but I believe that God doesn't put things in our path that we can't handle. And everything that we go through is a test, and at the end of it, you're a better human being and a stronger person for enduring.
Dave, appreciate you taking out the time. I wanted to come at you from a preparation standpoint. When it comes to studying the film for North Carolina, most of their games, their offense has just been out of this world putting up massive numbers or whatnot, but this past game against Georgia Tech, they did something right, you know what I mean? To stymy their offense and, and just kind of hold them to zero points basically in the second half. How will you and your coaching staff approach the film study this week? Will you put more emphasis on whatever it was Georgia Tech did right? Or will you look at those games where Carolina was able to be successful and try to figure out what you have to do to keep them from doing that? How will that work for you and your coaching staff?
We look at every game. Look at every game this year. We look at our games against, it's the same offense coordinator for four years so we're gonna look at everything that they've done, we're gonna look at everything we've done, we're gonna look at everything that has worked and the things that don't work, you know? And, but you know, it, it's a short week game. It's not like you can just change everything you're doing in four days. You know? I think we're one of the best defenses in the ACC and we're gonna go out there just like we did when we played Wake Forest against a really good offense.
We're gonna play hard. We're gonna compete, we're gonna pressure, or we're gonna mix up calls and we're gonna have to execute, make plays. And I think that's the bottom line. You know, Georgia Tech made more plays than UNC did in the second half. That's football. And you go to the other games, UNC made more plays, so it comes down to making plays and finishing plays, and regardless of what we do as coaches, it's gonna come down to the dudes on the field getting it done and making the play and, and being fundamentally sound and playing harder longer than the dude across from 'em.
Dave, you had a lot of really good players who came back for one more season. Can they maybe approach this game as their Super Bowl, you think, coming up on Friday? Possibly.
I don't know if they'll do that. I know that there's a feeling we have as a team, about winning against this team, and sending our guys out in this game that are last time players for us the right way. And so I never try to make a game a Super Bowl. Like I, I just don't believe in that. Like every game matters that we play, rivalry games are personal games to the guys, and I think this will be our third in-state game with ECU, Wake, and unc, we don't get to play Duke this year. So there's some of that on it as well for this team. But maybe more than any game we played this year, this one's about us -- like we're missing a lot of players and we gotta go out there and play fundamentally sound.
We've gotta make up for what we're missing with our execution and our detail and our strain. And regardless of how much we dislike our opponent, it's gonna come down to that. Like, if we can do that, if we can execute the plays that are called defensively, react well, put our bodies in the right places and strain to finish plays more than they do, we'll have a chance to win the game. And, and if we don't, we won't. It's pretty simple. So I look forward to the opportunity to do that with them. And it's a huge challenge. You know, you're playing a team that's healthier than you, that's got their starting quarterback, playing their offensive lines, got all five starters that played every snap of every game, over 800 snaps for each kid on the O line, all five of them, you know? So we're gonna have to really, really play well, and I think we can play well, and that's why I'm excited to accept the challenge and go out there and get after it.
You mentioned on Saturday that MJ was sort of day to day. Do you have any more clarification on him, and if he's not able to play, will Ben Finley be your, your QB one?
I don't have any answers on medical things for you, and I won't talk about that this week. As far as Ben, Ben will play if that's where we're at, as will Jack and maybe both of 'em play. We'll have to see how this week of practice goes, but, we got four days and it's really nobody's business what the health of the roster is right now.
You mentioned what you went through last week and I just wonder, what happened at Virginia... Did that sort of change sort of everything, kind of change the way you approach things around your program at all when it comes to sorting of out some of the stuff that was happening outside of the program?
Yeah, I think it does. You know, I think not just me, like, I think our campus, all campuses probably for that matter, have a high alert for threats when there's campus violence that happens, somewhere of that nature. You know, there's a lot of things that happen that people aren't aware of from a threat standpoint all over the country, right? And I think sometimes we just kind of brush 'em off, like, oh, that's nothing. Well, it's not nothing. I think when you see what happened up there and, and that's a scary situation, that's pretty personal. It's in our backyard; anything that's said has to be investigated and you're trying to take care of an entire, not just football team, an entire campus. You know, you want people to be safe and, and even though we have freedom of speech in this country I think how you use your words, it matters. It does. And I think what happened at at Virginia was terrible. And obviously that's gonna put us and every other campus on edge with keeping people safe and doing the right thing to protect our community.
As the head coach, you obviously probably feel a special responsibility to try to keep people safe.
Of course. Yeah. I mean, of course I do. You know, I think everybody that's in this building every day is under my watch and I have to do everything I can not just to protect them, but my own family, and of course I do. I wouldn't be doing my job if I didn't do that.
Dave, how would you evaluate the year Drake Thomas is having for you?
Special year, man. And it's not just this year, he did it last year too before the Louisville game. I was talking to Coach Satterfield and he said 32 is the best player in the ACC. He said, every kid I've watched on film all year long, I can't stop watching him. You know, I think the guy's definitely a candidate for conference defensive player of the year. He is just stud the way he is playing, the number of plays he makes, the diversity of his play, whether it's violently fitting the run, rushing the passer, blitz, knocking passes down, covering people, leadership, durability, how hard he plays, his strain, everything – he's a special player and does a lot of things for us in our defense.
I know you were high on him obviously coming out of high school. Has there been an element of his game that maybe even has surprised you to a degree?
Yeah, I think the way Drake's changed his body and helped himself. He's always been an explosive player but he's gotten more agile over the years. He's been able to increase his ability and space and, and to be a pass rusher, which at his height usually wouldn't think that. But he does a great job getting to the quarterback and he is really a good pass rusher for a linebacker. And so that area has really improved for him. Appreciate it.

Never miss the latest news from Inside Pack Sports!
Join our free email list