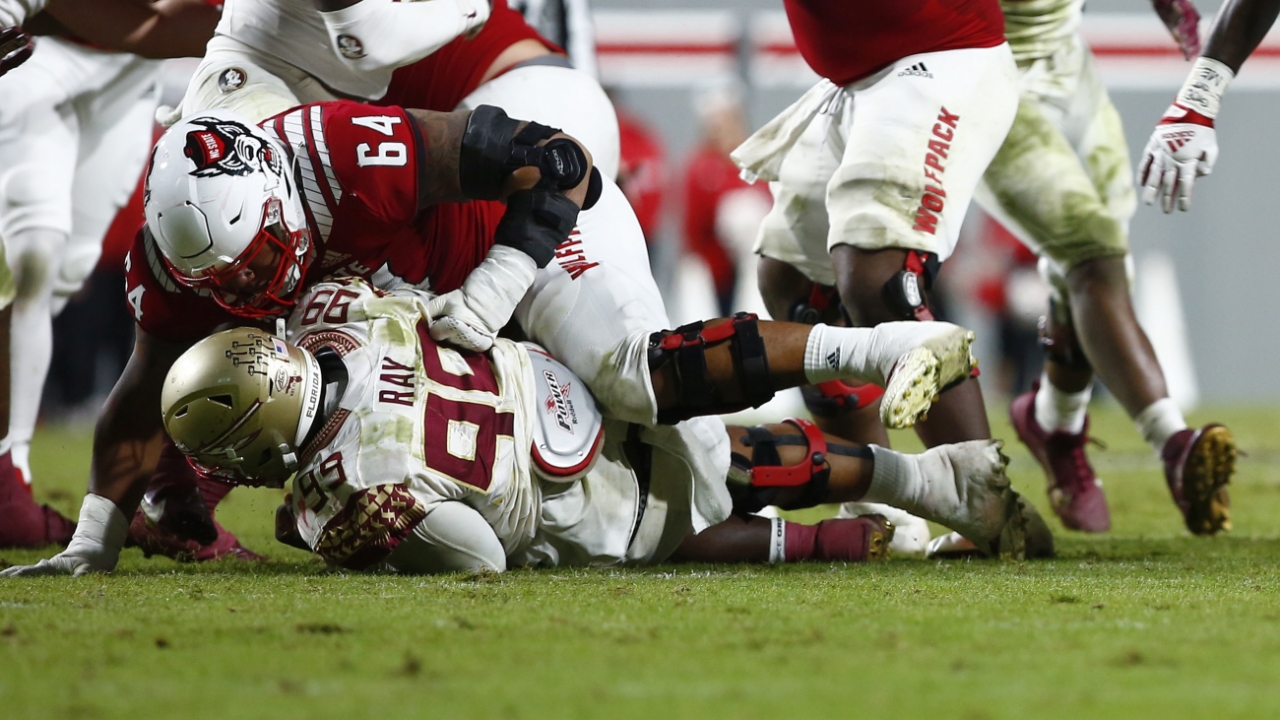 Photo by Jeff Reeves/Inside Pack Sports
NC State Football
Chandler Zavala: "They Do A Lot Of Stunts"
---
NC State offensive guard Chandler Zavala has been one of the best players at his position in the league this season, and he'll look to continue his strong play at Syracuse.
NOTE: Click the video above to watch the interview with Zavala.
---
On QB change...
No, we still do our same thing. Nothing changes, just because we have a different quarterback.
Have you ever played in the dome before?
No, I have not. This will be my first time.
What have they told you about it? I mean, what is your anticipation of it?
It's pretty loud, just because it's closed up on top. We were good at Clemson. That was 85,000, so I think we'll be fine.
What are your thoughts on Syracuse defensively?
They do a lot of stunts. Just run past no matter what. Even on third and short, even in the redzone, they'll always do a stunt. So we just have to have good eyes and good feet.
How important is it, then, to play your gaps, play your assignments, against a defense like that?
Yeah. You just have to be aware of not just going full out. You have to be very patient with this defense, just because every time, it's something new. It's never a base defense with them.
The offense pretty motivated this week, after last week, not maybe playing up to your guys' standards? Does that motivate you guys a little bit more this week?
No. We're motivated every week, just to get better as a team. We know what we can do, so that's our motivation right there, to play for each other also.
Clemson, Florida State. Now you have an undefeated Syracuse. How neat is it to navigate the Atlantic Division, ACC, always a good team?
It was pretty nice just coming where I come from, in Division II, and just playing teams that are just better and better. Nobody's really just... you don't take games off in this type of conference. So, I like it a lot.
What's the key for you guys on Saturday to get a win?
Just to play our ball. Don't try to change anything, just because they might change anything. We just have to play our ball, play as a team, and stay together with the crowd noise and everything.
You've got 'survive' on your arm here. Is there a message to that or something behind that?
Something my grandfather went by. He passed away my junior year from lung cancer. He always went by it. So, I got this my senior year of high school. So it keeps him close by all the time.
How can a win, the way you guys won last week, how can that maybe help you guys moving forward? It gives you confidence that you guys can come from behind and get wins?
It'll be really nice going to the bye week, not having our heads down or anything, just to come out on top, being six and one. We have a pretty good bye week when we do that.
Never miss the latest news from Inside Pack Sports!
Join our free email list