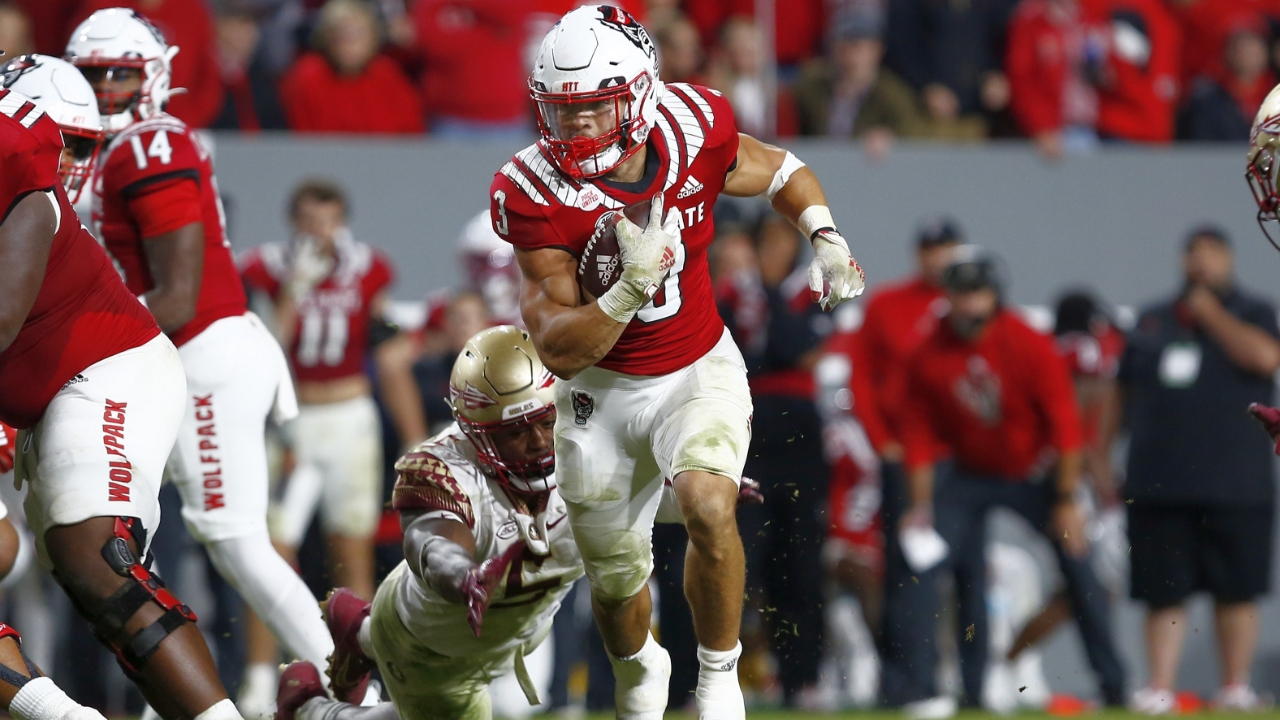 Photo by Jeff Reeves/Inside Pack Sports
NC State Football
Jordan Houston: "They Have A Lot Of Good Players"
---
NC State running back Jordan Houston is coming of his best game of the season and expects the matchup against Syracuse to be a tough one.
NOTE: Click the video above to watch the interview with Houston.
---
Jordan last week you led the team in rushing and receiving. What was that like for you?
I was just really just grateful I was able to step up in that way and produce for our offense and help our team win really. It just felt good to be able to contribute to a good win.
Was there a point in second half where you felt like it was going to be on the running game?
We knew that we had to run the ball well this game. Kind of just kept the same mindset going into the game, every time I run the ball, I just try to run as hard as I can.
Your thoughts on Syracuse and what you guys are going up against on in regards to their defense?
They got a strong defense. They have a lot of good players. We just got to follow the gameplan that the coaches draw up for us and just try to execute it to the best of our ability.
How exciting is it to be going through this? You go Clemson, FSU, Syracuse, it just never stops?
Yeah, it's definitely a very competitive conference this year. It's just exciting for me, I'm excited to play all these good teams and have some good competition.
Jack had to come in after Devin Leary got hurt in the game. How much confidence do you guys have in Jack Chambers?
I believe in Jack so much, man. I don't know, I feel like he is really going to shock a lot of people. Yeah, I believe in Jack so much, you don't even understand.
How much difference does it make the offense, and in particular the run game when you have a dual-threat quarterback like Jack as well.
Well, with Jack, it'll help open up the run game more. They're going to have to respect his legs and what he can do on the ground. So I think it'll help open up the run game more.
What is it about Jack's personality that won you over so fast? You've probably only known him for what, three, four months?
Yeah, Jack, he just always got a positive attitude, he's confident in himself, he's confident in the team. He's a great leader, just always smiling. I believe in Jack, and I know he believes in himself.
He's an older guy too, 25 years old. Does it seem obvious when he is around the team that he does have a few more years than everybody else?
Yeah, definitely. I would say he acts a little bit older than everybody else. He's definitely real mature. He's a real mature guy. Real serious. He takes this thing serious. So yeah, you can kind of tell he a little older.
I want to ask you about Chris Dunn. How much of a luxury is it to know as an offense that he's been as consistent as he's been this season too?
Yeah, Chris Dunn, he's a huge weapon for us. t's a good feeling knowing that you have a field goal kicker who's going to come in and get it through the uprights. We just got to get it to the field goal line for him to drill it through.
What kind of confidence is the offense get when they watch the defense completely shut down an opponent in the second half?
I feel like when we see what the defense does, I feel like we kind of feed off that, we kind of feed off their energy. They bring a lot of energy to the field. So when we see them doing their job, I feel like it just motivates us to go even harder.
Now, midway through the season, obviously this is your first opportunity to be one of the lead backs. Do you feel like you've lived up to your own expectations this season?
Yeah, I feel like I've been doing pretty well, just doing everything my coaches ask me to do, just to the best of my ability.
Since you've been here, you've had quarterback injuries, COVID stuff. What is it about this team that maintained the resilience over through adversity?
I just feel like we got so many good players on our roster. Our confidence is just through the roof. We have so many great players that a lot of people don't even see, don't even get to see play. So I think just our depth and the talent we have.
Never miss the latest news from Inside Pack Sports!
Join our free email list