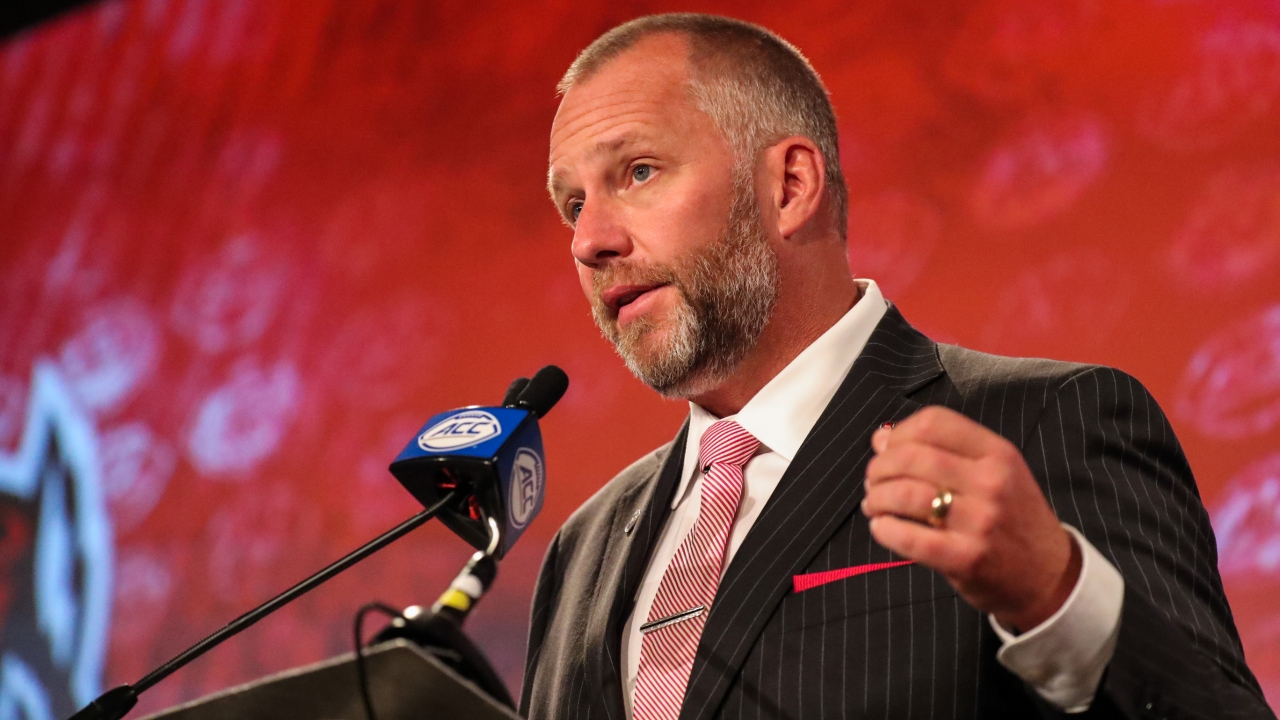 Photo by Jaylynn Nash/ ACC
NC State Football
Dave Doeren: "What We Did Showed a Lot of Heart"
---
No. 15 NC State head coach Dave Doeren met with the media via Zoom to discuss the Wolfpack's 19-17 win over Florida State as well as the upcoming matchup versus No. 18 Syracuse.
NOTE: Click on the video in the player above to watch Doeren's press conference.
---
Opening Statement
Recapping the win over Florida State, what a great comeback by our guys. I'm so proud of our staff and the team showing a great response and really putting our grit on display. Bouncing back from a tough loss at Clemson is one thing, but to be down 14 against a very talented, well-coached team like that, that's another thing. What we did in that game shows a lot of heart, especially when you're missing your quarterback during part of that comeback. I'm very thankful to our fans, students, and recruits who stayed the entire game. For those of you who left at halftime, you missed a beautiful, never-quit, gritty comeback performance. Our program's now beaten Florida State three [games] in a row, first time in school history, and five out of the last six. I think that says a lot about what we've done here in my time. It's a team that was down 14 and lost their quarterback after the opening possession of the third quarter, and I thought Jack [Chambers] did an amazing job just being poised more than anything, coming in the game, doing what he could do, and leading us to three straight scoring drives all with Chris Dunn's leg. The defense was spectacular in the second half. They had four straight three-and-outs and two takeaways. There were six or seven possessions in that half, and they gave up nothing until that final drive which ended with the interception. Like I mentioned before, I think Chris Dunn maybe had the best game of his career and was spectacular. Every point mattered in a game like that. On offense, we really challenged both sides of the ball on the line of scrimmage coming out of that Clemson game, and we responded. We had 34 pancakes on offense, and that's O-line, tight ends, running backs, and receivers. That was a season high. We had 24 in the Texas Tech game and only had nine at Clemson. Challenging our guys to finish blocks, they really bought into that. I thought we ran the ball with physicality. I thought Jordan Houston played his best game. Demie [Sumo-Karngbaye] did some great things before leaving the game, and Delbert Mimms came in and really ran the ball hard between the tackles for us. We were 100 percent scoring in the red zone. I'd like to get more touchdowns, but we did capitalize on points. The time of possession in the second half was huge. We had the ball for 20-30 minutes in the second half. It was a really big deal to come out good in the third quarter. I thought Devin [Leary] did a great job of leading us to a touchdown there and getting the touchdown pass to Darryl Jones, his first in an NC State uniform. That was a critical drive coming out of what we talked about at halftime. I told them we were going to score on the opening drive, that we were going to have a great comeback win, and that we needed a shutout in the second half. It just brought the vision to life. It validated the discussion. That was a huge, huge turning point more than people probably understand in that comeback. Negatives on offense, we had the one turnover on a fourth-down play. We didn't convert on that third-and-one and fourth-and-one, and that's on us as a staff to help our players more. We called two straight passes. It's not that they weren't good calls. The one on third down was wide open, and their D-end batted it down. That would have been a huge play. We can do better there. I thought our third-down offense could be better. Too many third-and-longs is part of that. Losing your quarterback is never good. Good news is his shoulder is good. All the images were positive. It's a rehabable injury, and that starts immediately. It's a day-to-day thing. He was fortunate. A lot of times when you see a quarterback get hit while they're throwing, it can be damaging. This was not that. Devin is super tough, and he'll grind. There isn't a timeline. It could be this week. It could be six weeks. It's really going to come down to how he recovers. We're excited that the news was what it was. I'm not going to get into any more of it than that, so all your questions will be ignored when it comes to Devin, but we're excited that his season isn't over and that he doesn't need surgery. Defensive positives, we tackled well. We only missed five tackles. We won at the line of scrimmage. If you hit play and then hit pause, you'll see us in the backfield a lot. We disrupted a really good run game. They were averaging over 200 yards going into our game on the ground, and I thought the guys really screwed up the timing of a lot of their plays with disruption. A lot of guys on the D-line just really grinded. Cory Durden played his heart out. I thought Savion Jackson, C.J. Clark, Davin Vann, Josh Harris, and Travali Price, those six guys just battled.The linebackers played downhill. I thought Isaiah Moore, Drake [Thomas], and Payton [Wilson] were all productive. The second-half shutout was impressive. The two interceptions were critical. Negatives, we gave up five explosive plays in that second quarter. That's really what changed the game there from a defensive standpoint. They did make a couple of nice throws. They have the one giant receiver who jumped over us a couple of times, and that's what he's done to everybody. When you have a 6-7 guy, that's going to happen. We just lost our gaps a couple of times on the line of scrimmage. The guys understood it, and they fixed it in the second half. With special teams, it was a back-and-forth night. I think both teams really did some good things. Obviously, their punt return play they had where their team faked like the other guy was getting it, that was well done by them. We had a really good night on our punt return, pressuring their punter. He had a 28-yard average which sets up our offense pretty well. It was a good night. I thought our kicker was the difference for us. Getting ready for Syracuse, they're undefeated and ranked in the top 20. They are very balanced on offense. Robert Anae, the offensive coordinator, is a really good football coach, and he's made a difference in their offense. Their quarterback [Garrett Shrader], who last year I thought struggled throwing the football, is at a 70 percent completion rate. He's playing really well. He was a dynamic runner last year and still is. He's a North Carolina native. I know this will be a big game for him. The tailback, [Sean] Tucker, leads the conference still in rushing. The receiver, [Oronde] Gadsden, is a 6-5 receiver and is making a lot of plays. They move them around. Defensively, they're similar to us with the 3-3-5 but different in their approach. They're smaller body types. They are very quick. They angle, loop, and stunt a lot with their front. Their backers have been there a long time. They're really good players at linebacker. They make a lot of plays. Their corners are productive. They do a nice job of disguising zone coverages and man coverages. They lead the ACC in almost every category on defense, so it's going to be a great challenge for us offensively. I know it will be loud in the Carrier Dome. It always is. Dino [Babers] has done a great job with his team and with the staff changes he's made. You can see it's made a difference. We look forward to another great week, great game, and a competitive game against a really good team that's well coached.
On the status of Sumo-Karngbaye and Devin Carter…
It looks good. Both of them are ok. It's just that time of the year. Sometimes, guys get sore. They'll work hard to be back. We expect to have them both.
On Moore and the importance of the No. 1 jersey…
When I got to NC State, I was just looking for some things programmatically that we could make special here. Having two years at Southern Cal, there were some really cool traditions they had about jersey numbers and the guys who got to wear them. I just thought it was an opportunity here to do something. I was trying to build a culture and a program at that time, so it was a way to put a jersey on a guy who exemplified everything that we were looking for not just as a player, but as a teammate who did everything right on and off the field and was a leader and consistent. Isaiah earned that. It's now his third year in that jersey, but it's through everything that he's done and everything that he's overcome. He's a dominant player, a dominant leader, and an impressive human being. He exemplifies that. He's definitely got a legacy with it. That's what I ask for all our players to do. Whoever has to wear that next has a lot to live up to.
On not needing Chambers to really throw against FSU but still being able to throw in general…
Yeah. Jack's had 400-yard passing games before, if you go back through his career. He can throw the football. Our run game was playing really good in that game. We were near 200 yards rushing, and the way we were looking at their front and how tired they looked, it felt like we were doing the right things matchup-wise. If we're going to have to get into a game and chuck it around, we feel great about him. M.J. [Morris] is going to have to be ready to go. Ben Finley is going to have to be ready to go. Everybody's on deck as we get Devin ready to play.
On having a kicker like Dunn who you can have faith in…
He's Mr. Reliable. I think people take things for granted that they have, and I don't take Chris for granted. It's a luxury to have somebody like that. We've all seen what happens when you don't. There's games you don't win, one-possession games you don't win. It makes you a complete team when you have the ability to make field goals when you don't get touchdowns and not have to go for it all the time on fourth down because you don't like your odds. It's awesome, his leadership in that room and the way him and the specialists gel and our players pull for him. I don't know if you saw that, but the number of guys who ran out on the field to congratulate him after making some of those kicks in the game. Offense or defense, you name it. You don't see that everywhere. You see the guy make a field goal and him and the holder have some goofy handshake, right? A couple of guys pat him on the helmet and he jogs back to the net. Nobody talks to him. That's not how it is here. Chris is somebody that these players love and we all pull for.
On NC State's rushing performance against Florida State…
I've said this from the beginning. When you play teams who are going to put — basically they played man-to-man on our four receivers with two safeties back — they dared us to run the football. If we couldn't run the ball in that look, then we were going to get completely destroyed. It's very difficult to throw the ball the way they were defending us. That was something we had to do to win. We challenged the O-line, the tight ends, the backs, and the wideouts that this may just be one of those dirty games where that's how we have to get it. We may just have to be patient. The way we're going to get explosive runs is by the second level acting like O-linemen, going in there, running guys off, cracking safeties, and finding extra work. Thayer Thomas didn't have a catch, but he blocked his butt off the entire night. What a great teammate and an unselfish guy. Darryl Jones and Devin Carter, before he was out, were going in and cracking safeties and backers. That's the kind of night it was. Our guys bought into what it was going to take to win. I thought our backs really ran hard and took advantage of the moment. It does build confidence moving forward that you can run the ball like that.
Updates on Tyler Baker-Williams, Joshua Pierre-Louis, and Trent Pennix…
I hope we have Tyler this week. That was the plan. We'll find out. We haven't practiced yet, but that was the plan to have him. We're looking forward to that. Trent Pennix is close. He's either this game or next, but he's very close to being back. That's where we're at. With Josh Pierre-Louis, Josh was suspended indefinitely from the team. That happened three weeks ago, maybe, before Texas Tech. That's an indefinite suspension.
On allowing Clemson's D.J. Uiagalelei and Florida State's Jordan Travis to run and the importance of keeping Shrader contained…
Garrett is playing really well for them. He extends plays. As you saw the other night, their quarterback got out on us a few times. That's a huge deal. You always have somebody accountable for him, but it's not just being accountable. You've got to make the play. A couple of times, we didn't. Now we have an option to do that as well if we're playing without Devin, but it's 11-man football in the run game. Sometimes, the runs, as you know, are created in a pass where a guy drops back and just takes off. We have to do a great job with their quarterback of not allowing him to get out and, if we end up in that situation, making sure we have opportunities to run ours.
On if Leary can remain a game-time decision to play without practicing…
It's not always an option. I think every player is better when they practice. Even in the NFL, they are better when they practice. We'd love that, but at the same time, we're going to get our best guys out there. If he's ready to play, then we trust him.
On who makes the decision on whether Leary is ready to play or not…
It always starts with the doctors.
On his first trip to Syracuse in 2014…
That was my first ACC win. It was a heck of a play by Pharoah [McKever]. I think it was Halloween, if I remember right. That was the night my son was dressed up like a piece of bacon, Connor. That was pretty awesome. He came into my press conference dressed up in a bacon suit. I still remember that. It was pretty sweet. It's always big to get your first conference win, and to do it on the road and do it with a defensive score was a momentum builder for sure. That was the first of many steps we've taken. You get one ACC win, and now the guys believe that they can get more. It's just like the first time we beat Florida State. We could not beat them, and now our guys expect to beat them. I think it's just the evolution of our program. It was playing well on the road and all the things that go into it. It's a great place to play. I've always enjoyed playing up there. The noise is an issue and can be an issue. It's a great environment. I know our team is excited about it.
On if Leary's experience of having to rehab an injury can help him with this one…
Yeah, it does. He's in a good spot mentally. He was thankful to hear that it wasn't bad. Not that anything is good, but it could have been a lot worse. You guys saw the hit. I think he knows what he's got to get done. He'll be down there. He trusts the trainers that we have. He'll be after it. I think what you said is probably pretty real. When you've never been injured in your life, the first time going through something is different. He had a lot different injury when he hurt his leg, but he's got the recall and just the steps that he needs to do. It's not just the physical part for injured players, but I think the mental part is big, just not getting disconnected from your teammates. I know that won't be a part of what he does. He's going to try like heck to get ready. I think that's the biggest thing. The last one was, "You're done for the year." This one isn't that. He's got a lot to be motivated about in this recovery process.
On the targeting penalty against Shyheim Battle…
It's unfortunate. We did turn it in. We used the appeal process, and they confirmed. I have still not seen an angle that tells me it was. It's not because it wasn't. I have just not been privy to that film, I guess. It's hard when you're hitting a player who is changing elevation on a play. As you leave your feet to go tackle somebody when they're at five feet, and then they slide or start falling, and you hit them in a different place, that's a challenging thing for any tackler. Shy's penalty, it was targeting, I guess, by the letter of the law, but I do wish there was a different way that they could view some of these. There was no intent. I think that's what the rule was put in place for, from a helmet-to-helmet standpoint or launching yourself and trying to injure somebody. That was a very challenging play to make. Shy's head was up. His eyes were up. All of those things [were in place]. That was a tough one. It always hurts when you lose a good player for half the game. Last week, we lost [Derrek] Pitts for half the game. Now, we'll have Pitts this week, and Shy is out. It's like a role reversal here. We'll be ok depth-wise, and Shy will work hard to be ready in the second half. It is what it is.
Never miss the latest news from Inside Pack Sports!
Join our free email list