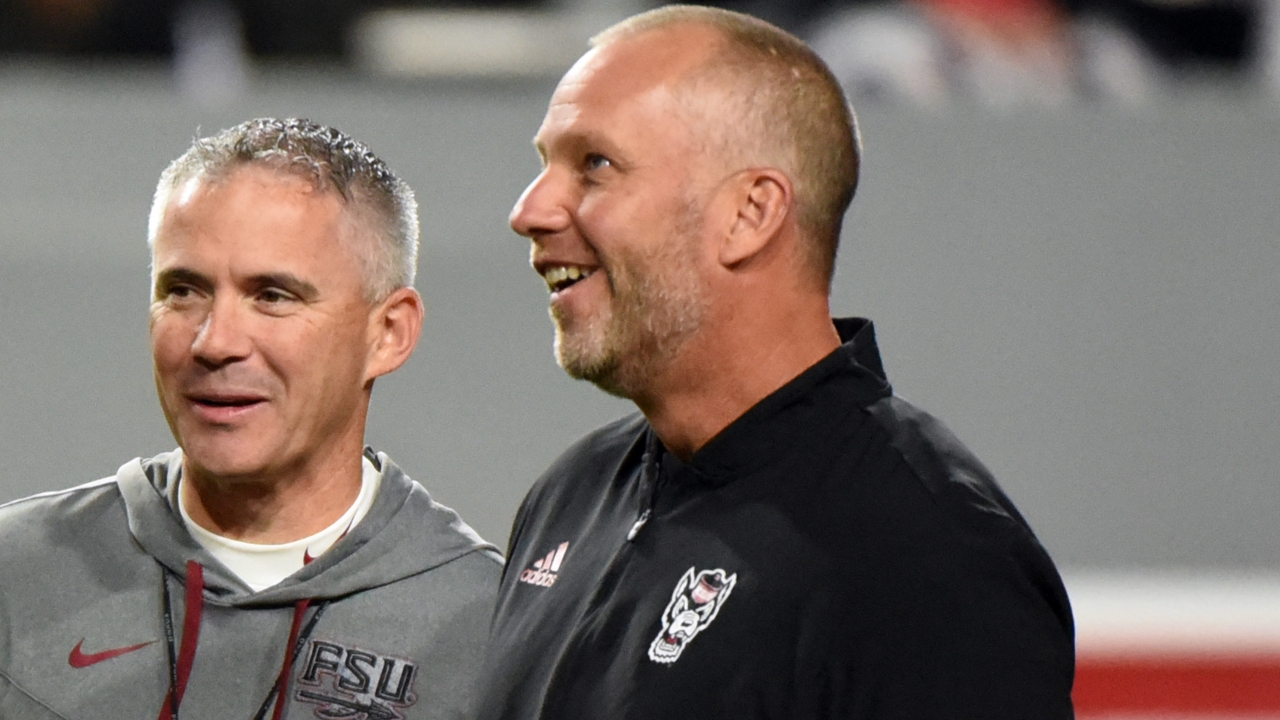 Photo by Rob Kinnan-USA TODAY Sports
NC State Football
Dave Doeren: "This Team Doesn't Quit"
---
No. 14 NC State head coach Dave Doeren met with the media via Zoom following the Wolfpack's 19-17 win over Florida State Saturday evening.
NOTE: Click on the video in the player above to watch Doeren's press conference.
---
Opening Statement
Well, it was one heck of a game and an incredible win. I'm super proud of our guys in their fight and resiliency. I told them at halftime, "We're going to come back and win this game. All you've got to do is believe, execute, dominate the line of scrimmage, and win the turnover margin." That's what happened. There were some really great individual performances. Obviously, I feel bad for Devin [Leary]. X-rays were negative. They'll MRI him tomorrow, and we'll be able to tell you more after that, but it's positive that the X-rays were negative. I'm very proud of Jack Chambers coming in and leading the team the way he did. I thought we ran the ball hard. I thought our running backs really ran the ball hard tonight. I'm proud of them and the way they played. Defensively, we got two takeaways and had a fourth-down stop. Those were great plays by Shy Battle and Devan Boykin there. There's a lot to be proud of. Chris Dunn hit a 53-yarder, tied his longest. It was a heck of a win and a heck of a football game. Florida State's a very good team. They had a good game plan, and I thought our coaches made good adjustments at the half, and the kids executed them. It was awesome to see our crowd help us there in the second half. It's a great win. It's great to be 5-1.
On his emotions, the grittiness of the game, and the way the Wolfpack came back to win…
It's what we did last year, too. This team doesn't quit. They don't flinch. They believe in each other, the plan that we have in place, and the next man in. This continues to find a way to make the plays that we need. It's a great feeling. It's very rewarding, very rewarding.
On the decision to punt at the end of the fourth quarter…
It was a 'tweener call. If we did make it, we'd given them a shorter field to travel. I was worried about a possible block as well. They'd gotten close on a couple of rushes today. It had nothing to do with Chris. The way we were playing on defense, I didn't think they could go 90 yards and beat us, and [Ryan Fitzgerald] is 5-of-10 on the year. I just felt like the odds were better that way than making another 53-yarder. It's a tough call.
On if he anticipated Florida State trying to play for the touchdown…
Obviously, you're not just going to leave it up to him. We thought there was a chance they'd throw it. They've got good receivers. Devan did a great job covering that guy and made a tremendous play on the ball.
On the adjustments at halftime…
We made adjustments based on what Florida State was doing. They only played in two formations offensively in the first half, so we went in and discussed ways we could defend them better, and the guys did a nice job executing. We tackled better as well. More than anything, it was looking them in the eye and telling them, "This is a gut check. You're going to be tested right now as competitors. This is your stadium. How do you want to look in it?" It was more about the attitude change and the execution more than anything. We did make a few adjustments. Obviously, we had to make a bunch offensively once Jack went in because of what he can do with his legs. That was a little bit more on the fly. You have to give our kids a lot of credit. They have a lot of heart.
On the players who stepped up…
"I don't know if I can mention them all. There're so many. Cyrus [Fagan] didn't even practice this week, and he played a good game. Delbert [Mimms, III] came in and ran the ball hard. Demie [Sumo-Karngbaye] ran really hard and then had to come out, so Delbert stepped up and played behind his pads. It was good to see Darryl Jones get a touchdown. He's played a lot for us this year. The biggest hero for us tonight was Jack with what he did to move the chains for us and orchestrate three scoring drives."
On a game like this illustrates his assertion that the curse is broken…
I don't know. I don't know. I know we won a heck of a football game tonight, and our kids earned it. It was tough. The lights didn't even want to come on at the beginning of the game. I don't know. To come back in a game like that against an offense as good as theirs — they were averaging 48 points a game going into our game — and to shut them out for a half, Coach [Tony] Gibson, the D-staff, and the defensive kids deserve a lot of credit.
On if this game embodies the maturity of the defense…
"Yeah, I think so. They fixed the things that were physical which was tackling and getting out of gaps. That happened multiple times in the game in the first half. Then, we adjusted a few things design-wise and disguise-wise. Then, we made plays. Guys broke up passes. Guys got to the quarterback. Guys intercepted the ball. We had to make some plays. I talked about that last week. We didn't make plays in key moments in the Clemson game, and Clemson did. We made key plays tonight. That was the difference."
On Leary returning to the sideline after his injury…
"I didn't see him. I was so focused on the field that I didn't see him on the sideline after that. He got hit while he was throwing in motion, so they X-rayed that entire part, and there wasn't anything on the X-ray. That was clean. The MRI will tell us if it's anything else. Hopefully, it's just a muscle strain, and we'll have him back soon. Say your prayers for him tonight. I know he's down, and he's a competitive dude. He wanted to be out there."
Never miss the latest news from Inside Pack Sports!
Join our free email list