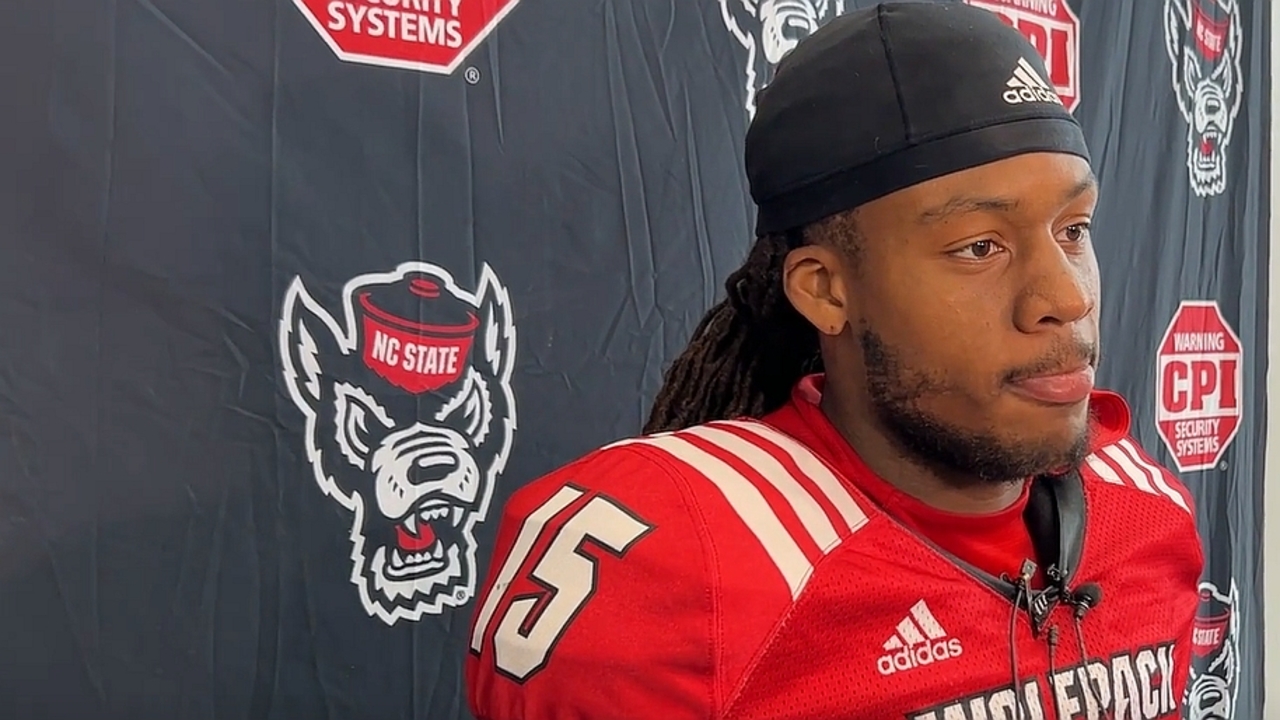 NC State Football
Keyon Lesane Expecting Man Coverage From Florida State
---
NC State wide receiver Keyon Lesane met with the media to discuss his position group, facing Florida State, and much more.
NOTE: Click the video above to watch the interview.
---
What was Coach Joker's message to y'all in the receiver room after this game?
His message is: it starts with us. We got to make plays on the perimeter, which I feel like we did in the last game. I feel down there, Leary didn't have time, but you start with us. We got to keep making plays, keep doing us, and keep blocking on the perimeter. We got to keep doing we doing.
Is there a feeling that you guys were absolutely just a couple of plays away from making that a different game?
Yeah, there's definitely a feeling. Coach Doeren mentioned that we were five plays away. He said his message to the team in the team meeting was we were five plays away from winning the game. That's what it takes to win big games. You got to execute on every play.
A good opportunity is this week with a good Florida State team, to kind of just get back on track right away to get back to playing a good team, and focusing on that.
It's a very good opportunity. Every game is an opportunity, in my opinion, though. It's a very good opportunity cause we just lost the game. So, we want to get our face back, and come out with a win. That's the main goal.
Is it hard because you don't hold your own destiny anymore; you got other teams going to have to help you from here on out. Does that make it tough?
Well, we're not looking at it from that point of view. We're just looking at finishing our season the strongest way possible we can. We're not really looking at other teams to see what they do. We're just going to keep taking it one game at a time and to try to win them all.
Florida State has some really skilled players in their secondary. What have you seen from them on film?
What I've seen on them, their safeties like to run-fit a lot. So, they like to be man to man out on the corner, so we'll have to win our matchups outside, most definitely in the man coverage.
Does it help having a team like Florida State, with a lot of talent, coming as your next game coming off of a loss? I'm sure they got your attention pretty quick.
Yeah, they got our attention. They're just a good school. Florida State is always going to play hard. It's a good school. We're not really worried about that. I feel like we just got to make plays on the field like we've been doing.
You're going to get a lot of man coverage. You being a vertical threat, are you kind of licking your chops when you're going against a team like that?
Yeah, I definitely like going against man coverage. Leary just got to put the ball up for us, and we have to go make plays around him. That's all I can say about that.
Never miss the latest news from Inside Pack Sports!
Join our free email list