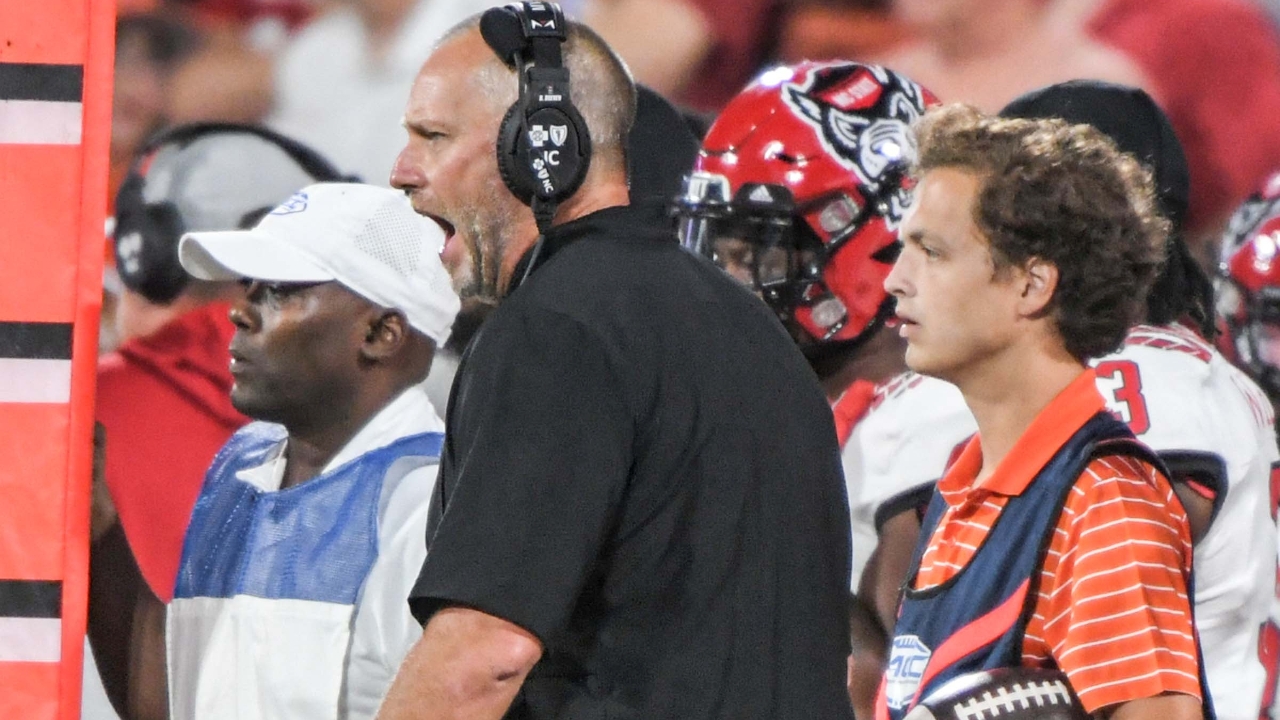 Photo by Anderson Independent Mail-USA TODAY Sports
NC State Football
Dave Doeren: "We Have to Control What We Control"
---
No. 14 NC State head coach Dave Doeren met with the media ahead of the Wolfpack's upcoming matchup versus Florida State.
NOTE: Click on the video in the player above to watch Doeren's interview.
---
"It was good. The guys were anxious to get back on the grass Tuesday and start working on the next thing they can have. The hardest thing is the Sunday/Monday after a loss. Once you get into the next team and the game plan, the guys come out with really good energy. We're at that point in the season where you have some guys nicked up, and so guys are trying to push through that. The energy and the focus is really good."
"They're very impressive. Like I said earlier in the week, it's the best Florida State team we've played in a long time. They have a very athletic offense. It's an experienced team because they grabbed a lot of older players out of the portal. The quarterback's playing tremendously. The defense doesn't do a lot, but they do it well. They play fast. It's a really good football team and also a team coming off a loss that'll be hungry to come in here."
"Losing Dylan Parham to graduation and the NFL and now Trent [Pennix], they're two really good players. Trent, in this game, was huge last year in that win. We miss him. Hopefully, we'll have him next week or the week after. It's probably trending toward next week, but worst-case, we'll have him the rest of the season after the bye. He's doing really good. He's out there running around today, but he's not ready for this one. We miss him. He's a weapon at that position."
"No, we have to control what we control. We have seven more opportunities in the regular season, and we have to go one at a time. As you've seen, college football changes week to week. All of the hype's on our team, and then things change, and then all of a sudden it's different. There's a lot of football left. You can't let one loss turn into another because you're not focused. We need to get our best back on the football field and play as well as we can."
"It can. I still think when you lose an emotional game, regardless of your age, there's something that goes into that, even as a coach. You've got to be able to move on. I think ['flush it'] is the appropriate term. It's a 24-hour rule, win or loss. Whether you're grieving a loss or celebrating a win, you've got to move on and get ready for the next game."
"I think it's a little bit of everything. We haven't been in tight games every week either. In some of these games, we were up by 30 points and just ran the ball to get home. As we're looking at our competitive games, if we're throwing the ball downfield, then we need to win 50-50 balls. We have a history of that. If they're going to play soft coverage, then that's different. You're going to be running the ball or throwing it underneath."
Never miss the latest news from Inside Pack Sports!
Join our free email list