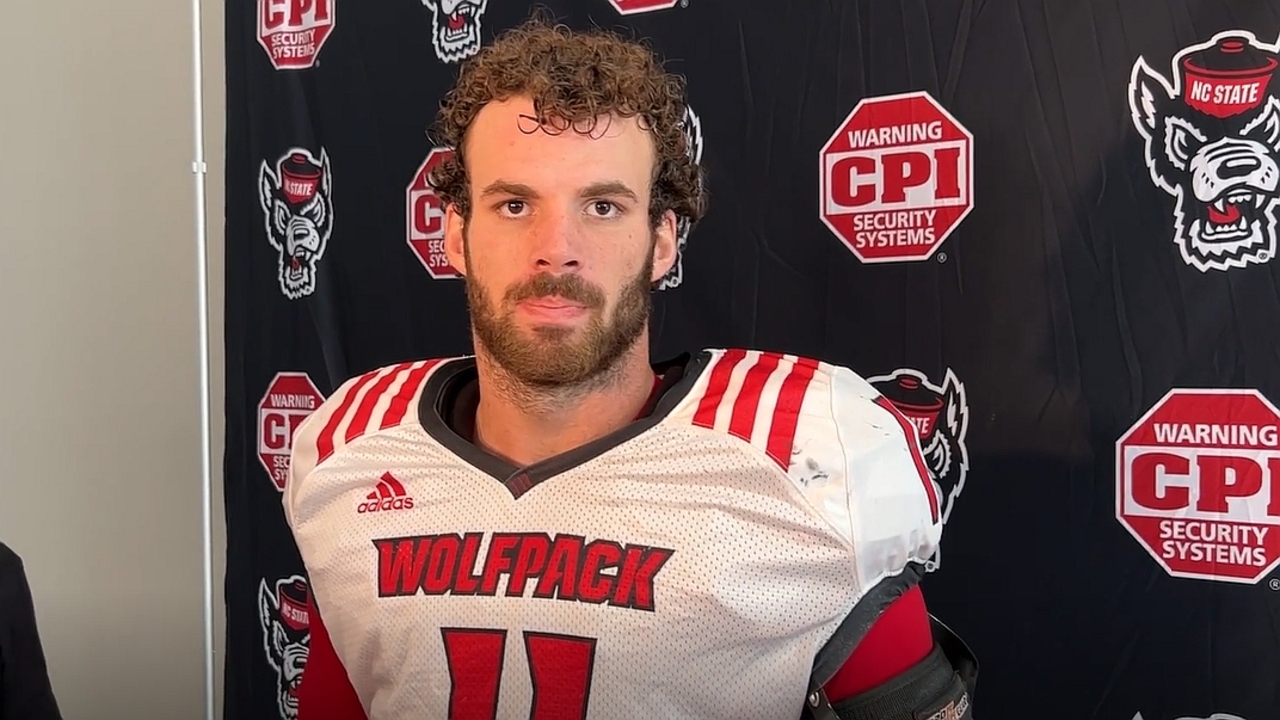 NC State Football
Payton Wilson: "We Flushed It"
---
NC State star linebacker Payton Wilson met with the media to discuss the challenges of facing Florida State and much more!
NOTE: Click the video above to watch the interview.
---
Yesterday, Coach Gibson said that y'all were just a little bit pissed off after the Clemson loss. Would that accurately assess how you all feeling?
Yeah, I mean, we came out to practice. We took our first loss. Everybody's really upset. We flushed it. We just know what we need to work on and we know what we need to not do to lose again. We just came out to practice just knowing that we can't play how we played, and we can't make the same mistakes that we made and we need to get it fixed.
What are the biggest things that stuck out when you look back at the film that you need to improve on moving forward?
It's just communication for us.
Clemson was a loud stadium, but it's still not an excuse. Wherever we're at, no matter how loud the stadium is, how quiet it is, our communication should always be 100%, and it just wasn't there last Saturday, and we need to really improve that and all be on the same page all the time.
Is there a situation where on the one hand you came back for a game like Clemson, on the other hand, bouncing back should be a little easier for you because you know what it's like football taken away from you?
Yeah I think that we're all, we just, I think Coach Doeren and the coaches do a really good job of just not letting stuff dwell. I think in the past, they've had times where they've lost to a team and in the season goes bad at that point, but they do a really good job of just emphasizing if you take that loss, you got to take it on the chin. You got to move on. You can't let it come back and haunt you through the rest of the season. Last week's failure shouldn't lead to next week's failure as well.
I haven't seen it as much from Jordan Travis this year, but he is a mobile quarterback, a guy that can roll out of the pocket. How difficult does it make it? Obviously, you just faced DJU this past week, but what do you see on film from him so far?
In this league nowadays, every quarterback can run so you really got to prepare, but he's a little different. He's really athletic, he's quick, he's fast, he can do it all. He's almost a running back, back there playing quarterback. They can also throw the ball well.
So just repping that in practice and understanding that if you get him in a tight spot, he's likely to escape. So we just got to have good eyes and people need to know what they're doing to stay on their assignment.
They're not giving up a lot of sacks. How much of that has to do with his elusiveness?
I think a lot of it. He gets them out of a lot. He's able to make people miss and he is able to... you've seen a lot of plays on film where he's tackled and he gets out of it somehow and he makes a negative six yard gain into a 15-yard pass. He does a really great job of that and I think that helps them a lot, but the O-line does a good job as well.
We just got to come in with a full head of steam and then really try to execute what we got going.
Makes it easier to try and bounce back when you're playing a game here where you haven't lost in 13 games and you're playing under the lights?
It's awesome playing here no matter when. Our fans do an amazing job, they're part of our team, and Coach Doeren lets them know that and they do a really good job of just being loud and making it a very hostile environment. We love playing at home, so be a fun game to bounce back from.
Never miss the latest news from Inside Pack Sports!
Join our free email list