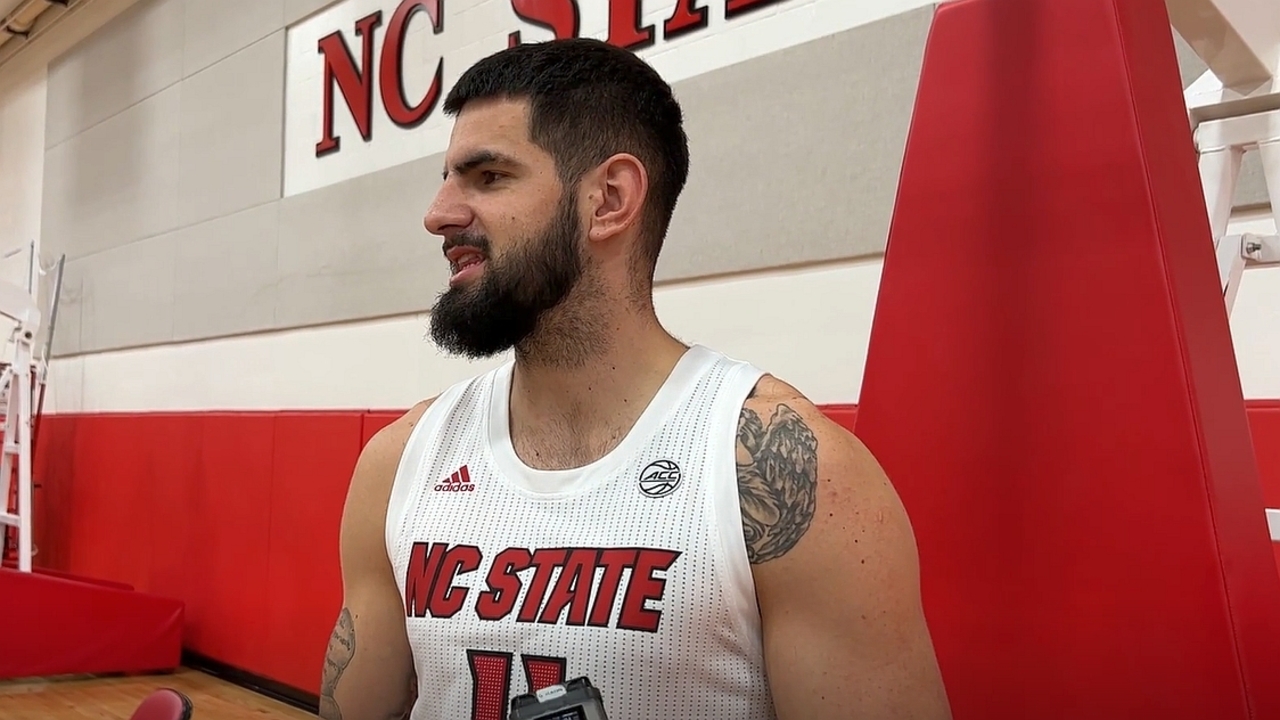 NC State Basketball
Dusan Mahorcic Focused On Winning At NC State
---
NC State post Dusan Mahorcic discusses his time in Raleigh, competing with D.J. Burns, the upcoming season, and much more!
NOTE: Click the video above to watch the interview.
---
You've had a very unique journey. What do you want to get out of this year?
Win some championships, man. We have guys that transferred in, some really good guys, and figured this is the place to be. It's like basketball nation, period.
What can we learn about DJ and all your battles last month?
Me and DJ? I don't know. We are both competitors. We go at each other. We talk a lot to each other, but no, we have really good friendship man. I have a feeling me and him kind of like clicked right away, so it was nice. It was nice to have him.
How good is he from 10-feet and in?
You know what, he can't jump [laughing], but he's really skilled. He will put the ball in the basket, no doubt.
How has your energy been contagious?
I would say me, Jarkel, and T... we're like energy guys. All the older guys on the team as well just bring the experience, and the stuff that you need to succeed. The younger guys are feeding off on the energy.
What was it about NC State specifically and coach Keatts that made this the place you chose to come in?
It was actually coach Kareem Richardson. I played against him when I was at Illinois State and we started talking after I transferred from Illinois State because he had went to Clemson after that.
And I was actually supposed to go to Clemson but then my credits didn't transfer, and then from there I went to Utah and when I finished at Utah, he told me literally like a month of me being in the transfer portal he said, "Hey man. You got to do this thing this time," and I was like, "Yeah. We do."
What would you say your strengths as a player are?
Like I said, a really high-energy guy, rebounding, making plays for my teammates. I can score around the basket; I've been working on my shot lately, so I'm planning to expand my game this year as well.
Playing really good defense on the ball, off the ball. So kind of like an overall player. I would say like that.
Never miss the latest news from Inside Pack Sports!
Join our free email list