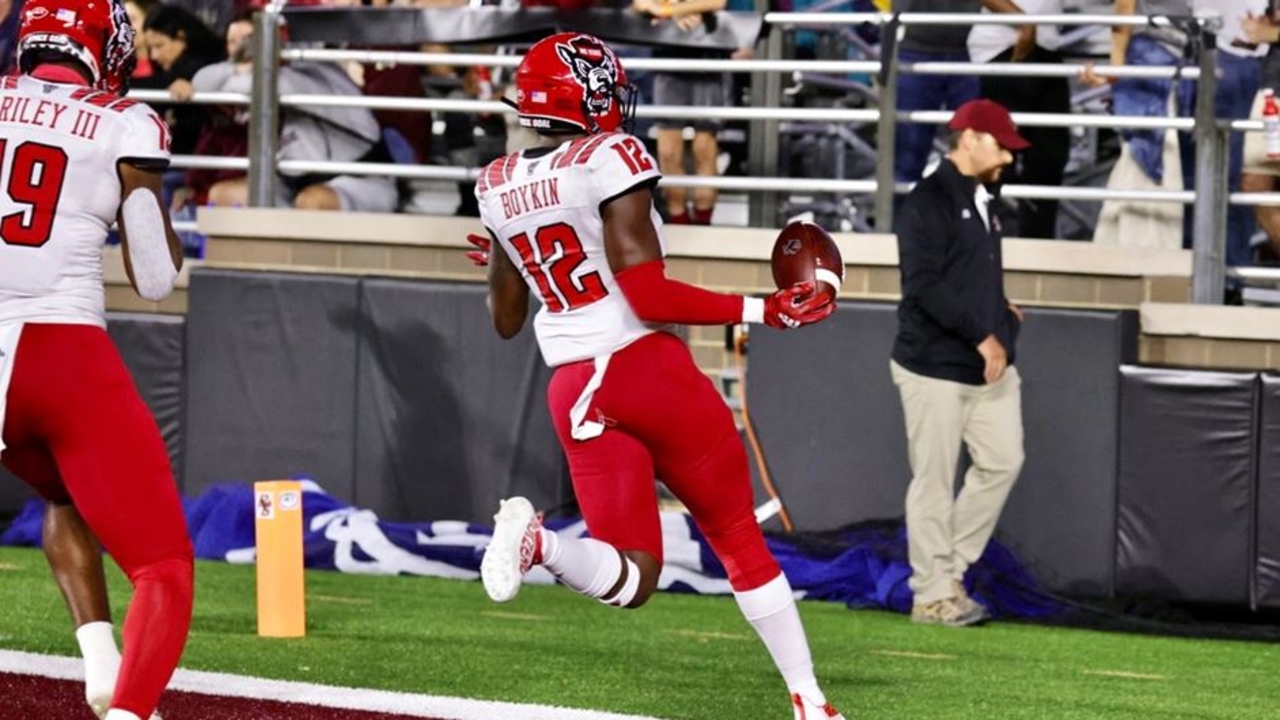 NC State Football
NC State DB Devan Boykin: "It's a Dream Game"
---
NC State defensive back Devan Boykin could be asked to play a major role at Clemson, and he's looking forward to the opportunity.
NOTE: Click the video above to watch the interview.
---
For you this year, how have you felt like you've grown as a player and gotten better just over the last couple years?
I would say over the past few years, I definitely got better. My main coverage, I would say that was one of my strongest abilities on the field. Just being able to cover guys, lock guys down.
Looking at Clemson, what catches your eye as much as anything? Just looking at their schemes and the way they play.
Kudos to them guys. I would say their strongest abilities is their athleticism, how athletic they are, and how big they are. We just got to deal with their size. That's it.
Just a matchup of two teams in the top 10, you're 10. Talk about this matchup here. It's got to be one that you live for.
Obviously, it's a big opportunity from the outside looking in. It's obviously, like a big opportunity, but our goal coming into the game is just focus on us. Our word of the week is pride and that's just something that we going to stick to this weekend.
Do you listen to the hype that's taking place out there or are you just so focused in on the game? Can you allow yourself to feel good about just the magnitude of this game?
Nah, just ask the players. You got to kind of stay levelheaded. Try not to pay attention to all the outside noise as much and just lock in on what we got to do.
But when you see that, I mean it's got to be a source of pride, I imagine. To hear that.
Obviously it's big opportunity for us. We know what we have to do going into game. We know how big a game it is for our program, and I believe that we'll go in and handle business.
A lot of talk about the weather coming up on Saturday. Coach Gibson just said the messier the better. You guys, any thoughts on playing and what the weather might be?
We've been hearing thunderstorms and you know how wet it's going be. Well honestly, we just prepare for however it comes. We'll be ready.
For the linemen and linebackers, that's good. But you guys got to make that quick stop, cut, and it's a little tougher for you on badder weather, isn't it?
For sure. Just being able to keep a good base and keep our feet under 'em, that's definitely going to be one of our keys going into the game if it is wet.
Their receivers made some tough catches on 50-50 balls against Wake Forest. I'm sure you saw that. As a defensive back, how do you deal with that?
Just try to stay connected as possible. Play the hands and we can get our eyes back, try to play the ball. Kudos with those guys and making big plays and big time games. But we going to try to come and do the same thing.
DJ looks completely different than he did last season. I'm just wondering, what have you seen on film from him, season and career highs last week?
I would say the biggest development from him, is just making decisions with the ball a little last year. I feel like he kind of held the ball a little bit versus us. But I think watching film, he's making better decisions, not really holding the ball, getting the ball out to his receivers.
How was practice today? Little extra out there? Just knowing what's coming up on Saturday.
I wouldn't say a little extra, just having a gameplan and really trusting our game plan that the coaches have put in for us.
You guys got a lot of upperclassmen who've played some huge games. How will that help you on Saturday?
It is going to be huge. Just having that seniority and having those guys who have been in these big time games before. It's definitely going to help us. Just knowing what to do and just being prepared for the moment.
Are guys like Isaiah and Drake, are they kind of calming influences on you guys maybe out there?
Oh, they are for sure. Those two guys are definitely, I would say, our biggest leaders on defense. Just getting everybody to where they're supposed to be and just getting guys lined up.
Growing up playing for your dad, I'm sure when you signed with NC State, it was about games like this. Now that it's here, I guess, how do you kind of put it in perspective to the high school version of you looking at a top 10 matchup?
Yeah, it's a dream game. The biggest game I've ever been in. I think it's going to be some of the biggest games that a lot of these players have been on. So like I said, it's a good opportunity just looking from where we've been at, where we are now is, you know what I'm saying? It's amazing.
Never miss the latest news from Inside Pack Sports!
Join our free email list