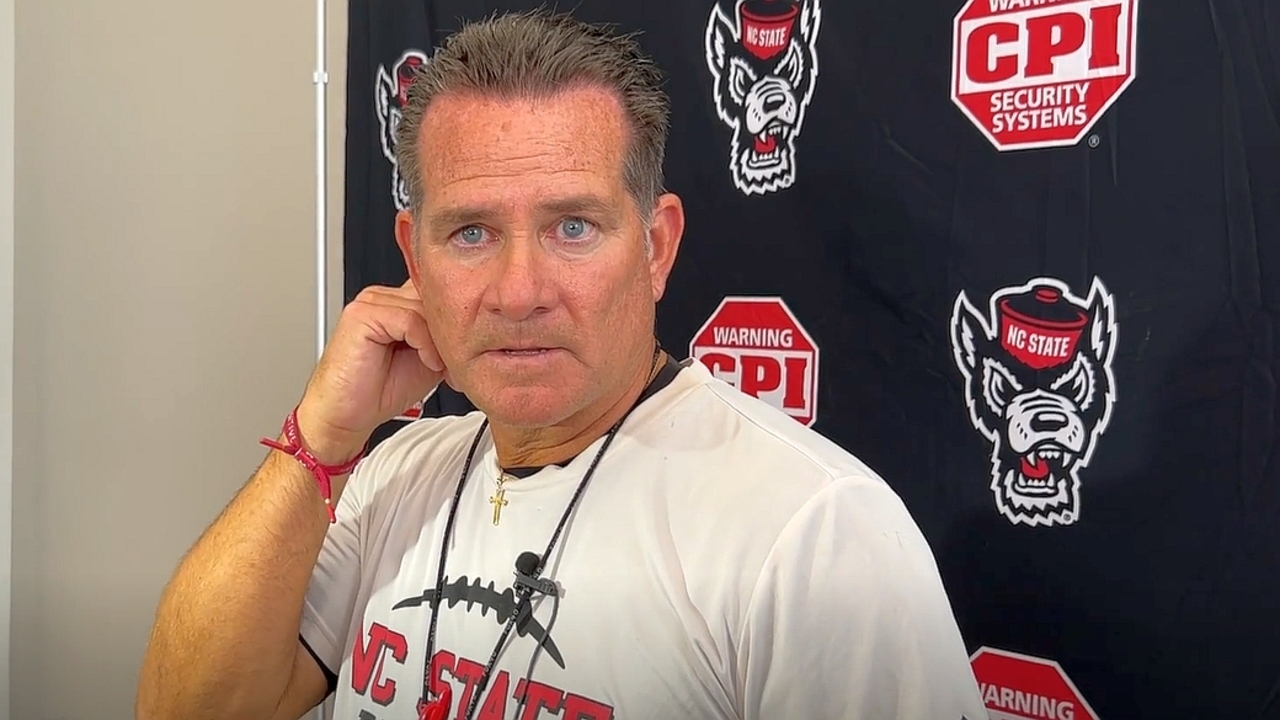 NC State Football
NC State OC Tim Beck On The Upcoming Matchup Against Clemson
---
No. 10 NC State offensive coordinator Tim Beck met with the media ahead of the Wolfpack's upcoming matchup versus No. 5 Clemson.
NOTE: Click the video above to watch the interview.
---
Wake Forest did a lot of downfield passes, a lot of trying to get pass interference or jump balls or different things. How much do you take away from another team's gameplan?
One thing I think they've, every offense is a little bit different, and so what they do is they prepare their fronts, their coverages based on what they feel like they need to do to stop that team. Sometimes there's carryover, sometimes there's not, and so as a coordinator, when you're playing in a game, you have to realize and notice that and so you see what they did and you tip your hats and somehow it's a pretty good job what they did but I don't know if we'll get the same thing or not.
Devin seems so calm and levelheaded. Is he that way in games throughout games, too? Or do you have to kind talk him down from time to time?
No, just refocus him from time to time. He's a fierce competitor and wants to win and wants to be perfect, and so sometimes if he feels like he's not, he gets down on himself, he's hard on himself, and I just got to bring him back and just tell him hey, you're good. Don't worry about all that stuff and so... but yeah, I like our practices, we've had two really good practices. I like our focus where we're at. The guys are preparing hard.
Had he shared much with you about how badly he wanted to beat Clemson in his college career? Was that something you talked often with people or kept it to himself?
No, I mean he hasn't really shared that with me, but he could probably say that about everybody. He wants to beat to everybody, so it doesn't matter who we play.
Devin just mentioned, obviously, squirting the water as you guys are practicing and trying to prepare for Saturday. Is that kind of throw a few different wrinkles in given what the weather might be on Saturday?
Well, yeah. I mean you got to prepare for as much as you can, right? Nobody knows for sure what's going to take place. So there's going to be crowd noise and there's going to be potentially bad weather and so you just, as a coach you feel like you check all the boxes when you at least address those issues and you show them and you practice and you go through those things so they're not shocked when it happens, because it's going to happen, and so they feel better and we look at them and hey this is just practice, remember I'm like, yeah, gotcha coach and they move on.
When you're calling a game in bad weather, how does it affect what you're doing? Is that the kind of thing where you have to see how it's going to start and then figure out if the conditions are really as much of a factor as you thought they might be? Or does it affect even coming in to how you plan?
Again, I think most coordinators will all have plans, just all kind of plans, right? They got plans if the weather's bad, right? They got plans if their starting quarterback gets hurt. They got plans if they're winning, plans if they're losing, just different things of what to do and so end of the game, what's your plan? So you're very well prepared in terms of what you feel like you need to do given that situation, but also you make those decisions as they happen.
You don't necessarily, "hey we have to start the game like this." You might be unbelievable there. You can't even see across the sideline. Well then you know, got to start the game that way, but if not, you just build in and see what your kids can handle, players can handle, and what the conditions are.
Goodwin taking over DC there. Have you seen any changes, or still [the] defense that has Venables' hands on it?
No, I think he has his own tweak to it, but I think it's a system and he learned a system from Brent and so I think there's a lot of similarities to it, but just what he does and how he does and when he does it is different than Brent.
How have you seen Tim McKay grow this off season for the first four games this season?
Well one, I thought his leadership became better. He kind of stepped out of his shell in terms of a unit, right? I think Tim has a great personality to begin with, but I do believe he was just much more vocal and I don't know if it came with confidence from the weight room, playing, whatever, but it definitely showed, and it's helped him on the field. I'm really pleased he's playing very aggressive, physical play and offensive line. He's improved his pass protection, which was one of the things that was his goal that he needed to work on. So we like where he is at. He's been a pleasant surprise for us.
How much of an emphasis was it to do a short, controlled passing game against UConn? It seemed like Devin was really getting rid of the ball within a second or two?
Yeah, you know I just... they were playing deep. You got to take what they give you. Sometimes I've been stubborn and trying to push the ball on the field and some teams aren't letting us, so we just took a deep breath and refocused and just kind of attacked where they weren't.
Never miss the latest news from Inside Pack Sports!
Join our free email list