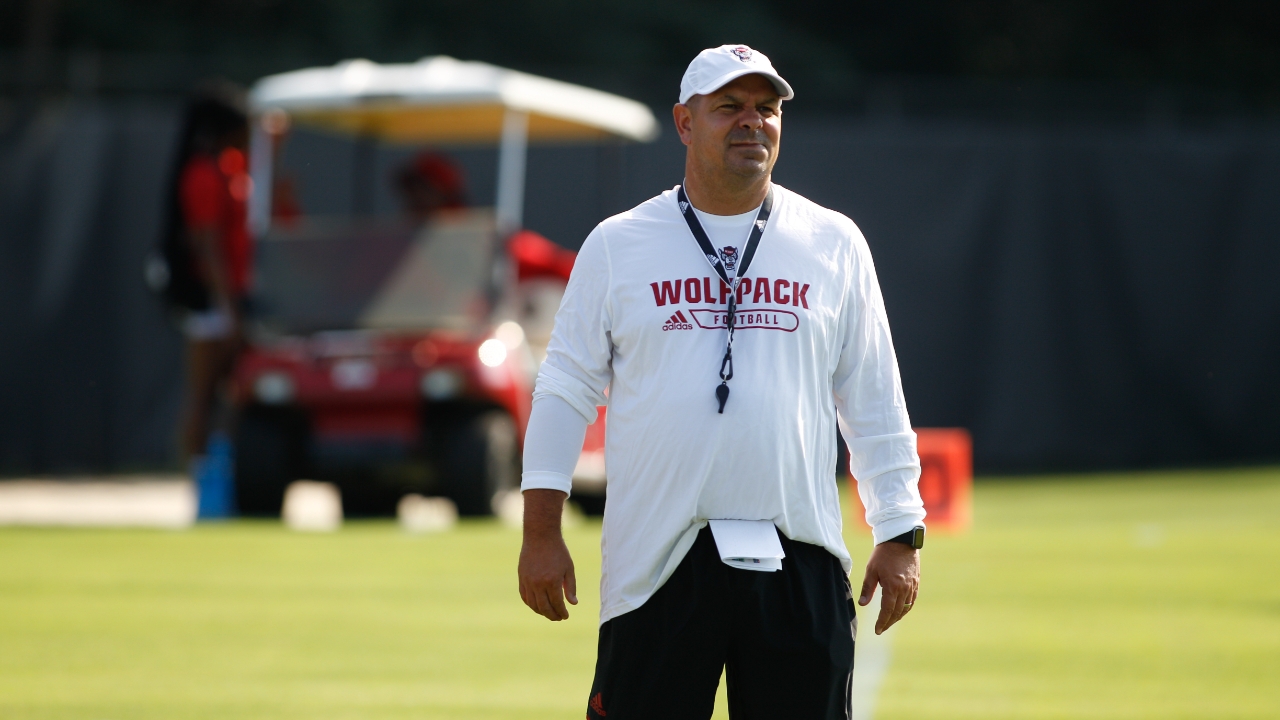 Photo by Steve Murphy/Inside Pack Sports
NC State Football
Tony Gibson: "We've Got to Have Our A-Game"
---
No. 10 NC State defensive coordinator Tony Gibson met with the media ahead of the Wolfpack's upcoming matchup versus No. 5 Clemson.
NOTE: Click on the video in the player above to watch Gibson's interview.
---
"They've got great players. They've recruited well. They've got good kids who make a lot of plays. [D.J. Uiagalelei] is much improved. He throws the ball well. He can extend plays on you. He can be a threat in the run game as well. We've got to prepare for all of it."
"[Uiagalelei's] biggest improvement is] deep balls right now. He's throwing very accurate right now down the field. Guys are making plays for him, but he's putting the ball in the right spot and keeping it out of harm's way. He's doing a really good job."
"Yeah, like I said, they're good players. They're highly recruited kids that've made a lot of plays and been in big games before. It's going to be nothing new for them."
"[Will Shipley] runs hard. We know a lot about Will. Will's going to be motivated to play his best against us. He scored a touchdown against us last year and had some nice runs, so we've got to wrap him up. He runs hard and runs strong. He's going to be a handful as well."
"Let it get as nasty as it can. Our guys will like that. Obviously, we have to keep a great functional base. We can't be falling around, especially with the quarterback run game. If it gets nasty and wet, I'm sure they're going to use him a bunch, so we have to be able to get an extra guy in the box or whatever we need to do to stop it."
"We don't talk about last year. Last year was last year. It's time to move on. They're explosive, and we know it. We've got to have our A-game, go play hard, make sure everyone's on the same page, and tackle well. That's the key for us."
"That offensive line's good. They're much improved as well. They're not getting to him a lot. Again, they're a good football team. They're ranked fifth in the country for a reason."
"Very important. Our guys have played in big games as well. Our guys are going to be ready. We're playing a great opponent with a national audience. This is why you come to NC State: to play in these types of games."
"Not really. They have a few wrinkles in the run game that they didn't have a year ago, but most of their offense has stayed the same. Obviously, that's got Coach [Dabo] Swinney's fingerprints on it as well."
"[Clemson's tight ends] are very skilled down in the red zone. We have to make sure we have people on them and body them up because they'll just go up. They're 6-6, 6-7 guys, so they're big."
"It was a good practice. Guys were locked in, flying around, and brought a lot of juice today. They're ready to play the big game, and I'm excited to watch them play."
"[Uiagalelei] is moving around quicker. He was quick last year, too. He's a big kid that can run. He's very athletic. He uses his feet to escape and get out of some things, and he can hurt you with that. Last year with their second touchdown, he busted a 40-yard run on his."
"You've got to wrap him up. He's done it. He did it to Georgia Tech. It was a one-possession game. Georgia Tech had him sacked and spun him around. Somehow, he found Shipley and flipped it to him and gained about 25 [yards]. He's a playmaker. It's going to be a challenge, but again I'm excited to watch our team play."
"What we have to do is be the best us we can be. We don't need to have an out-of-body experience. We don't need to turn into superheroes. We've just got to do our job, practice the right way, earn the victory today, tomorrow, and the next day, and keep preparing. We know what we've got and what we're facing, and we just need to be our best."
Never miss the latest news from Inside Pack Sports!
Join our free email list