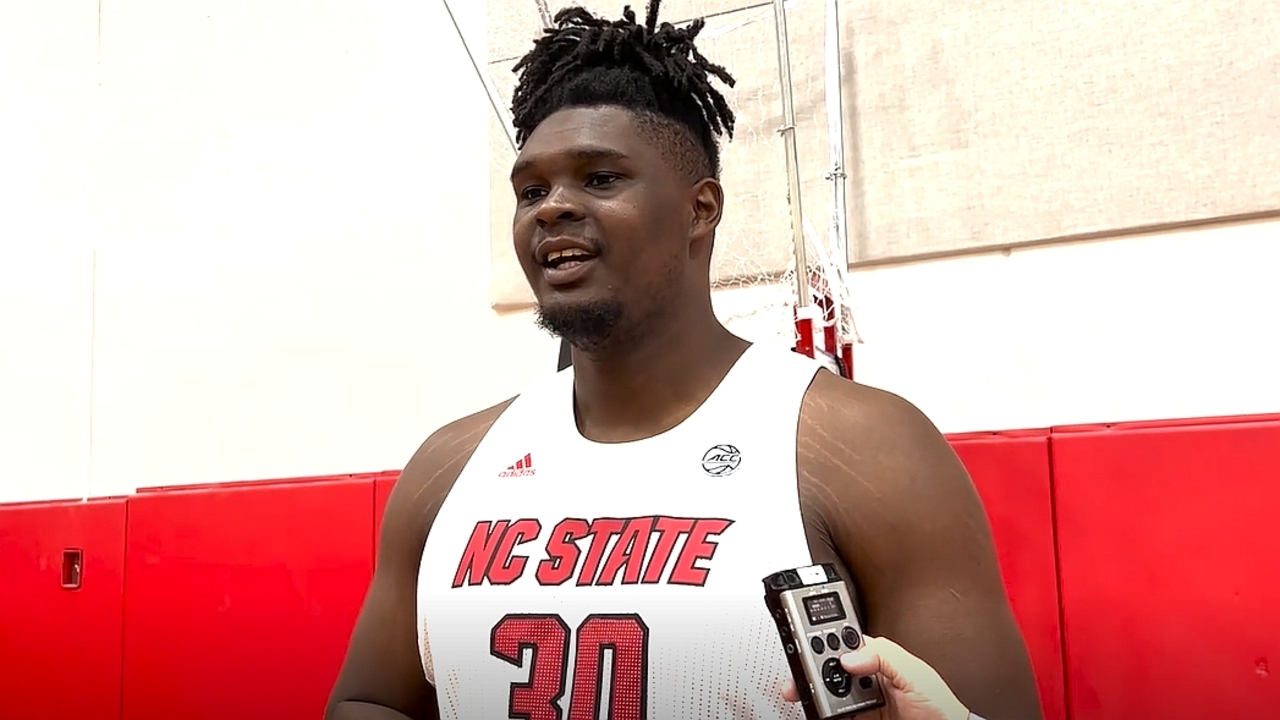 NC State Basketball
D.J. Burns: "I'm Going To Play My Game"
---
NC State forward D.J. Burns discusses why he picked the Wolfpack, the fanbase, preseason workouts, and much more with the media.
NOTE: Click the video above to watch the interview.
---
On the tempo...
I wouldn't say it's the same because it's going to be a high level competition, obviously. But I feel like we played just as fast as we did it back at winter. Maybe a little bit faster, but I feel like the goals are pretty much the same. So I'll be able to do well; it translates well.
And from a scoring standpoint, how much do you feel like you could help this team when it comes to that?
I feel like honestly that's what I do, so I'll bring that aspect as much as they need me to and as much as I can.
What made NC State an attractive option for you?
Honestly, the coaching staff. That's what initially got my eye, and then coming in I asked a couple tough questions. I was like, "I understand the year you guys had last year, but what's going to be different? Who are we bringing in? Who's going to be my teammates?" They told me about that guy right there, No. 1. T came back and it was like, the rest was history. They didn't really have to say too much after that. And then I get here and find out Casey's here and Jack's here and met a couple other guys and felt like home.
Did you watch NC State play at all last year?
Honestly, I didn't until they began to recruit me. Then I watched a couple games of all the schools that I was really interested in, but not until then.
You were one of the guys, statistically, who was most efficient last year in your on-the-court time. What is it about your game that led you to be that way?
I don't try to force it. I might take a few tough shots if I feel like I can make them, but outside of that, I don't do anything that I can't do. I'm not out here to try to be something that I'm not. I'm going to play my game and simply that. It's not too much of a method of trying to do things that look spectacular, more so to get us to win.
How exciting is it to expand your game to a P-5 level ACC day in and day out? You've obviously played some of those teams.
Honestly, being able to have a lot of freedom to use my talents was a big part of it. There was mostly guards back in my old school and they didn't really need me at Tennessee. Obviously, number one in the country when I was a redshirt. So just being able to show what I can do at this level is big for me. I'm looking forward to it.
What does it do from a guy at your position to have a shooter like Terquavion Smith on the perimeter?
It makes things so much easier. It ain't going to be too much double-teaming me without having to turn around and double team him. So I feel like especially with all the guys we have around, one through four, they all can shoot. So just having a option to passing to that I know and I'm confident in them making the shot is going to be everything.
Coach Keatts missing your passing ability along the way in your development? Is there somebody specifically who coached you up on that part of the game?
I wouldn't say coached me up on that part specifically, more so the other offensive aspects. But that just came from me not wanting to be a selfish big. I noticed that most of the bigs, we complain a lot about not getting the ball, then we get the ball and it's like a black hole, it ain't coming back out. So I'm like, man, if I have the ability to score and be able to pass, who's going to stop that for a whole game or a whole season? Ain't nobody doing it.
What have been the biggest things that you've been working on this off season to improve your game and get ready for this?
Getting into ACC shape. These guys run a lot and are a lot faster. The pace is going to be up, so I got to be up. That's the main thing. That's been a big focus, changing the eating habits and everything like that to get it done. I'd probably say that's the biggest thing.
After that, expanding my game, being more comfortable dribbling on the perimeter, being able to drive defenders instead of just dribbling for a ball screen. Dribble hand off, something like that, so just expanding my game out to the levels beyond the post.
What's been your impression of the school itself, the fan base, the campus life, things you've experienced since you got here?
I've been to a lot of different schools and the fanbase here is phenomenal. From the time I stepped in, it was like, we know what kind of year we had last year, but we expecting you guys to come and clean that up. And we believe in you fully, even though it's been a couple down years or however long you want to say they were down or whatever. So just the ability to stick with us through it all and now they're going to see some good stuff happen. So thankful you for that and they've been great to us.
The city itself is nice. The school, beautiful school, a lot of great things going on here, so I'm really invested into it.
Can you walk me through a little bit more about what those conversations were like that made you feel like, "Okay, they've got a good plan fix what was doing wrong last year?"
It's not even so much what was going wrong, it was just more like, "What's the culture around here? Do the guys complain a lot? Are we guys who get things done?"
Because I'm used to playing for teams where I have my moments where I would want to look down, but I look around me and everybody else is up, so I can't be down. Especially being a leader and I plan to be one of those here. So just asking all the tough questions that people normally would be a little afraid to ask, even a head coach like Keatts, who has the staff that he has. Just not being afraid to ask the tough questions.
It was basically what the conversation was about and my parents had some as well, and after going through it and speaking to the other schools, we felt like this was the best opportunity for myself this year.
Never miss the latest news from Inside Pack Sports!
Join our free email list