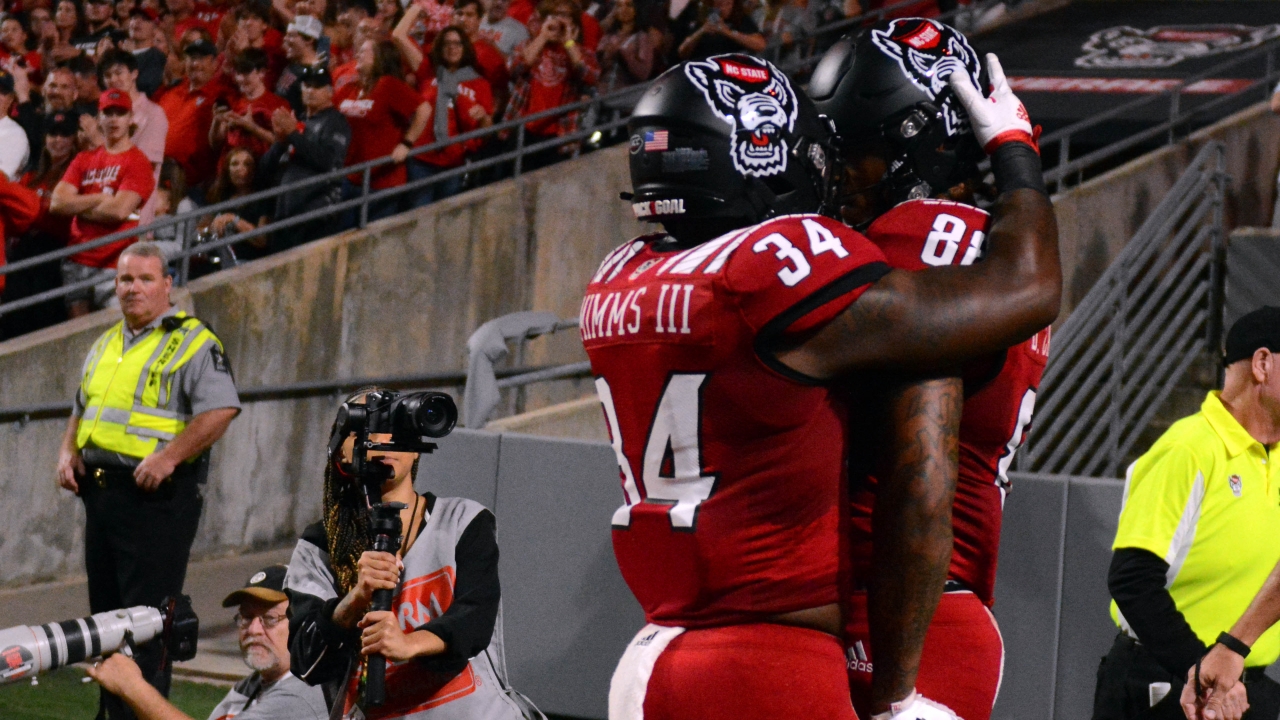 Devin Carter
Drake Thomas
NC State Football
LOCKER ROOM REPORT: Wolfpack Players
---
No. 12 NC State's Devin Carter and Drake Thomas met with the media via Zoom following the Wolfpack's 41-10 win over Connecticut Saturday evening.
Carter caught five passes for 63 yards, including a second-quarter touchdown that extended State's lead at that point to 24-0. One of the Pack's six team captains, Thomas finished second on the team in tackles with six against the Huskies.
NOTE: Click on each player's respective thumbnail to watch each interview.
---
Devin Carter

On his five-reception game…
"It felt great. It's always good to play in the Carter, and it always feels good to touch the ball. It's just perfect timing. It's God's plan, God's timing."
On the upcoming game versus Clemson…
"It's an away game, so we know it's going to be a hostile environment, but we're ready. We're just focused on ourselves. We face these opponents every week, so we worry about ourselves, and that's how we're going to take on this week as well."
On Keyon Lesane and Porter Rooks' first career touchdowns…
"Those guys work really hard. It was their first collegiate touchdowns, and I know those boys work really hard. It just makes me proud as a leader of that room to see those guys elevate. To celebrate with them is great."
On his slow start and this game coming at a perfect time…
"Yeah, it's good for our offense."
On what helped get the offense in sync…
"Yeah, like I said, I think it was the perfect timing. We worked really hard in practice, and whenever you practice something related to the game, it just clicks. It just happens. I think it's just a credit to our practice."
Drake Thomas

On the defense being better this year than last year at this time…
"I would say so, yeah. We have a lot of guys that have worked really hard, and the goal every single day is to get better as a player, as a person, whatever it is. The whole offseason, the goal is to get better. You're either getting better, or you're getting worse. You're never staying the same. As hard as we've worked, all of the work we've put in, and the continuity of the defense, I'd say we're better."
On the defense's confidence…
"I think it's really important. We pride ourselves on the way we play. We want to play aggressive. We want to play hard. We want to play physical, but we like to play confident, too. We like to play with a little bit of swagger. I think that's kind of key to our defense, the way we play, and who we are. Going out there, making plays, and getting three-and-out after three-and-out, it's a confidence booster for sure, and we like to go out there and play confident."
On the atmosphere at Clemson next week…
"We have a lot of veteran guys on the team, and we've been in hostile environments before. We've played on the road, so all of the outside stuff shouldn't really play a role or factor into anything we're doing. We've just got to focus on ourselves, show up with the best version, go to practice this week, and execute the game plan."
On the younger players getting playing time…
"It's really exciting. Those guys work really hard, just like the rest of us. To see them grow, progress, get to where they are now, and get reps on the field, it's really exciting. They have really bright futures ahead of them."
Never miss the latest news from Inside Pack Sports!
Join our free email list