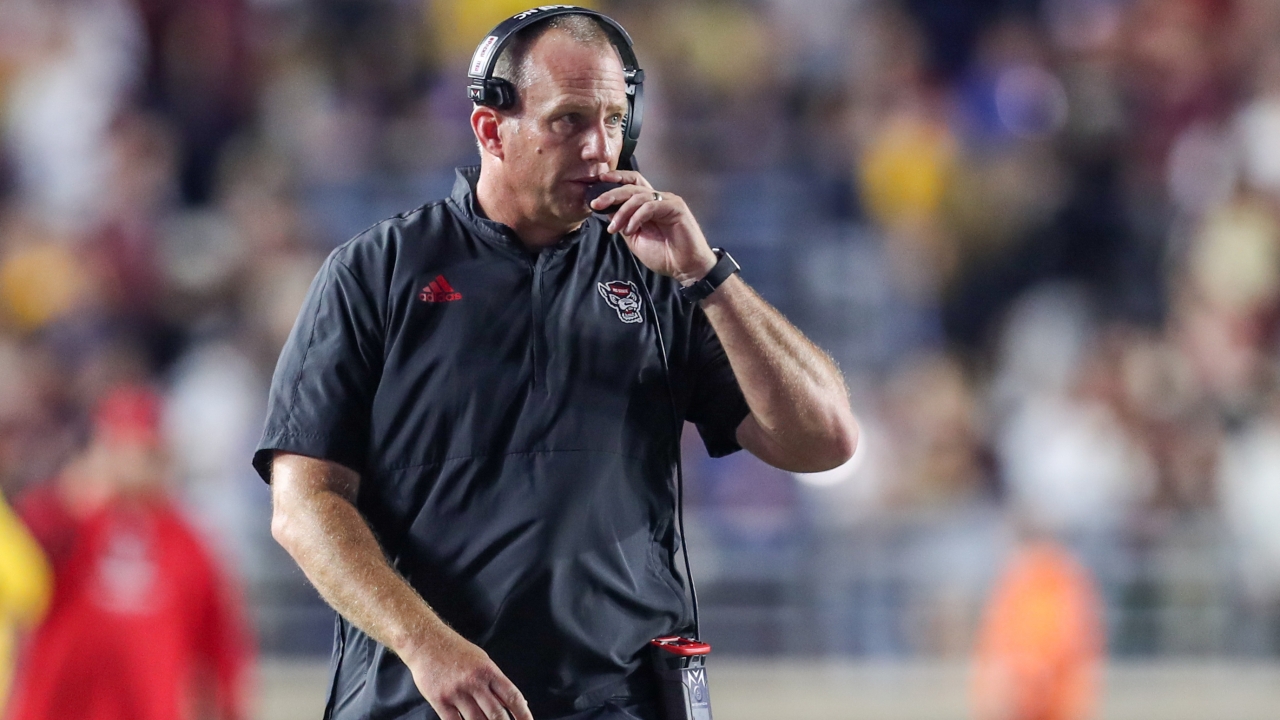 Photo by Paul Rutherford-USA TODAY Sports
NC State Football
Dave Doeren: "I'm Excited on the Progress We've Made"
---
No. 12 NC State head coach Dave Doeren met with the media via Zoom following the Wolfpack's 41-10 win over Connecticut Saturday evening at Carter-Finley Stadium.
NOTE: Click on the video in the player above to watch Doeren's press conference.
---
Opening Statement
"I'm proud of the guys. Our core value was focus, and our guys were [focused]. They came out excited to play. They came out with a great start, obviously, with the big touchdown to Thayer [Thomas] to open the game. It's good to see Devin [Leary] get in a rhythm. I thought almost everything we talked about during the week we got to see. We wanted to see guys make contact catches. It was great to see Devin Carter play that way. The ball got spread around to numerous receivers, and guys were catching the ball well. It was great to have some guys score their first touchdowns. Porter Rooks got in the end zone, and Keyon Lesane got in the end zone, so it was good to get that. I thought the run game early was pretty good, and once Demie [Sumo-Karngbaye] went out, we got some of the younger backs some good reps. Defensively, we played well really until the end there when we had a lot of the walk-on guys and our freshmen in the game, getting them some reps. I'm just proud of them. There are a lot of teams out there that don't play the way that they're supposed to in games like that, and we got better. That was the key as we get done with the non-conference part of our schedule and get ready to play three straight games against undefeated teams right now. Clemson, Florida State, and Syracuse are all undefeated, so we've got three really good opponents coming up, and two of those are road games. I'm excited about the progress we've made as a team and look forward to what's in front of us."
On if he likes the feel of the team going into ACC play…
"Yeah, I think we're hitting on a lot of the cylinders that we wanted to. Like I said earlier, I think we're in a good spot. There's always things that can be better, but the things that I was disappointed about a week ago were corrected in this game. Other than that, we're able to play a lot of guys, and I feel like we're in a good spot."
On updates on Sumo, Jordan Houston, and Tyler Baker-Williams…
"Demie's going to be fine. He was sore, so we're planning on him being back. If it were a different type of game, we probably could have played him today. We'll have [Houston] next week. He'll be fine. Tyler's day-to-day. He's getting better. We're hopeful we'll have him, but I can't tell you that right now. I just don't know."
On Michael Allen's performance…
"We wanted to play him and Terrell Timmons. Both of them started on special teams and played on offense almost the whole second half. I thought [Allen] did some good things. You saw his speed. He can really run. He's quick. He catches the ball well. He had a couple of receptions out of the backfield. It was good to get him out there and see how he'd be under the lights. We're excited about him."
On the fake field goal play…
"We've been practicing it for three or four weeks and thought that it was there. We'd been getting rushed really hard. I haven't run a fake field goal in a while. I thought it'd be good to get on film as well for our opponents so they know that we're not just going to let people tee off. It's unfortunate that we didn't get it blocked because I thought Chris [Dunn] would have a chance to get the first down on that with it being fourth-and-four. You have to give UConn credit on that play, but we took a shot at it."
On Leary playing into the fourth quarter...
"We were just trying to get one more score before we took him out. That was all. Once we didn't and where it was on the clock, we turned it over to Jack [Chambers]."
On Dunn's status…
"He's good. I don't think he's been tackled in a long time. It was good to get Collin Smith in there and give him an opportunity. Chris will be fine. I mean, we win a game like that, and all you want to talk about is the injured players? I mean, really, what are we doing?"
On next week's game being a top 10 matchup and College Gameday potentially appearing…
"It'd be great if Gameday was there. Obviously, you've got two undefeated teams, and Clemson had a heck of win today in double overtime. I watched that whole game. That was a heck of a football game. I think it'd be great to have that kind of attention for us and our players going to play the longest home winning streak in the country down there. They've done a tremendous job. I'm looking forward to the week and everything that goes with it."
On the win giving confidence heading into next week…
"It'll be a great challenge, a great opportunity. We did the things that I wanted to see us get better at. After I grade the film, there's going to be a lot of things we have to do well to win that game. We're excited about the opportunity. It's a great environment playing down there. It's going to be a heck of a football game."
On Davin Vann and Joshua Harris in the pass rush...
"It was awesome for Josh. That was his first career sack. He was really excited afterwards and still dancing in the locker room. Davin's was a big play. It's too bad we didn't get the ball there because it would've probably been a shutout. It was two good pass rushes, and I think both were three-man rushes when they happened, too. It's good to see those guys in the backfield making plays."
On what impressed him regarding the Clemson/Wake Forest game…
"I thought [D.J. Uiagalelei] really played well today. That's the best I've seen him play. He was accurate. His guys made plays for him. His O-line protected him. He wasn't on the ground a whole lot. I thought [Will] Shipley ran really hard. Wake was on fire as well. [Sam] Hartman threw six touchdowns in that game. There were two really good quarterbacks in that game that I saw. From an improvement standpoint, from last year to this year, you can see that D.J.'s playing a lot better."
On Rooks' touchdown…
"He was excited, and I was happy for him. He's played a lot. He and Keyon both have played a lot here, so for both of them to score tonight was great. They're guys who work hard and do the right thing, and both of them have worked through a rotation where they're behind other players, and now they're playing more and more. It's good for them to get rewarded and for them to make a play."
Never miss the latest news from Inside Pack Sports!
Join our free email list