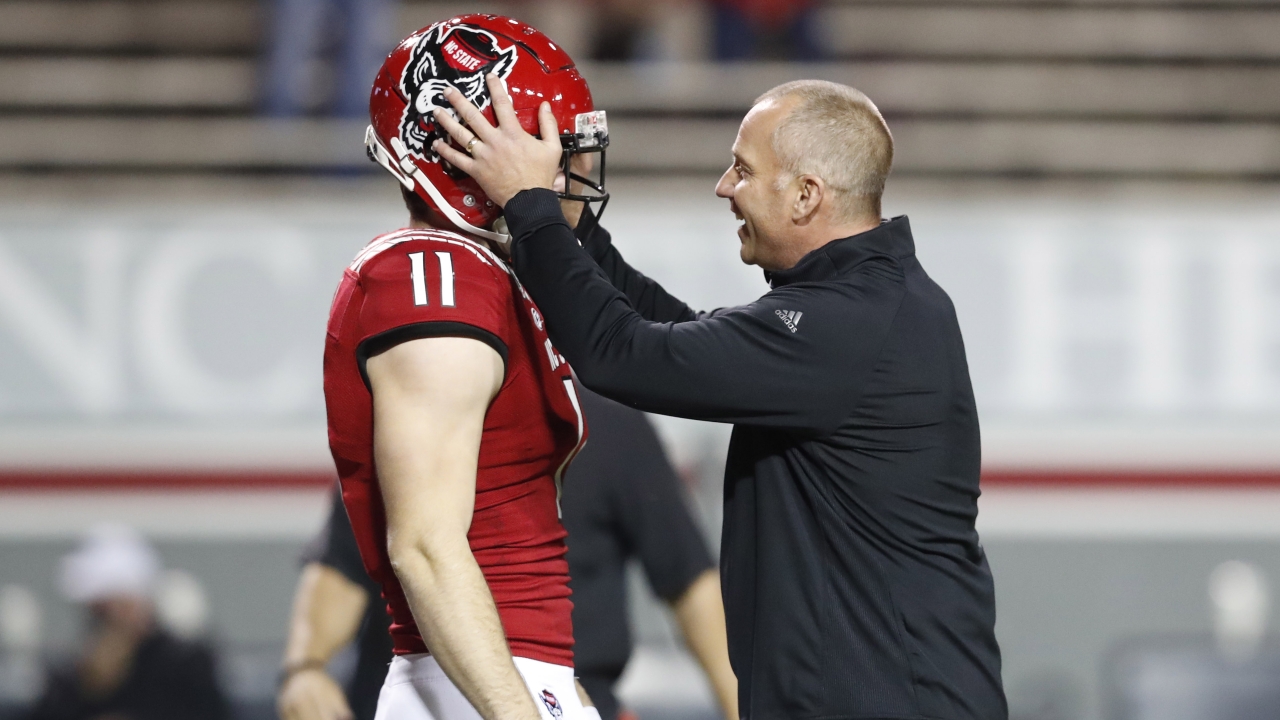 Photo by ehyman@newsobserver.com
NC State Football
Payton Wilson: "I'm Back And I'm Going To Keep Getting Better"
---
No. 12 NC State star linebacker Payton Wilson met with the media ahead of the Wolfpack's upcoming matchup versus Connecticut.
NOTE: Click the video above to watch the interview.
---
How are you feeling?
Yeah, I'm doing really well. Yeah. It felt great. Felt better than I felt in a few years, so practices [this] week have been going really good. Prepping for UConn, and we're excited to get back after it.
Tony Gibson said yesterday, first play of the game, you hit the quarterback pretty hard. Can you kind of go through that play and what it felt like for you to right off the bat get a shot of the quarterback?
Yeah, it was exciting. I had some nerves. I haven't played in a while. Getting back out there and just coach Gibson calling a great blitz at a great time, doing what he does. It really helped me just get to the quarterback and get that first hit and get those nerves out. It was pretty awesome.
Was it good to remind people how fast you are?
Yeah, I think it was just a reminder that I don't think I lost anything and that I'm back and I'm going to keep getting better than what everyone just saw this past Saturday.
Obviously a lot of people, a lot of State fans, are already talking about the Clemson game. How important is it to just stay focused on?
Oh yeah. Our coaches do an excellent job to be where our feet are at and nobody worried about Clemson yet because we're not on that week. We have an opponent this Saturday and it's college football. Everybody knows what can happen.
It's really hard to win in college football. So you got to go out there, prepare as hard as you can, work as hard as you can, and approach every game the exact same.
How can the defense be better?
If they just track the near hip, better tackling and continue just on our communication, and making sure that we're not busting anything, and make sure that the back end and the front end are both on the same sides.
How can Payton Wilson be better? The same things?
Yeah, same deal. Just getting my air back into me and tracking the near hip.Then just watching more film and getting to know what the tendencies of their team are, so I'm able to react faster.
You said you had some nerves before they left. When was the last time you had nerves?
Well, I get nervous all the time. I get nervous. I put so much pressure on myself to be the best that I could possibly be. I try to play as hard and as fast and as physical that I can. And just getting out there, and after that first play that goes away.
You guys get to the game - it's kind of a different question, but you can first get to the stadium and you get off the buses and you got the Walk Of Champions. What does that do for the players? Does that mean you just kind of, are you so focused on the game you don't even notice the people?
No, no, no, no. For example, for me, we go to the hotel on Friday night so we're not with our family. A lot of guys, families are far away. The first thing I see when I walk down those steps are my parents; my mom, my dad, and my girlfriend's down there too. I love them all and it makes me so happy to know that they're there supporting us.
I'm lucky enough that I'm 45 minutes away, but some of these guys' parents are eight, nine hours away, and just seeing your family and the ones that love you just for that split-second can really change your day.
What were your thoughts on the red lights in the stadium?
Oh, that was awesome. I low key forgot about it. They had said something about it. And then when they went off, it was one of the coolest things I've been a part of. I think they were doing a good job of just getting the fans back into it. People around here are really trying to make the fan experience awesome, and I think it's getting to that.
Never miss the latest news from Inside Pack Sports!
Join our free email list