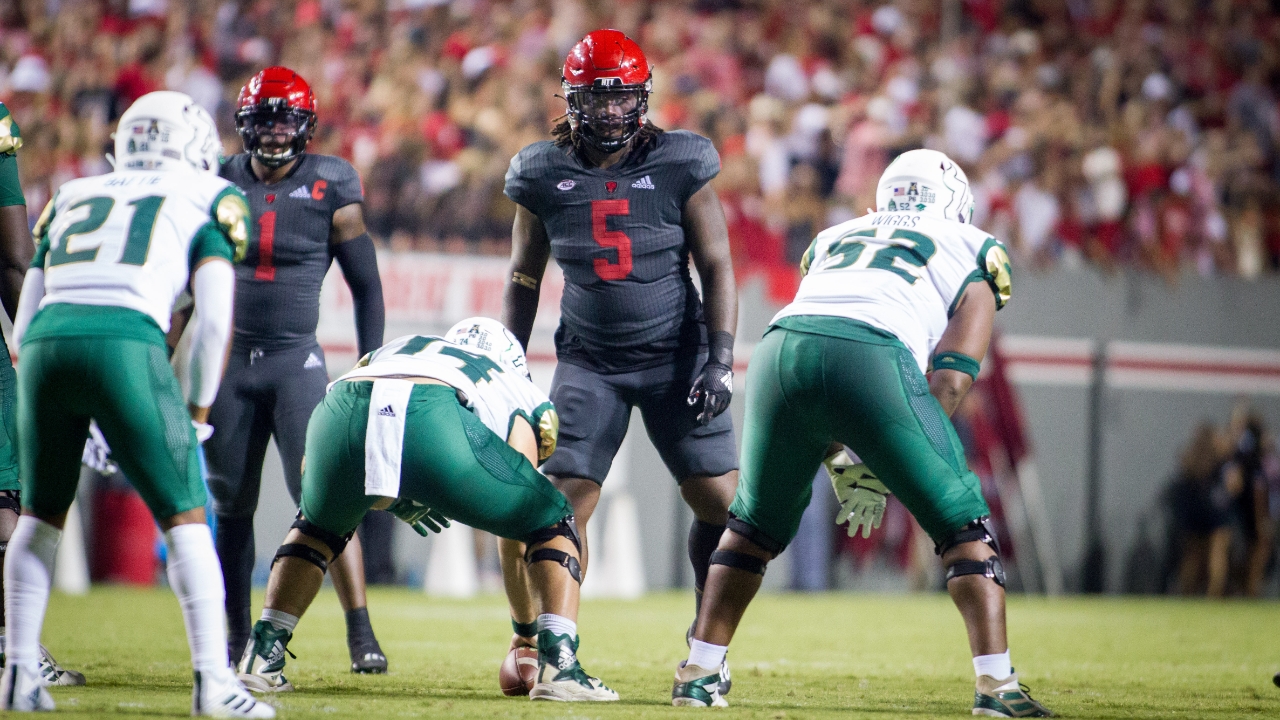 Photo by Steve Murphy/Inside Pack Sports
NC State Football
C.J. Clark: "Stop The Run And Have Fun"
---
No. 12 NC State defensive lineman C.J. Clark met with the media ahead of the Wolfpack's upcoming matchup versus Connecticut.
NOTE: Click the video above to watch the interview.
---
CJ, how'd it feel to get your hands on the quarterback?
Man it felt great. Been here a long time and then I kinda got close to it a couple years ago, and being able to actually get him, it was great. So, that was a great feeling.
Is that something you guys have emphasized -- the front?
Yes, sir. Yes, sir. We definitely emphasized that, get to the quarterback. We got a lot of guys covering for us so we kind of help them out by getting to the quarterback and making the quarterback throw interceptions. Or if you don't throw it, then we get them on the ground. That's how we handle that.
Coach said, you guys play for yourselves. I mean, you don't look at the opponent. Obviously UConn on paper, not very good. How do you get through this week's practice, and then just what's your focus heading into this week?
Well, honestly we go based off how we play on Saturdays and it relates to the practices. So Tuesdays we come in and we know that we got to practice hard just because it's going to pay off on Saturdays. So we kind of just treat it like it's fall camp and we're just practicing hard. So we know on Saturdays, it'll be easier for us.
What kind of inspiration has B.J. Hill been for you?
Oh, he's been a great inspiration. Part of the reason why I kind of came to NC State, just watching him play here, seeing the high level those defensive guys played at, and it's been great, just him being on my side, letting me know that keep going and just your time's coming and stuff like that. So it's been great.
How close were you guys growing up?
We was pretty close. We were real close. We grew up; my grandma and his mom lived right across the street. So we always was together a lot when we grew up. So yeah, we grew up pretty close.
The Texas Tech linebacker, Bryce Ramirez, broke his leg. I guess Wolfpack Nation's been kind of rallying around that. What have you seen from the team? Anything you guys have done?
Honestly, no. We just been praying for the kid. It's kind of tough when you see injuries like that. So we just been praying for him.
Do you feel as you go through this year in practice, you maybe have a little bit more of an appreciation for football and not taking it for granted?
Yes, most definitely. I feel like being out last year and watching the guys play and go out there and that kind of, it's a different feeling when you're not out there with them and battling with them. So now I cherish every moment with them.
I think we saw during ACC All-Access, just some of the guys that were going through the rehab together, helping. How much did Isaiah Moore help you along in the process?
He helped a lot because that guy, he's been here a long time and he knows the ins and out of what to do and when to do it. So I believe he helped me a lot in that process.
How different is it playing defensive end compared to nose tackle?
It's a big difference. It's a lot of space out there and better chance to get to the quarterback.
Is that the part of the explosion on Saturday? Just having that extra space?
Yeah, that's probably what it was.
You guys are giving up only 68 yards rushing per game, which is pretty high. I think it's eighth in the country. If you can stop the run the way you guys have, is that kind of more than half the battle to having success?
Yeah, that's the plan. We plan to stop the run so we can have fun. That's what we call it, stop the run and have fun. Get the guys in the back end to catch an interception and we get to go get the quarterback.
Never miss the latest news from Inside Pack Sports!
Join our free email list