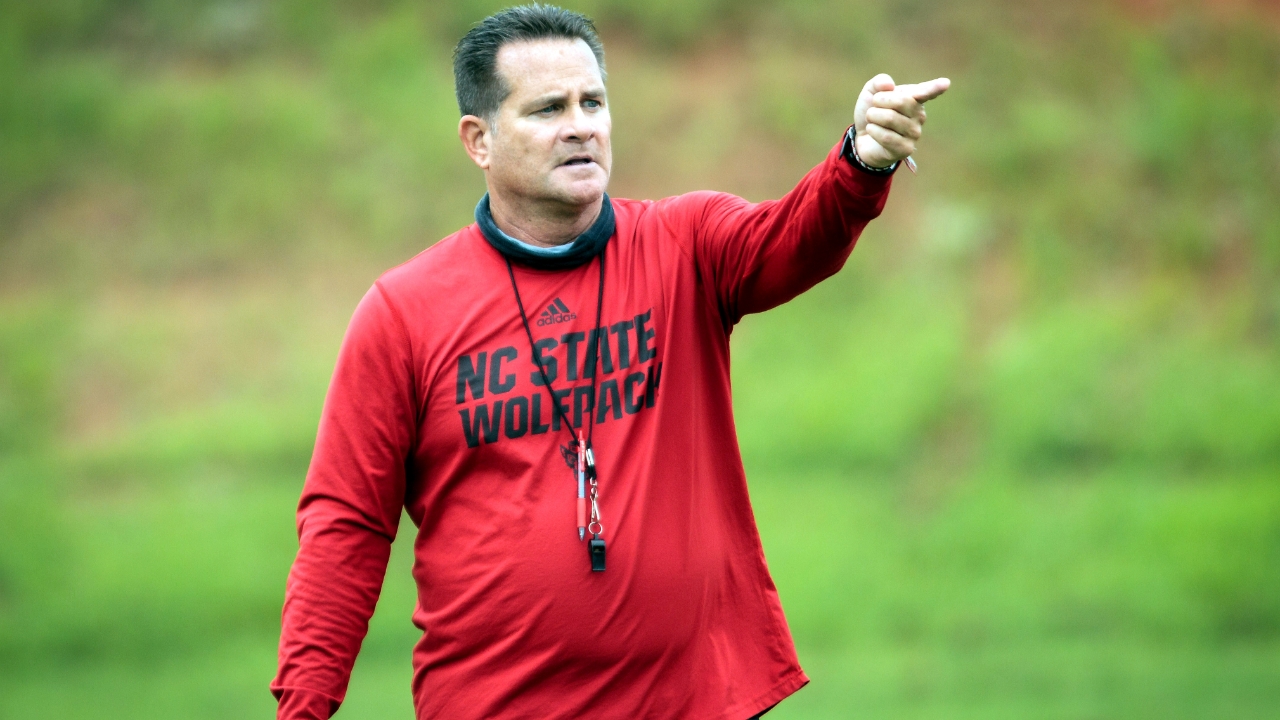 Photo by Steve Murphy/IPS
NC State Football
Tim Beck: "We're Going to Need Everybody"
---
No. 12 NC State offensive coordinator Tim Beck met with the media ahead of the Wolfpack's upcoming matchup versus Connecticut.
NOTE: Click on the video in the player above to watch Beck's interview.
---
"Just kind of focusing our detail and our play. We're just inconsistent right now in terms of every part of our game from finishing blocks, route running, reading coverage, and whatever it may be. We've just got to keep being consistent and keep improving. That's the key. That's what we look for. The game is really us against us and being the best us we can be, and if we can do that, that's all you can ask of our guys: to go out, execute, and let the chips fall where they may."
"A little bit. What's different is our defense is an odd-stacked, Cover 3 team, and we're seeing a lot of four-down quarters with a lot of young players, so it's a lot different. Anybody that's coached offensively understands the difference. It's different for O-lines. It's different in protection. It's different in route running. It's different in perimeter blocking. It's different all the way around, and you don't get a chance to really simulate that in practice. Then, their pieces move. It's versions of Cover 4, Cover 2, and things like that. You don't see that very much, and you have to learn on the fly. You're a young player. You're Julian Gray. You're Demie Sumo. You're Cedd Seabrough. Even Anthony Belton's only started three games for us. All of a sudden, sometimes they're inconsistent. They see something, and it's just different. It's my job to make sure I streamline and give our guys a chance to go out there and play hard."
"Basically, [Belton] is playing with great effort. We had three penalties in our first 11 plays, and two of them were effort plays. ECU did a great job blocking a guy on a screen, and it took a while. The back made a couple of moves, and [Devin Carter] is trying to finish, and the guy just kind of jerked his body, and that's where you've got to let go. At that point, you can't push them in the back, but it's an aggressive mistake. With AB's, he's down there blocking his guy, and he keeps blocking him and blocking him. The next thing you know, he ends up in the end zone on that play. It's just those type of things, right? You coach it. You practice that play like 10 times, and he never did that. All of a sudden in the game, he did. It's just growing pains, I guess, with some guys."
"I try not to listen to noise. 'You should score this. You should score that.' The bottom line is a win and what we need to do to win the game. What we have to do better: we have to focus, and we've got to eliminate penalties and turnovers. We have to do that because those things are going to kill us. We settle for field goals instead of touchdowns because of that. We can't do that. I'm confident in our players' playmaking abilities and what we're doing up front. We're running the ball well. I think we'll be okay. I don't have any doubt in my mind what we'll end up being. It's just some growing pains right now, and we're playing a lot. You see those guys; they're all playing. It's a little bit different than last year where it was Emeka [Emezie], D.C., and Thayer [Thomas] out there every snap almost. It's a little bit different, and that's okay because we're going to need these guys as the season goes along. We're going to need everybody."
"I think [Jim L. Mora] has changed. He's trying to get really consistent. The guys play hard. I think their defensive line is very active. I'm very impressed with a couple of their players. [Brandon Bouyer-Randle] and [Eric Watts] stick out on tape. Those guys can run to the ball and are really active players. I think what he's done is simplified also. We've got to simplify and give our guys a chance to play hard, play fast, and learn the adjustments. He's seen and done that, and he keeps adding a little bit every game as these guys can handle it. You see a much better team from week one. They're much better now than how they were."
"No doubt. I was very pleased that we had the ball for almost 19 minutes [in the second half of the Texas Tech game]. That goes into part of it. It goes into our tempo. It goes into how we're playing on defense and special teams. We don't want to do anything foolish to lose the game at this point. We're in control of it. Let's grind it out. Let's be physical. Let's be smart with the football, make good plays, continue to move the chains, and end every [drive] with a kick [whether it's] an extra point, a field goal or a punt. Don't turn the ball over."
"I told Devin [Leary], too, going in, 'You've ran for one and thrown for one. I'm going to get you a catch for one.' He does, then I looked up and saw AB in the end zone. All the things [Thomas] can do, he's run reverses, he's thrown the football, he's an excellent receiver, and the biggest thing I take my hat off to that he's worked on is blocking. We're running the read stuff, and he's cracking the Mike. He did a great job for us."
Never miss the latest news from Inside Pack Sports!
Join our free email list