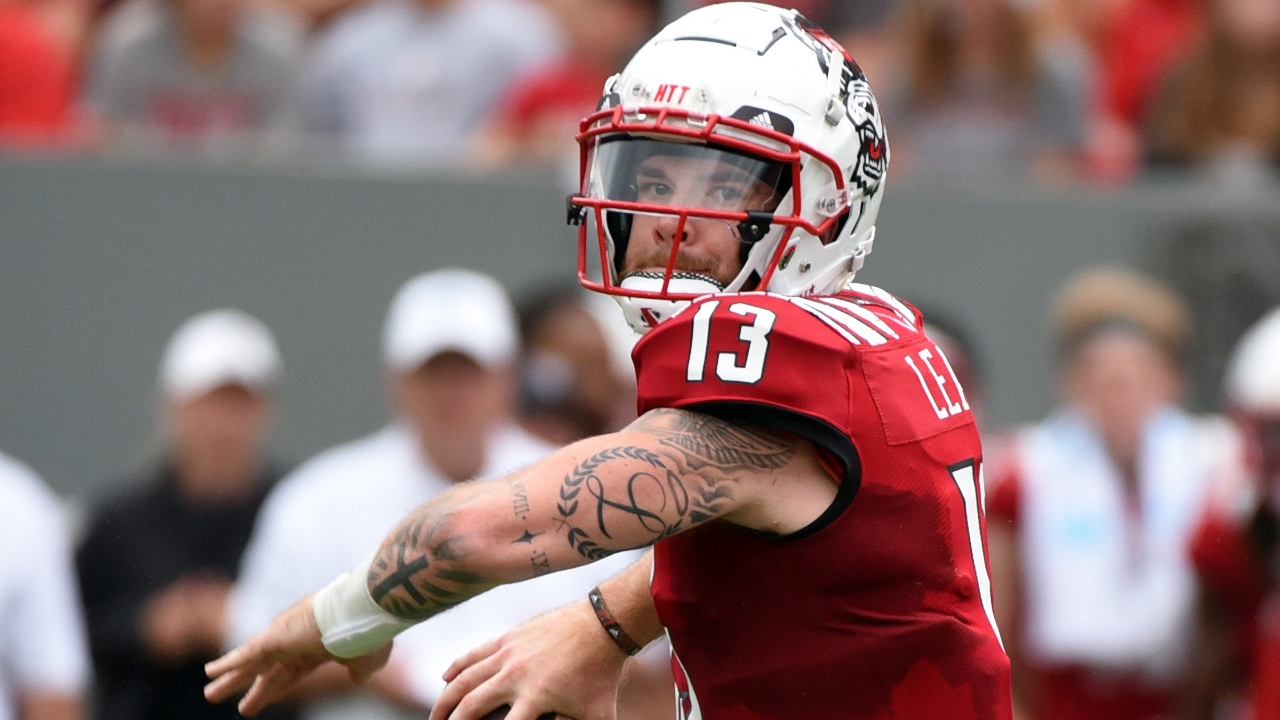 Photo by Rob Kinnan-USA TODAY Sports
NC State Football
Devin Leary: "You Can't Compare Numbers to Everyone Else"
---
No. 12 NC State quarterback Devin Leary met with the media ahead of the Wolfpack's upcoming matchup versus Connecticut.
NOTE: Click on the video in the player above to watch Leary's interview.
---
"I think there's always room for improvement. As a leader of this team, a guy that gets the ball every play, and relaying the plays from Coach [Tim] Beck, I always seek to get better. I always seek to improve week by week. For me, it's always asking the team what they need from me. I think that's the biggest thing. How do I need to lead better? How do I need to control the game better? How do I need to play better? Each and every week for me, I'm my biggest critic. My goal is, each and every week, seeing improvement on the film."
"Yeah, I'm happy we're 3-0. The ultimate goal at the end of the day is to win each and every week, whatever it takes. Being a team captain and being a team player, you need to preach that to everyone. You can't be selfish. You can't compare numbers to everyone else. As long as your team is winning, you're doing your job. I'm going to continue to do my job."
"First, it starts with not beating ourselves. We have some critical penalties in certain situations that can hurt us. Obviously last week, we took points off the board with self-inflicted penalties. Walking away from that game with two different scores, we'd feel a lot better about ourselves. First, it starts with taking those penalties off the film, and then second, we just need to make our routine plays, execute on things we do all week in practice, and translate it to the games on Saturday."
"I think it's gone well. We've got a lot of guys that are getting a lot of reps, a lot of young guys in their first or second time playing in Carter-Finley. Seeing them adapt to playing at the highest level is exciting for me as a quarterback. At the same time, I'm challenging them to learn from Thayer [Thomas] and learn from Devin [Carter] to expand their growth each and every week, because that's what we expect out of them."
"We can't overlook anyone, honestly. We got a little taste of that in week one going against ECU, a good team. We ended up being able to win that game. We need to be able to take the same approach each and every week: every team having our respect and really just respecting the game in general. Like Grant [Gibson] just said, any given week, anyone can win. Having that approach, having that chip on your shoulder to do your job and prove yourself each and every week, that's what I relay to the team."
"It was very unfortunate. I didn't exactly see what happened on the play. I just remember seeing [Bryce Ramirez] getting carted off. I remember going up to him, tapping him on the shoulder. I think he did look at me. I'm not really sure he knew what was going on, but I told him that I'm praying for him and it was going to be okay. It kind of gave me flashbacks of being carted off very similarly a couple of years ago. I'm still standing here today, so I know he'll be fine. My prayers go out to him, but I let him know everything's going to be okay."
"Thayer was supposed to be two-for-two with two touchdowns that game, so you can't really compete with that. I joke around all the time: because I catch a snap every single play, I've got the best hands on the team."
"If we need it, I just want to let them know that I've got the hands to secure it for sure."
"I think it was an awesome play design. We called it at the perfect time. Like I said, we've got to take stuff like that off of film. Anthony [Belton] was very mad at himself. It's not very characteristic of him, but he takes it off the film. He knows he's got to be better. He told the team that that one was on him, and we tell him, 'Hey, we believe in you. It's next play.' We'll get back to it."
"As many as I need. If Coach Beck wants to target me, I'm going to go up and make a play for sure."
"Yeah, I did. I remember coming off to the sideline, and Demie [Sumo-Karngbaye] was really down on himself for a moment. He's a young player. He's still growing and still learning. I remember asking him, 'Hey Demie, do you want to go to the NFL? Do you want to be an NFL player.' Obviously, his response was yes. I told him, 'Well, there's many scouts out here watching this game right now, and the first thing they want to see is how you respond to what you just did on the field.' He looked me in the eyes, thanked me, and said, 'You know I got you.' It just so happened that the next series he went out, scored a touchdown, and responded like a pro. That's the approach he needs to take. That's the approach that I was trying to give insight on. He did a really good job of taking my advice."
"Yes, it would've. I remember thinking back to 2019 versus Florida State. I actually said a similar thing to Payton Wilson, too. I forget the certain instance, but he came off the sideline frustrated. I wasn't really playing at the time. I just pulled him aside — he's a really good friend of mine — and said, 'Hey, do you want to go to the NFL? Guys are looking at how your approach is each and every play and how you're coming off the sideline. Everything matters.' He did the same thing Demie did. He thanked me, went out there, and continued to ball out. I think [it helps] having that refreshment of understanding your purpose, understanding that everything does matter, and [that], any given play or reaction that you have, someone out there is watching."
"Yes, they have. Mike Glennon came in here and said, 'If you want to be a pro, you have to live your life like a pro in all aspects of your life.' Football is what we love to do, but if you can live your life like a pro off the field and translate it onto the field, that really sunk in with me. I'm really appreciative of Mike telling the whole team that. I really embrace that."
"It's awesome. Demie actually played my little brother in high school, so they had a little bit of a rivalry. I remember my little brother telling me the scouting report on Demie the week of the game, and at the time, he was playing receiver, and my little brother told me how good he was at receiver. When Demie got here, I was expecting him to play receiver. Just the way he was very athletic, we just had to get the ball in his hands. We decided to move him to running back, and ever since then, he's been taking a great approach each and every day. For him to be a New Jersey guy, to come down here blindly, to have trust in me and guys like Jasiah [Provillon] and Joe Shimko, and to have him understand, even though we're all the way from New Jersey, it's still family and still like home down here."
"It was awesome. That's what Joe Shimko does. That dude is a competitor. That dude approaches every single day like a professional. Just being in the locker room with him, you see how intense he is. You see how personal he takes his job of being the best long snapper in the country. For him to make a play like that, that's what we expect out of Joe, and he expects that out of himself."
Never miss the latest news from Inside Pack Sports!
Join our free email list