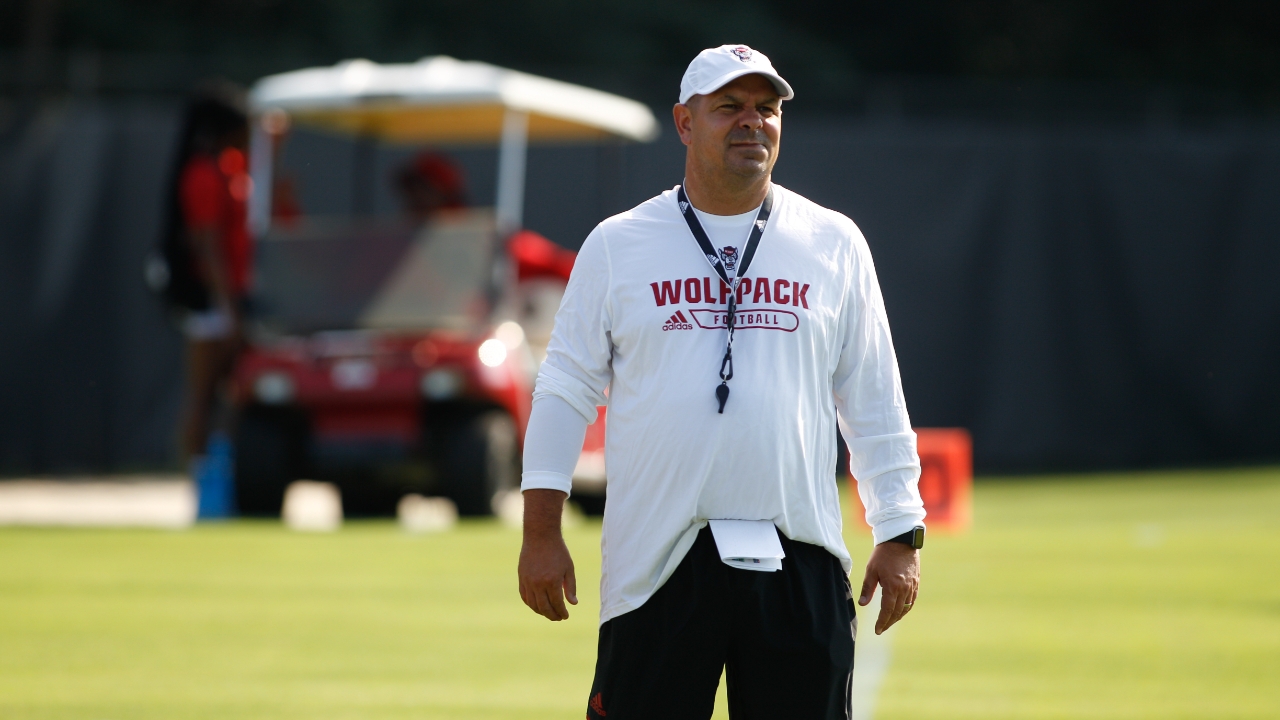 Photo by Steve Murphy/Inside Pack Sports
NC State Football
Tony Gibson: "We Were Flying to the Football"
---
No. 12 NC State defensive coordinator Tony Gibson met with the media ahead of the Wolfpack's upcoming matchup versus Connecticut.
NOTE: Click on the video in the player above to watch Gibson's interview.
---
"I thought we had an elite effort. We covered up a lot of mistakes by just the effort the kids gave. They played really hard. I thought we were flying to the football. A lot of people there were gang tackling. The one thing they got us a little bit was that their tempo got us tired at times. We gave up an easy touchdown down at the goal line in the red zone after a penalty. We've got to get that clean. The other thing we need to get cleaned up is containing the quarterback. We had a couple of nice pressures called. We let him out because we didn't contain it. We've got to get better there. Overall, effort-wise was really good. I thought we had some guys who played extremely hard and got the job done."
"[C.J. Clark] is an impact player for us. C.J. has played a lot of football. He keeps getting better and healthier. He plays hard, practices hard, and brings extra energy to our defense."
"It was really good. The kids stepped up. [Devan] Boykin stepped up for us and did a nice job. We didn't miss a beat. The kids responded well. We threw them into some tough situations, and they were able to make some plays and get out of it."
"No, we're good. Next man up — we're used to that around here."
"No, I like when they have confidence and play with confidence. Obviously, everybody knows what [Aydan White] did. He had a heck of a game, and he was the national defensive player of the week because of it. Hopefully, we get that same effort next week."
"The number one thing we put on every week: no matter who we're playing, it's about us first. Then, we prepare to get these guys ready for the next team. UConn happens to be the next team on the schedule, and they've got some good players. They're young, but their quarterback is dynamic with the ball in his hands and extends plays. Their tailbacks run hard. They're not going to lay down because they're coming in here, we're NC State, and they just got beat by Michigan. They're going to come down here pissed off. I expect the same attitude and effort out of our guys. That's our standard every week."
"We're healthy through three games. That's the biggest difference, and it's the experience we've got with our guys. These guys have played a lot of football. They know our scheme. They know how to play off of each other. I'm just so glad that we've got everybody playing right now, and for the most part, we're pretty healthy."
"Yeah, [Payton Wilson] played well. It was fun watching him. He was sideline to sideline. He ended up with [10] tackles. He was all over the field. Probably the best play he made all night that goes unnoticed was the first play of the game. He broke through and hit the quarterback, and that was a big hit. I don't know if that affected that kid the rest of the night or not, but it was good for him, on the first snap, to be that physical, to be able to get up, and keep playing."
"Yeah, he's a racer in there, especially in our dime package. We keep him in at Mike linebacker, and let him scroll the field on quarterbacks or backs. It's definitely great to have him back."
Never miss the latest news from Inside Pack Sports!
Join our free email list