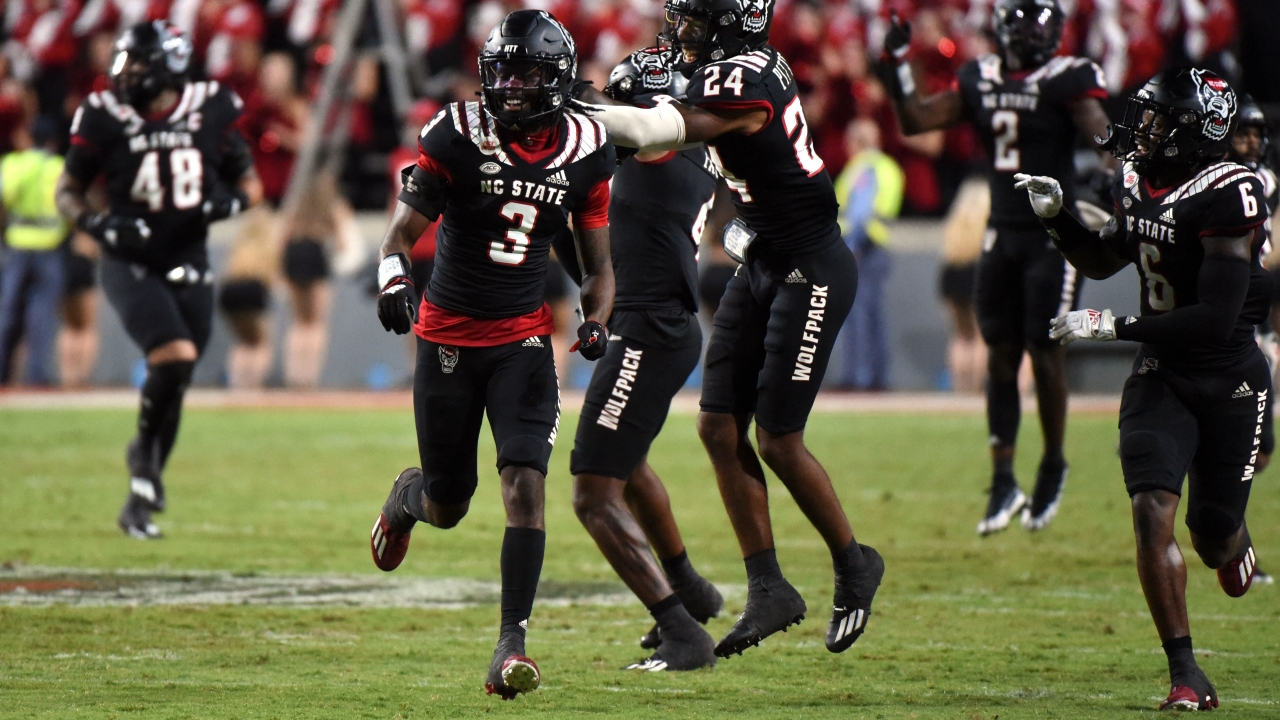 Aydan White
Payton Wilson
Demie Sumo-Karngbaye
NC State Football
LOCKER ROOM REPORT: Wolfpack Players
---
No. 16 NC State's Aydan White, Payton Wilson, and Demie Sumo-Karngbaye met with the media following the No. 16 Wolfpack's 27-14 win over Texas Tech Saturday evening.
NOTE: Click on each player's respective thumbnail to watch each video in the player above.
---
Aydan White

On how the defense played as a whole...
The defense as a whole played really, really good. We had four takeaways. Playing against a passing team like that, it's just [about] opportunities. The D-line got back there and made the quarterback rattled to throw those picks to us. It was a good job for the defense all around.
On if the defense saw Texas Tech's tempo and pace as a challenge...
We definitely talked about that throughout the week. With them being a tempo team, we wanted to stop them on first down so they can't go tempo on second down. I think we did that a fair amount of times. Playing 100 snaps, that's a lot for any defense. We wanted to limit them. I don't know how many snaps we played, but I feel like we did.
On his pick six and having that much open field in front of him...
That's a DB's dream right there, just seeing that much green. I saw my boys, they started building the wall for me and it was just the quarterback. I knew that they were going to take care of him. I got tired, but I knew my boys got me. It was green — an easy touchdown.
On Wilson being healthy all game and on his contribution...
It's amazing. Any time Payton is on the field, he's a factor anywhere he is at. Just having him on the field and being healthy, that's the biggest thing. That just helps the defense. It takes strain off of everybody else on the defense when he's on the field, so that's really huge.
On the last time he had a pick six with that much open grass...
I don't think I've had one of them since youth league. That was far. Probably youth league. None in high school. I'm definitely grateful for that pick six. That helped me out a lot.
On if he was out of gas at the end...
Yeah, that was a long run.
Payton Wilson

On what being able to play the full game means to him...
First off, I just want to thank God. I've been going through some stuff, and he's just been there for me. I want to thank Coach [Dave] Doeren and Coach [Tony] Gibson for always being by my side with all the stuff I've been going through. It was awesome. I really love playing with the guys. I love Tanner [Ingle]. I love Drake [Thomas]. I love [Isaiah Moore]. I love all of them boys on that defense. It means the world to me to get back out there and compete with them and play with them. We've built such a great bond here. It's awesome. It's truly awesome.
On the linebacker corps...
I truly do love Isaiah, Drake, Jaylon Scott, and [Devon] Betty. I love all those guys like brothers. We've talked about this for so long. We haven't been able to be healthy. [With] us three being out there, we truly think that we are the best three linebackers in the country. If you try to run the ball, well good luck to you.
On what he's been having to do to be ready to return to the field...
I just had some problems with injuries and long-lasting stuff. I haven't played ball in a year and half, so it was getting my confidence back, [getting] my mentality back, and being able to play a whole game without my body hurting. I've gone through a lot to get where I'm at today.
On if he was intending to play last week...
[Just going through warmups] was the plan all along, just to get me out there, get me back into it, and hitting some guys. I was just warming up and seeing how I was feeling.
On the experience in the secondary...
It's amazing. Maybe in the past, we haven't always had the best secondary, but I think we have the best secondary in the ACC, if not the country. We know that, with those guys behind us, if you throw the ball, it's going to be a PBU, or they're going to be right there to tackle them down. We're not going to have any more of those busts. It's so experienced back there. They know what's going on, and they're all on the same page with their disguises and everything. It's truly awesome to have those guys. Aydan White, Cyrus [Fagan], Tanner, Jakeen [Harris], Derrek [Pitts]... All those guys are just exceptional.
Demie Sumo-Karngbaye

On his conversation with Doeren after his fumble...
He really just had my back because he let me go out there again. He let me prove myself and prove to everybody else that I'm more than capable of making touchdowns and making plays. I really appreciate him for just giving me the opportunity again after something so bad like that. I just appreciate that for sure.
On being able to run trick plays with Thayer Thomas...
We've got a lot of plays that we don't even use. That's just one of them that you all have seen before. There's way more.
On Thomas' throw...
Thayer's got a little arm on him. I almost lost the ball because the lights are so bright and the ball went so high in the air. I had to find it. You'd seen me struggling to find the ball until it came down at the last second. Props to him for a good ball.
On how close the offense is to being in sync and on the biggest thing they need to work on...
I feel like we're there. There's always room for improvement. For me, it's keeping the ball in my hand when I'm about to score and catching the ball. That's really it. We're in sync. We've just always got things to improve on.
Never miss the latest news from Inside Pack Sports!
Join our free email list