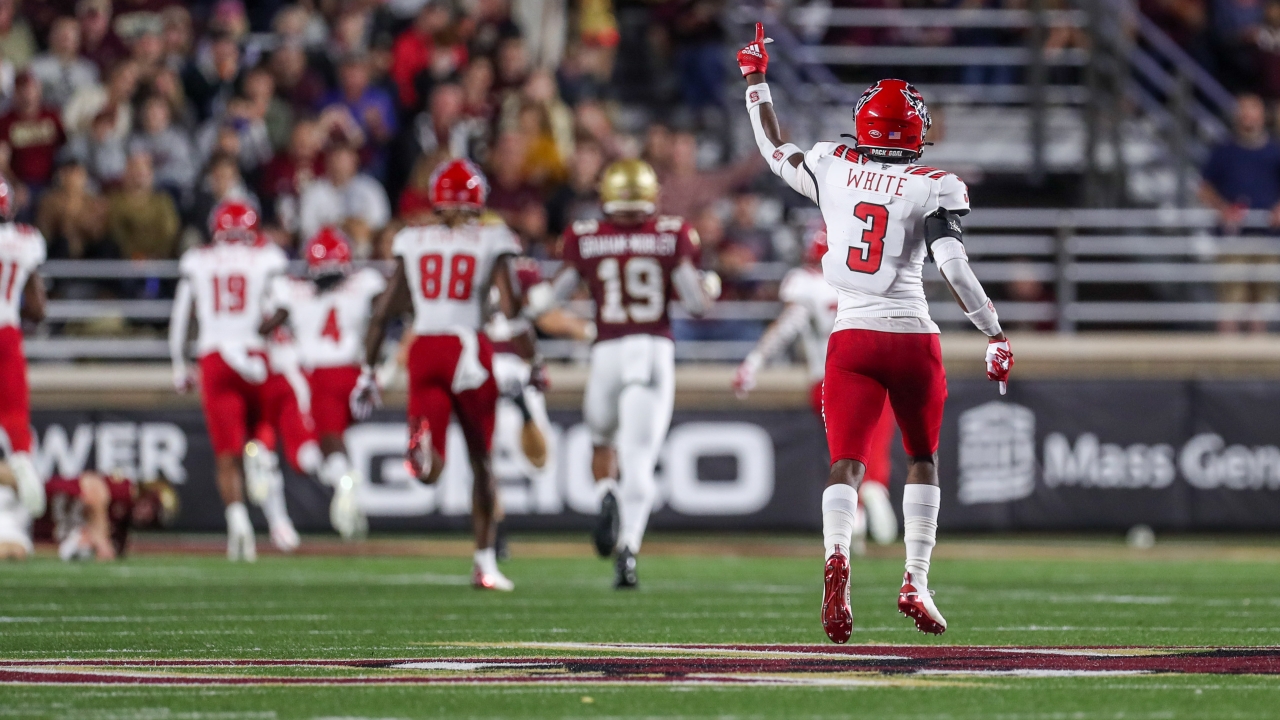 Photo by Paul Rutherford-USA TODAY Sports
NC State Football
Aydan White: "The Crowd Is Going To Be Jumping"
---
NC State cornerback Aydan White met with the media to discuss his start to the season and the upcoming matchup against Texas Tech.
NOTE: Click the video above to watch the interview.
---
Do you look forward to this challenge, playing a passing team like Texas Tech? It's going to be in the air a lot on Saturday.
Definitely, it's a uptempo team. They pass a lot, so that's more opportunities for us to make plays on the ball. I think that's more of a secondary dream to have a team that passes a lot, so you have, like I said, more opportunities to make plays.
Yeah, but is it a dream of yours to be playing 100 plays, though?
That's why you have to limit them on first down, so they can slow down that tempo offense. So, make plays early in the drive to slow them down so it won't be a hundred-play [game]. It can cut it down to what we'd regularly do, like a 60, 70, and then, but if they pass a lot it is better for us corners, safeties to make plays and just help our stats.
This is your chance. I mean, everybody's talking about this defense, how great this defense is, and now you got a team like this coming in. This is your chance to show everybody that you are a great defense, I imagine.
Definitely help.. just everybody from the D-line getting to the quarterback, occasional quarterback getting sacks, linebackers when they do run, fit the running. Then just the secondary, playing the pass game, and then just being over top and playing it to our strengths.
A great defense, but how much better is it, and how much more peace of mind do you have whenever you got a guy like Payton Wilson on the field? He'll be healthy this week.
Definitely in zone coverage. Seeing Payton drop under you, knowing that you got that help on that backside knowing that he's going to be there. So it just takes stress off the back end, just knowing that he's going to get out there for the plays.
How important a game like this, you're playing a Power Five school, out of the Big 12 for NC State to get a win against a Power Five school like this?
I'd say definitely big. Like when we played, I don't like to talk about last year, but when we played Mississippi State last year, that was a great opportunity but we didn't execute, so this would be, especially against a passing team, a big opportunity for us, just to show that our defense is the real deal.
Describe the adrenaline rush you get from playing a night game at Carter-Finley.
All black, night game, the crowd is going to be jumping. We love that. It's just, Carter-Finley, the red lights that they just put in. I can't wait to see. I didn't even seen the red lights. I can't wait to see the red lights.
They were on the other day. We just couldn't see them.
Yeah, it was daylight though. I want to see full effect at nighttime.
Do you like night games in the fact that you sit around all day, getting ready, or do you get antsy to get out there and play, or?
Definitely, want to play. My ideal time would be like a 3:30 game, get to wake up a little later, then sun is not at a highest peak and then you can play into the nighttime. But a night game, also good to have just [so] you can let your body relax from last week, and then have everything settled and then just be ready for the game later that night.
Any different challenges when you played a taller receiver, and one of them is 6'5, another one looks like he's around 6'3?
Yeah, definitely. He just, you got to be more physical with them type of taller receivers and just know that jump balls are coming, they're going to be more physical at the line and coming off, they're coming out of their routes more physical. So you have to be up for the challenge and not play passive and more get up into them to be aggressive.
Never miss the latest news from Inside Pack Sports!
Join our free email list