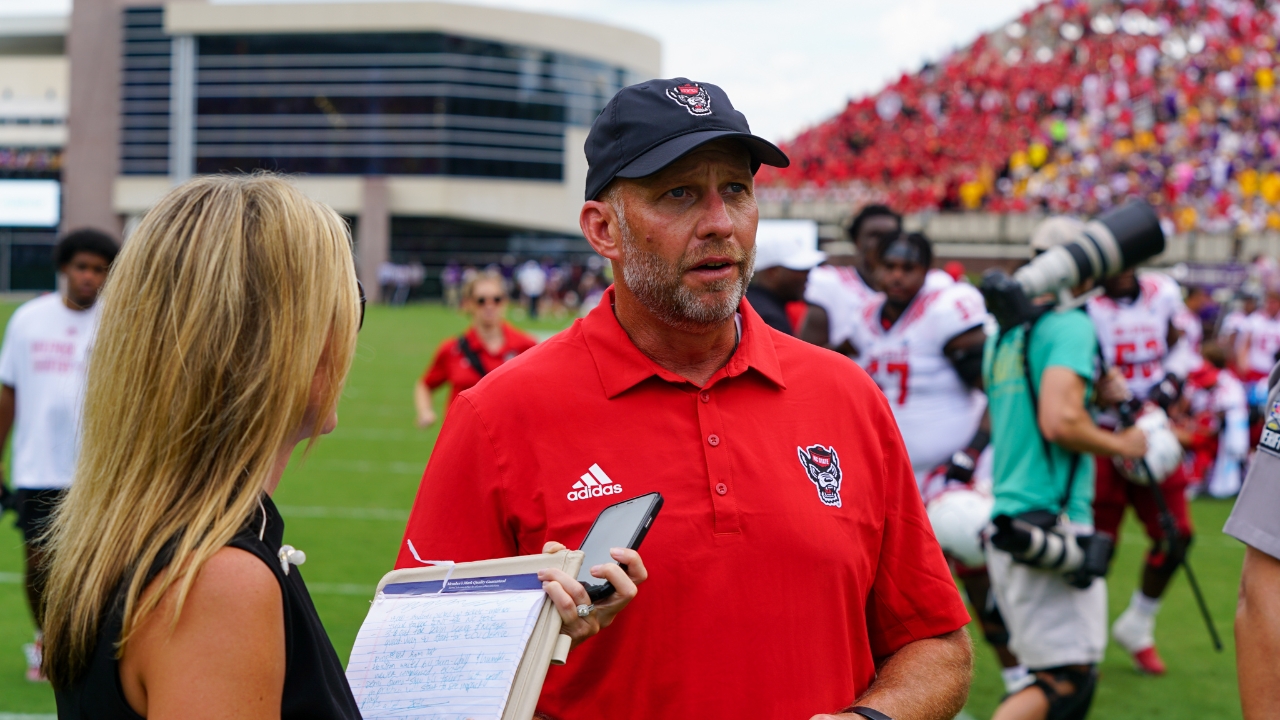 Photo by B.P. Cox/Inside Pack Sports
NC State Football
Dave Doeren: "I'm Not Going to Apologize For Winning a Game on the Road"
---
No. 13 NC State head coach Dave Doeren met with the media via Zoom Monday afternoon to discuss the previous game versus East Carolina and the Wolfpack's home opener versus Charleston Southern.
NOTE: Click on the video in the player above to watch Doeren's press conference.
---
Opening Statement
"Starting with the recap of the ECU game, I'm definitely excited we came out of the game with the win. Fifty percent of the country is now sitting there with one loss, and I'm happy that we're not one of those teams. In a lot of ways, it didn't feel like a win, obviously because of our second-half performance, but I do think it's a blessing, in my opinion, to have a chance to learn such a great lesson but not have a loss next to your record to do it. It's definitely a lesson in humility for our players [without having] to suffer a loss. I thought ECU competed their butts off, and their staff, Coach [Mike] Houston, and their players deserve a lot of credit for how they played in the second half and, programmatically, how he's developed their roster. It's a good football team, and you have to give them credit.
"For us, the game couldn't have started any better. You're on the road. You're dealing with crowd noise. We win the toss. You go out there on defense. On the second play of the game, Tyler Baker-Williams has a great interception. But we didn't play complementary football. It's something I preach, and it's something our players understand, but we played uncomplimentary football for the entire game. What I mean by that is that every time we swung momentum in our favor — we had two takeaways on defense — we got zero points after the takeaways with the two interceptions by Shyheim Battle and Tyler Baker-Williams. We had a fourth-down stop which led to no points. We had a special teams punt return by Thayer [Thomas] that got across the 50 and led to no points. We punted the ball inside the one-yard line and let them off the goal line with a missed tackle, and then they punt and flip the field to the 15. Offensively, we get down to the goal line twice and get zero points. We just didn't play off of each other. As many times as we tried to set the other side of the ball up, we didn't capitalize. It's very difficult to win a game when you play that way.
"We won the game for a couple of reasons. I'm not going to say our special teams were exceptional in every phase — it wasn't — but it was exceptional in the punt return and punt block area. That was a huge part of winning that football game. We had 177 yards of hidden field position in that game. We started our field position in the plus-30 range from the goal line with about 67 yards of field position to score. A lot of their drives, as you saw in the game, started inside the 20 whether it was us tackling them inside the 20 or punting them inside the 10. Field position was a major factor in the game.
"The goal line series back-to-back were the most frustrating things to me. We had two plays called that would have scored, and the ball was stopped by the official on both of them which was kind of weird in its own right, but neither of them were penalties. We had to run nine plays, but it was really seven plays. For those of you guys who know football, you really don't have that many. That's an area we have to grow and learn from and be better.
"The bright side is we won that football game, and a lot of things happened that were positive. I can tell you this: I've been on the other side of that. We played South Carolina in one of our openers; we had 500 yards to their 250 yards and felt like we killed them but lost the game. We lost at Clemson on a missed field goal where we forced five turnovers in the game. We felt like we manhandled them on the field and lost the game. It's a bad feeling, and I've been there, so to be on the other side of that, I'm not going to apologize for winning a game on the road, and there's no such thing as an ugly win. Nobody discredits you for winning a football game at the end of the season in any form or fashion. I will say ECU's a really good program. I think those guys are going to be an exceptional team this year in their league. It's a great experience that'll help our team and our staff. They're playing from the ranked position, playing from the favored position. It's something that's new to our guys, something that they're going to have to learn to embrace and be better. We've been the team that's had nothing to lose and nobody thinks can win. Now, it's the other way around; you do get your opponent's best shot each week. I think that's a very valuable lesson. It's nothing that we hadn't already discussed and talked about, but as some of you guys know — some of you are parents — sometimes things just have to happen to younger people for them to believe what you're saying. In this case, that's what it was.
"Offensively, breaking down the game, the positives: our offensive line protected well. We had zero sacks given up. We performed well on third-and-long which is not easy to do against a defense like that. I thought our tailbacks ran hard and protected well. Obviously, you'd like to not turn the ball over with [Jordan Houston's] fumble, but for Demie Sumo's first game, he showed why we're excited about him and his future. He's a hard guy to tackle. He's tough. Both he and Jordan ran hard and, between the two of them, had 70 yards after contact gained. I love that end-of-half drive where we went down and scored with Thayer. A lot of guys played significant time for the first time on offense. Demi Sumo, Cedric Seabrough, Kam Walker, Darryl Jones — first time for us — Julian Gray, Jalen Coit on special teams, and Keyon Lesane. That film is going to be so valuable for them. Darryl Jones did some good things. It's good to see him out there. He's a very complete player. I thought Thayer played exceptionally well. He's worked hard on becoming a blocker as well as a route runner, catcher, and returner. He's improved so much in that area. I thought Tim McKay, on the offensive line, shined. He did some physical things and led us in pancakes in the game. It's good to see. It's a good rotation going on with him and [Bryson] Speas at tackle. Derrick Eason also came in and provided some good depth and played well at right guard. With Trent Pennix's injury, it's a non-surgical injury. He will be out four-to-six weeks. He'll be back this season. It just depends on the healing process, but I'm not going to get into the details of what it is. It is good news that he's not out for the season, and he'll be back with us, and it's non-surgical. I'm thankful for that.
"The negatives on offense: we had five penalties on offense. Four of them were pre-snap, preventable penalties. I thought we started slow. I'm very disappointed that we didn't take advantage of the first interception of the game and the first drive of the second half. I think we wasted two opportunities to build the scoreboard a little bit, not to mention the two goal line drives. I think we're better at finishing blocks than we were in that game on the perimeter. We've got to do a better job. We're getting bodies on bodies but not finishing. I thought Devin Leary did some really good things at times but forced some things that he didn't need to. He needs to get back to taking what the defense gives him and letting his guys make plays for him.
"On defense, it's very positive to get two interceptions. I thought we responded well twice. We had three of what we call 'sudden changes' where the other team's coming onto the field with some momentum due to a turnover or a special teams play, and twice we forced punts out of those three. I really liked the way Savion [Jackson] and Davin Vann played. I thought they were physical. I thought they knocked the line of scrimmage back and made it hard to run the football. C.J. Clark being back out there is a positive. That game's going to build a lot of confidence for him. We had no pre-snap penalties on defense. We worked hard. They were a big hard-count team. They got a lot of teams last year to jump offsides on defense, so that was a positive. On negative, I don't think we handled the quarterback run game, scrambles and draws, the way we could have. We missed way too many tackles. It may be a record for us on missed tackles in a game. I take the blame for that. We didn't tackle enough in training camp, obviously. I was trying to get these guys to get to the first game healthy, and that was a success, but at the same time, it didn't feel like we did the things that we routinely do as tacklers, as a defense that was top five in the nation for fewest missed tackles a year ago, and a lot of those kids are playing. They're capable. We need to get back to the fundamentals of that. It's a very important fundamental for that side of the football, probably the most important fundamental. I think the busted red zone coverage on Derrek Pitts was disappointing. He's an experienced player but had his eyes in the backfield on play action. [Payton Wilson's] MRI came back completely clean, so it's going to be time. He's sore, but there's nothing damaged as far as the shoulder goes. He hadn't played football in over a year that way, so it's a day-to-day recovery. I won't know more than that. Time is the biggest thing. It's not season-ending. It's not a surgical type of repair. He just needs time to rest up on it a little bit.
"On special teams, the bright spot of the game, to me, was the punt return and punt block unit. Jasiah Provillon getting out there and blocking a punt that Sean Brown scores on was a huge play. It was an awesome play by him and good design by Coach [Todd] Goebbel. We've now scored a touchdown on special teams in five straight games which is remarkable. Todd Goebbel has done an incredible job with these units and getting these guys to play that way. It was the first time on the field returning kicks for Julian Gray, and we're excited about what he can do. I think he'll play better, and it'll start slowing down for him. I thought he handled the ball well back there. He made good decisions. Thayer had a great punt return. The blocking was really good. There were opportunities to clip guys, and guys made good decisions. It was the first game with Shane McDonough. I thought he held very well. His punts were good, not great. I think his hang time can get better, he knows that, but his pinned punt was exceptional in the game, and I thought he got better as the game went on. Our coverage will only improve as our hang time does. It's great to have Joe Shimko and Chris Dunn in the way that they are.
"Moving onto this week, it's great to come home to Carter-Finley. With a 12:30 kick, we haven't had a noon game in a long time, so we're asking folks to start their day early, get their tailgate set up the night before if they need to, come into the parking lots fired up, and get ready to watch these young men compete. This game's all about us. We play Charleston Southern, but to me, it's a game, regardless of who our opponent is, where we need to focus on improving, not just as an offense, defense, or special teams, but more importantly individually and collectively. There's no way to get better that I know of than actually playing a game and having video to watch of yourself as a player. Your résumé is your film, as a player, and having that opportunity to study what you did and know your opponents are studying what you did, you do everything you can to take your mistakes off the film and improve on the things you want to improve on. It's going to be a great week. I can't wait to get on the field, help these guys, work with our coaches, and get the kids the best chance they can to play a better football game for four quarters. I know Charleston Southern will come in here with nothing to lose, give us a great game, and play hard. I look forward to getting our team better and moving forward to another opportunity to grow and learn. It's a long season. As you saw in the first week of college football, there's a lot of crazy stuff happening. Every game seems like drama. Last night's game between Florida State and LSU was no different. Incredible football games are happening. The highs and lows and the road that goes, there are a million things happening in a short period of time, and it's awesome to be on this journey with this team and this staff."
On if the Wolfpack's woes against East Carolina can be attributed to the nature of the first game of the season…
"You know, I was thinking about it a lot since the game. I didn't count the days, but we hadn't played a real football game since UNC because of the bowl [game versus UCLA getting cancelled]. It's been a long time, and some of the guys that were playing are returning from injury, and some of them have been out five months longer than that. Obviously, there's going to be some growing pains with that much of a break between that game and the last game. I don't know if it's necessarily the first game or what it is. I think, for us, it was. For some other teams that had the opportunity to play a bowl, everyone's teams are a little different. There's new faces every year and new teams. For us, it's a new place: being ranked in the preseason, having expectations, how to handle them, playing a team that's gotten better that we hadn't played in a while, haven't played in an environment like that against them. They had a lot of things that were positive about what was happening down there. For our team, if it's a place you play every other year like when we play Florida State or Clemson, you're ready for it. We can talk about it all we want, but like I said earlier, that's the youth you deal with. The 18-to-22-year-old mind sometimes doesn't see things the way the 50-to-60-year-old mind can see things. They've got to experience it, but it's a great experience. There's lots of positives and negatives, and there's opportunity to grow from both."
On the relief that Wilson's injury isn't season-ending and on Wilson's timetable…
"The guy's been through so much with the knees and the shoulders. He's one of the most elite, competitive spirits I've ever coached. With the way he looks at the game, the warrior's mentality he has for playing the game, and the physicality he likes to play the game with, he's a lot different than other people. I'm not saying other people don't play hard, they do, but he's a warrior. It hurts him not to be able to play the game the way he wants to play it. As far as when he'll be back, I don't know. I'm not going to rush that. I want him to be at peace and not worried. I'll let him, the doctors, and trainers tell me when he's ready to go. The good news is that it's not a surgical injury. It's not a long-term thing probably. He was in my office a little bit ago, and he's not in a sling. He's walking around normally. It makes your heart feel good that way. We'll just have to be patient and not rush the process."
On the issues during the two failed goal-line drives…
"There are a lot of issues. They put a lot of people at the line of scrimmage we had to block. At times, you've got to run over a guy to get in; we didn't do that. We didn't get enough movement. There wasn't one person; on each play, it was somebody different. It's tough. The quarterback sneak we called would've scored, and they blew it dead, so that changes things a little bit. The one play-action pass we ran, I think Devin could've thrown to Jordan Houston, and I think we could have scored on that. He chose to throw it away because he didn't want to create a turnover possibly, but I think if he'd gotten that off, we would have scored. It comes down to execution. We were under center and in the shotgun. Clearly, as coaches, we can do a better job. We're going to second-guess that doesn't work as a coach just like you guys second-guess us. We do the same thing. 'What could we have done differently? What can we do better?' It's going to be really good film. We've got to make sure we're putting ourselves in the best position to put points on the board. In my career, I've never had something like that where we had seven plays on two different drives and not gotten any points. It was definitely disappointing."
On if having veterans impacted the amount of tackling in practice leading up to the ECU game…
"We did tackle. We had two full scrimmages, like we always do. Some of the guys that played a lot of reps like Isaiah Moore and Tanner Ingle, we didn't play the entire scrimmages for obvious reasons. We wanted to get guys more reps that hadn't gotten game reps. I do think that hurt Tanner. Watching him tackle, he wasn't himself. He's a better tackler than he showed in that game, and I think he's inspired to show everybody that, too. He'll tell you he's as embarrassed as anybody watching himself miss those tackles. He's one of the best tacklers in college football when he's doing things like he normally does. I think it's just time between this competition and the last, and it's a balancing act. You know how many players I've had hurt in the last couple of years. We were cautious, probably too cautious, to make sure that we had everybody healthy for game one. We did, so it was mission accomplished. The price we paid, maybe, was not having enough contact that would've made us a little better. I think I would still go with what happened. I think I'd still rather have a healthy team in the opener. We need to study it, get into next year, a year from now, in some ways we can be a little better going into the opener with our tackling. We missed more tackles in game one than we did in three games last year. It's an area we've got to improve. You guys remember how we played a year ago. We played against Louisville and teams like that who had great athletes. In open spaces, we're capable of making a lot of the plays we didn't make Saturday. That won't sit well with our D-staff. It won't sit well with our defensive kids, and we'll get out there and fix it."
On plans to increase Sumo's workload…
"I think he and Jordan will still rotate in there. I think both of them played well, other than Jordan's fumble. Both averaged over four yards per carry. Both ran hard. Both broke tackles. Both made people miss. Both caught the football. As you know, it's a long season, and it's not a one-player position anymore. Those guys need to have a rotation to stay healthy. Last week, it was probably two-to-one, and it'll probably be a little more balanced on reps between those two guys. We like both of them. We think both of them are really good football players. They're well-rounded guys, and they're tough. I'm excited about that room. I know there were a lot of questions about who our running backs were going to be and how they were going to be. There's a little bit of excitement about that position now coming out of that first game."
On what led to going for the touchdown on the goal line…
"The analytics tell you to go for it inside the three every time. If you don't get it, you're giving the ball back to them in a position you should be able to hold them in, get the ball back, and get good field position again. The odds of scoring on fourth-and-one are very high. It's just a position that you don't take for granted. The odds of getting seven points are very high; you're going to take those odds. Also, I believe, as a head coach, you have to show trust to your line. You get fourth-and-one on the goal line and don't go for it, if I were an offensive lineman, and my head coach did that to me, I wouldn't be very happy. That's not how I look at things. I need to give those guys a chance to earn it, and we didn't. They owe me one, and they know it. That's kind of where we are. I'm not a cautious guy when it comes to going for things. I didn't get to be a head coach as young as I was by being cautious as a coach. We're going to be aggressive in this program. Sometimes, it's not going to work. Not everything is a guarantee. When it comes to trusting who you are, sticking with your vision, and trusting with your guys, I'm going to be that kind of coach. If it doesn't work, at least I'm going down swinging."
On going for the 14-point lead versus settling for 10…
"You'd love to have a two-possession lead. There's no doubt about it. Maybe if the game were in the final three minutes, it'd be a different conversation, but with how much time is on the clock, to say that'd end the game, it's not. There's too much time on the clock, and again, the odds tell you to go for it. I don't know if you guys like to gamble, but you're going to take your odds when you have them most of the time. If you're a cautious guy, you're going to make a cautious decision. I'm not."
On if he needed to have more points scored in order to be looked at more favorably…
"That's the last thing I was thinking about when I'm making a decision in the middle of the game. You're trying to win a game going with the things you know, the things you trust, and the things that you think are important for your program. I'm not thinking about what they're going to decide in November because we scored 20 instead of 22."
On Jack Chambers' presence offering any competitive advantage against Charleston Southern…
"I can see why you think that. I'm going to be honest: this week is not about Jack Chambers and his time at that school. It's not about that school because of how we played this week. I don't care if we're playing Clemson or Charleston Southern. This week's about us being the best us we can be. We didn't showcase that in week one. I think our players would tell you they're embarrassed. As coaches, it wasn't the product we expected, and this game's going to be about getting that done and handling our business. It's about offensively doing the things we're capable of doing consistently. It's the same thing on defense, on special teams, and with our sideline energy. We need to bring our best to the field, and we need to play the game the way we know we can play it. That's what this game is about. The fact that Jack went to school there, it's a side story, really, more than anything. I'm more interested in how we play this football game than any of that."
On if the lack of sacks against ECU is concerning…
"We had several opportunities, maybe. I'm not sure sacking the quarterback matters as much as forcing him to throw off-time and throw incomplete passes and more interceptions because he's pressured. We're getting our hands up and tipping more balls. [Holton Ahlers] did get rid of the ball quickly in that game. He did scramble a lot to get away from guys. We did lose contain sometimes on blitzes that we felt might have been sacks if we hadn't lost contain. Can we be better? Absolutely. I think our rush-lane discipline and our distribution, we call 'pass-rush cage,' of who's in each lane needs to be more consistent. There's a lot to get better at. Getting the sack is how you judge pass rush. For us, there's a lot of other ways pass rush is important, and I completely agree it can be better."
Never miss the latest news from Inside Pack Sports!
Join our free email list