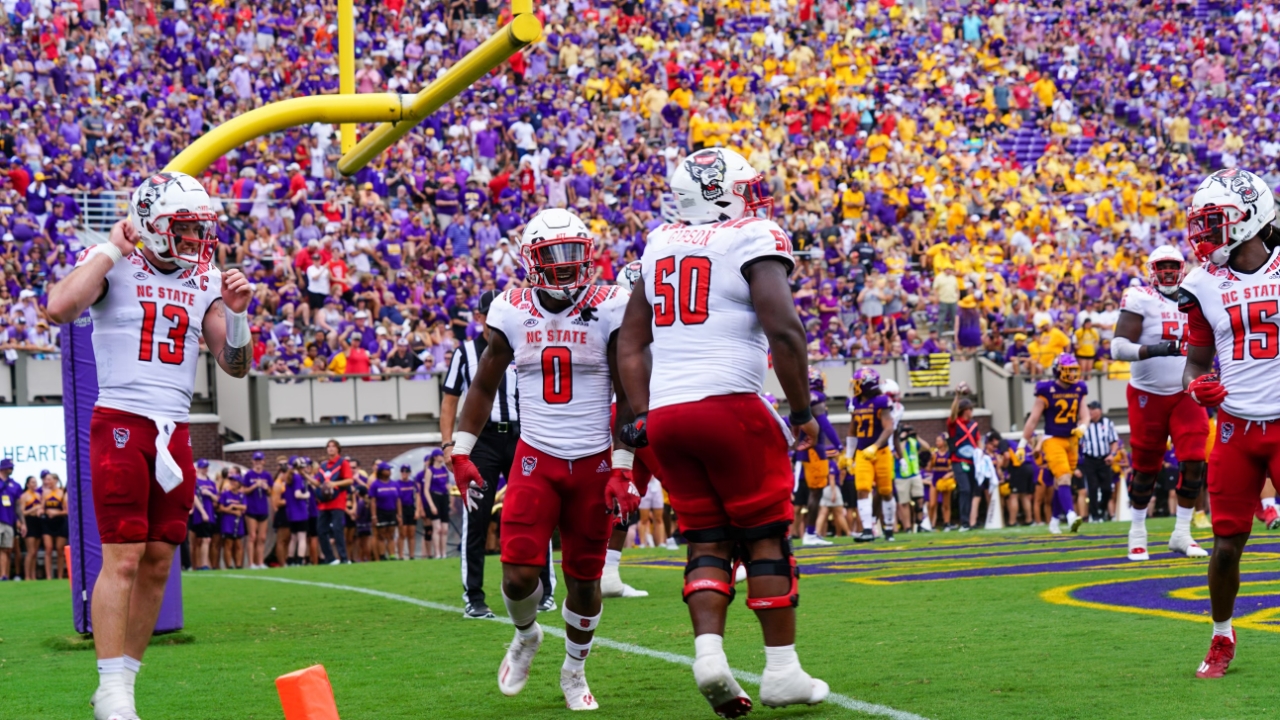 Demie Sumo
Aydan White
Christopher Toudle
Devin Leary
NC State Football
LOCKER ROOM REPORT: Wolfpack Players
---
Several NC State players met with the media following the No. 13 Wolfpack's 21-20 road win over East Carolina Saturday afternoon at Dowdy-Ficklen Stadium.
Running back Demi Sumo rushed for 79 yards on 14 carries with one touchdown. Cornerback Aydan White recorded four tackles against the Pirates, including one tackle for a loss of two yards, and broke up three passes. Tight end Christopher Toudle caught one pass for five yards. Quarterback Devin Leary completed 17 of his 33 pass attempts for 211 yards with one touchdown and one interception.
NOTE: Click on each player's respective thumbnail to watch each interview.
---
Demi Sumo
"Honestly, I wasn't happy because I thought we should've won by more, but a win is a win. I'll take it."
"It was definitely a relief because we got the W, but as the player as I am, I still thought we should have won by more."
"I should have scored on the last goal line play. Unfortunately, that didn't work. I'm going to have to go back to work. "
"I had a clue that I was going to play a lot, but I didn't know I was going to have that many carries."
"As you saw, I ran all the way into the wall. It felt crazy. I didn't know what to think."
"ECU's a good team. I give it all to them. I feel like it was on me; I should have pushed harder. I gave my all, but it wasn't enough."
"The mood is pretty chill. We definitely thought we should have won by more, but we're happy to get the win. We're ready to work and learn from the film tomorrow. We're going to go home, relax tonight, and get back to work tomorrow."
Aydan White
"A win is a win, obviously. It was hard, but we got them out of here. We'll take the W."
"I was thinking, 'We got out of there.' We were just glad to get out of here with the win."
"It's my first time being here, even with the rivalry that NC State and ECU have. It felt like it was rocking like Carter-Finley over here."
"It's the first game of the season. There was a lot of first-game jitters. We've got to watch film and correct what we need to correct."
"We've got to tackle better and get off the field on third down. We need to stay together so we can get out of these games."
"I wouldn't say they did anything different. It was the mistakes that we made that spotted them 13 points."
Christopher Toudle
"I'd say we're happy. It's the first game of the season. We've got a long road ahead of us. We've got plenty of more noise to make around the country. This is just going to be a learning lesson. As long as we come out with the W, we're going to be happy, and we're just going to move onto the next game."
"I would say this is a different year with a different team, and we're going to find a way to win these games. You saw last year with Clemson. There's a different feel for our team, and we know we can grind it out and win each game."
"I don't think we played up to our expectations, but I feel we've got to do better offensively, turn the ball over less, and support our defense when they put us in good field position. We've got to help them out. They did their part. We've just got to keep on grinding as an offense."
"It was a little bit of worry, but we've got faith in this team. We trust each other, and we've been in situations like this before, so it doesn't really phase us. It's just another game. We'll find out the problems and find easy solutions for them."
"I was watching it. I thought, 'How amazing is that?' It was a really great sigh of relief. We came out and got the win. It's time to go home and focus on Charleston Southern."
"[Dave Doeren] is really happy. We just got the win. As always, you go into each game, and you live and learn. There are a lot of lessons that we have to learn as a team. This is only the start of it. This is the first game of the 2022 season, and hopefully we have 14 or 15 more to go. We're going to grind, look at the film on Sunday, and learn from our mistakes."
"We've just got to play together as a team and be the best we can be on the field each time we take it."
Devin Leary
"A win's a win. Anytime you can walk away with the W in the win column, you've still got to celebrate it. Luckily for us, it's a win that we can learn from a lot. We're not walking out of here with a loss to learn from. That's my biggest takeaway. There's a whole lot to improve. There's a whole lot of stuff we've got to get better at. We're not satisfied with this win, but like I said, a win's a win."
"Credit to ECU for sure. They came out tough. It was an awesome environment. They played really well in all three phases. For us, we've got to make the layups. We've got to get back to the drawing board. We've got to do what we do best and learn from this."
"I mean, a win is a win. We're happy to walk away with one more point than they did. Obviously, it wasn't pretty. It wasn't the way we expected it to be. It wasn't what we're capable of doing, but you've got to cherish the wins because it's hard to win in college football for sure."
"I watched [ECU's last second field goal attempt]. He just missed right. Thank God. That's just how football is. We're not satisfied at all with that win, but like I said, a win's a win."
"It's tough. Like I said, credit to ECU. Those guys came out strong. They came out with a lot of integrity. The fans were behind them. If we want to win these games, we've got to get better at that. We had multiple opportunities with goal line stands that we didn't really come out on top of, but that' s something we can learn from in the film room, and we'll definitely get better at that."
"I think it shows the integrity of our team, but at the same time, there's a weird feeling in the locker room, honestly. Guys were happy that we won. Guys were satisfied that we were able to pull that off. At the same time, guys were pissed. Guys were mad. Guys were kind of saying that it was a reality check for us. Like I said, credit to ECU. They humbled us a little bit. That's something that, in the long run, you might need to look back and say, 'We needed that.'"
Never miss the latest news from Inside Pack Sports!
Join our free email list