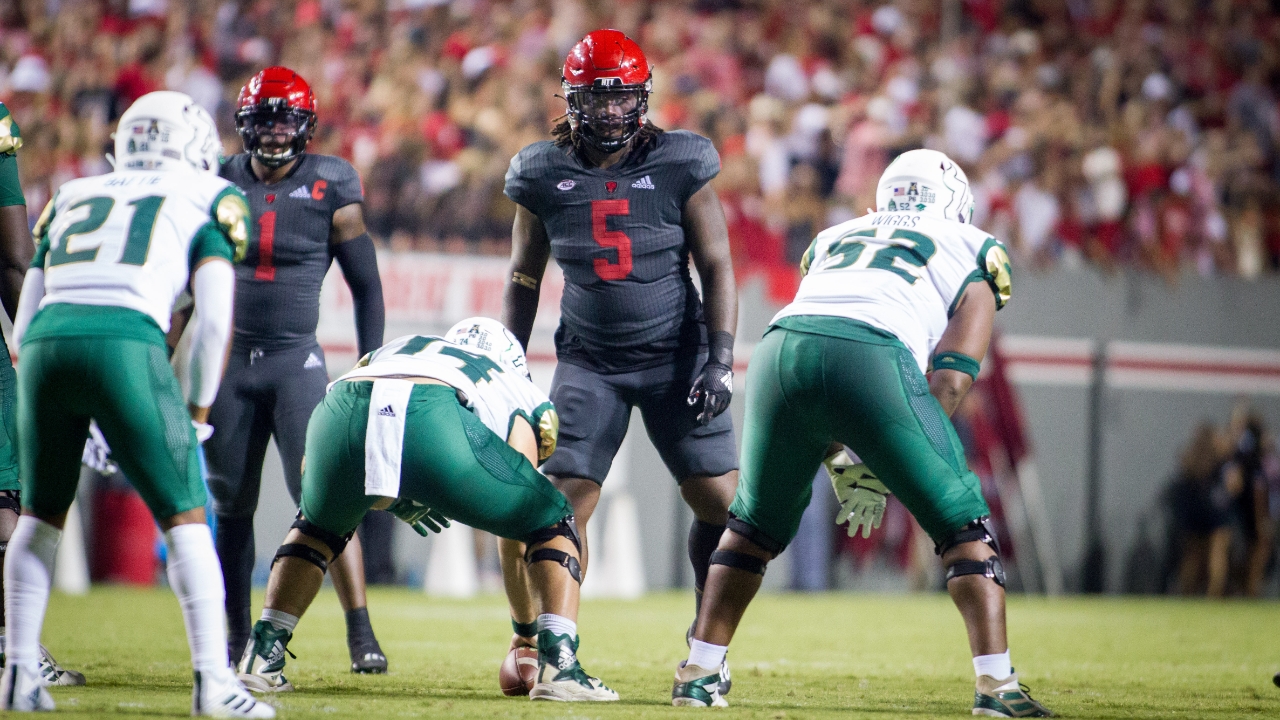 Photo by Steve Murphy/Inside Pack Sports
NC State Football
C.J. Clark: "There Is No Pressure"
---
NC State defensive lineman C.J. Clark discusses his health, the opener against East Carolina, and much more with the media.
NOTE: Click the video above to watch the interview. A collection of quotes from Clark are below.
---
"Honestly, I'm excited... I'm used to the atmosphere. I've been to school four years now. So I know what it's going to be like. So I'm not really too much worried about the atmosphere. I'm just ready to get out there and play."
"Just staying the course and just knowing what we got to do is not what the outside is like. We just know that every day we got to come in and work to be where we want to be at. And we with it. We like the pressure, we with all the pressure. So we ready for however it comes."
"We definitely do embrace that. We got a lot of good guys came back. We came back for a reason, to come in here and win at all. So that's our biggest goal. To come in every day with the same mindset, the same effort, we going to do what we need to do."
"Oh no, no pressure. No, it's no pressure. It's what we wanted. You come to college, you want to win championships. It's what we do. So just honestly, it makes it a lot better. You want to come out to practice every day and get better. So it makes it a lot better. The pressure makes it better."
"I'd say it's been great. At the beginning, it was kind of slow. I kind of had to get back into it, but as it got going, I felt good, and things got good. I got to... I'd say it was one play I had made and I knew I'm going to be all right. I'm good. I start trusting myself more, and then as practices kept going, I felt getting my energy and my endurance back. So yeah, that was good."
"[Davin Vann] is a great player. Elite. He's elite. I'll tell you that now. The guy, he changed his whole body. Came in and just... honestly, he's showing me a lot. Letting me know that he got some game and that we going to have some fun this year. Everybody. The whole front."
"It's kind of wild. It's kind of moving fast for me. It seems like just a couple weeks ago I was in rehab, rehabbing and stuff. So it's moving real fast. I just been enjoying the process and just living up to it and just taking care of my body and making sure that I'll be ready every game."
"It felt good, man. Just get out and just actually go out and do some drills and stuff like that. And knowing that it's a process when you coming off an injury like that. So I feel like that time, right before July coming into camp and getting that time by myself and knowing how to work my game and get back to myself, I felt like that was great. We had that timing. It felt good."
"Well, honestly working with Isaiah and T Bake, guys like that in the injury group, we just stuck with each other and knew we got to get it. It's no choice. We got to go out and we got to have a good time. We got to go in there and break hard."
"I'd say the difference is the movement. You got to have a lot of different movements at end. You're left and right. You moving, doing different positions and stuff like that. But in nose, it's pretty much straightforward... hands. You're not doing too much moving. End, you get a better opportunity to get to the quarterback."
Never miss the latest news from Inside Pack Sports!
Join our free email list