NC State Football
ELITE+ RAFFLE: Purchase Your Ticket For A Chance To Win Multiple Prizes!
---
Today we begin our first Elite+ Raffle where tickets can be purchased over the next three weeks, leading up to the Friday before the East Carolina season opener for NC State!
How It Works
Anyone can purchase a raffle ticket for $20. You can buy as many tickets as you'd like and for $100 you can receive six tickets.
At the conclusion of the raffle on Friday, September 2nd we will record the raffle drawing in our office where we will draw six tickets for the prizes below. The first ticket drawn will get first choice of a prize, second ticket drawn the next choice, and so on.
We will post the video of the drawing at NOON on Friday, September 2nd.
How To Purchase A Ticket
Tickets can be purchased in multiple ways.
We will have tickets available for purchase at our two upcoming events: Meet The Pack Day in PNC Arena on August 13th at the Inside Pack Sports Booth and also at our booth at Packapalooza on August 27th on NC State's campus.
Also, members can purchase tickets via our PayPal, Cash App, and Venmo accounts. The accounts are provided below:
IPS PayPal: InsidePackSports@gmail.com
IPS Cash App: $InsidePackSports
IPS Venmo: @InsidePackSports
If you purchase the ticket(s) online, you will pay one of the accounts and provide your name and username with the purchase so we can track the purchase. Once we receive the payment we will email you back with your raffle ticket number and that raffle ticket will be entered into our drawing box manually by James Henderson.
Prizes
4 seats in Dail Club and parking pass for NC State vs. Virginia Tech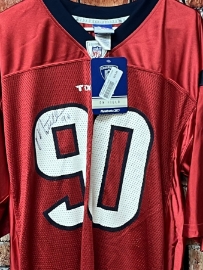 2 seats in Dail Club and parking pass for NC State vs. Charleston Southern
2 seats in Dail Club and parking pass for NC State vs. Charleston Southern
Autographed Mario Williams Houston Texans Jersey AND NC State Hat (Pictured Below)
One Free Annual Inside Pack Sports Subscription ($100 Value)
NC State 2X3 Print From Elite+ Fan Fest ($150 Value – Pictured Below)
Contact Us With Questions
Still have questions on how the process will work? Email James Henderson at James@InsidePackSports.com.
Loading gallery...
Never miss the latest news from Inside Pack Sports!
Join our free email list