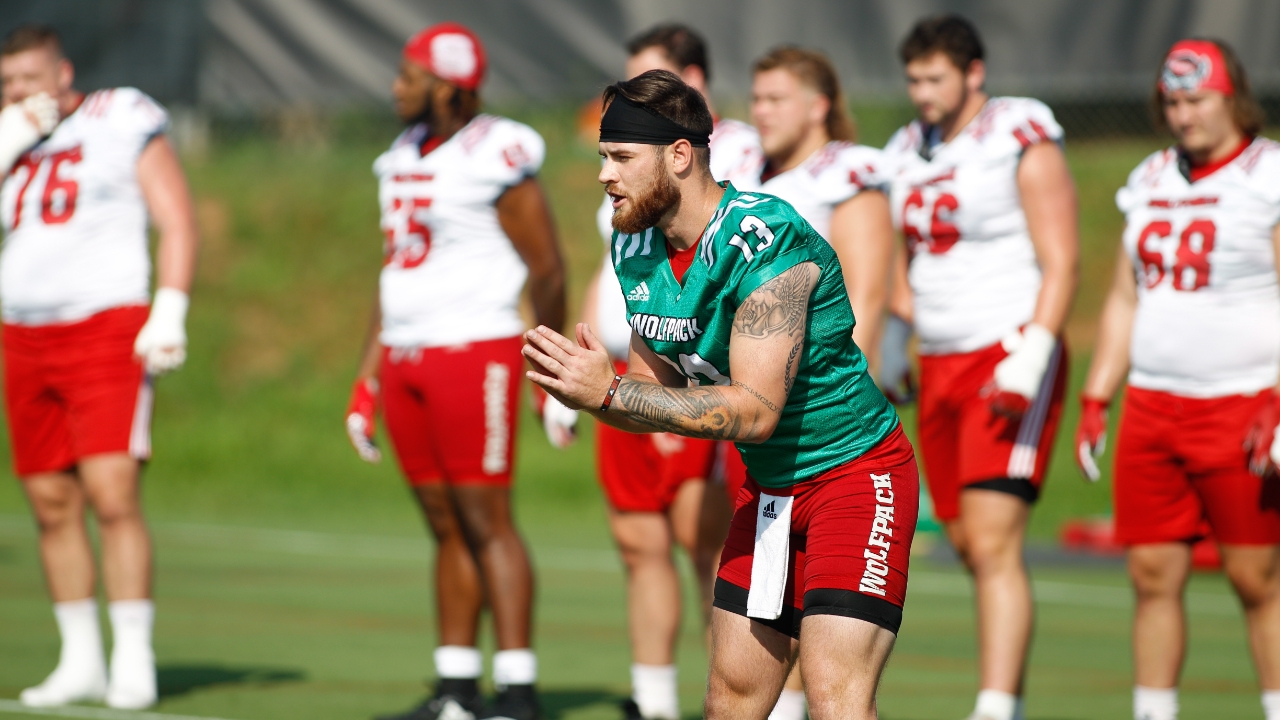 Photo by Steve Murphy/Inside Pack Sports
NC State Football
Devin Leary: "Team Success Has Always Been My Priority"
---
NC State quarterback Devin Leary met with the media to discuss the Wolfpack's first fall practice heading into the upcoming season.
The 2022 ACC Preseason Player of the Year broke Philip Rivers' single-season passing touchdown record last season with 35 while completing 65.7 percent of his passes for 3,433 yards. The Sicklerville, N.J. native comes into the year seventh in school history in passing yardage and sixth in passing touchdowns.
NOTE: Click the video above to watch the interview.
---
What does winning ACC Preseason Player of the Year mean to you? What does this mean for your expectations this year?
It's a huge honor. It's definitely a huge honor to be recognized at that national stage. But for me, I know that the biggest thing with personal accolades comes with team success. That's always been my priority. As long as our team is doing well, I know those personal accolades and recognition will follow up with that.
A lot of people thought Wake Forest's Sam Hartman would earn that honor, but part of the reason why you were able to receive that recognition was because of the team around you and the team's success. What are your thoughts on that?
I think there's a bunch of great quarterbacks in the ACC. It's going to be really competitive this year. There's a bunch of dudes coming back that have started and have taken many reps. I'm very confident in our team. We've built a great team around me offensively, defensively, and on special teams. That's all going to translate onto the field this year.
Where were you when you found out about winning ACC Preseason Player of the Year?
I was actually in my apartment. I was recently moving into my new apartment, and it just kind of popped up on my Twitter. It's pretty cool.
With Thayer Thomas and Devin Carter as your top two returning receivers, what's that chemistry like, and how easy is it to jump back in with them?
It's huge having guys that are comfortable with our system and also having them being able to teach the younger guys that need to step up, too. As far as Devin, Thayer, and me, we've always been on a great page, and we always [know] how each other think. Leading into this season, we need to take that extra step. "We understand our offense. We understand what we need to do. Now how can we attack different defenses in different ways?" Being able to have those vets is very great.
After losing a pair of running backs to the NFL, what can you say about a guy like Jordan Houston who had to wait his turn and is now in that No. 1 position?
Jordan Houston's a dog. Credit to him waiting his turn a little bit. I remember being on the field with him in 2019 when he got his reps. He took full advantage of it. I know he's been waiting his turn. He's very eager, very hungry. I can't wait to see what he does this year.
Thomas said one of the young guys that stood out to him was Julian Gray. How much has he progressed this offseason? What do you expect from him this season?
Julian Gray is a tremendous athlete and tremendous receiver. He's very skilled and very gifted. He can help us a lot this year. Learning behind Thayer and Porter [Rooks], those guys are going to compete every single day. The type of credentials that Julian brings to the table is second to none.
What does it mean for this offense to have the nucleus of you at quarterback and Grant Gibson at center?
I think it's huge. I think it's huge for us to have the experience because we don't have to go back and relearn plays. We don't have to go back and reteach things we adjusted last year. Guys have gotten a lot of reps under their belt, and being able to play behind Grant just makes me that much more comfortable – as well as the entire offensive line. He holds them to a high standard, and they expect the same out of him. With him and me being on the offense, we expect that out of everyone, so being able to have that experience is great.
What's the one word you would use to describe the chemistry you and Gibson have?
Positive. If you know Grant, he approaches every single thing every single day positively. As a quarterback and center, you need to have that positive relationship because, at times, things can be going wrong, or you can disagree with certain things on the field, but as soon as we get off the field, we have that positive reassurance and understand our different perspectives in what we see out there. It's always good vibes with Grant.
Have you and the players talked about not taking things for granted, especially considering the players who missed games to injury last season?
Yeah. As many players that we had injured last year, many guys that we expected to play that suffered from injury and couldn't finish out the season, and with the bowl game, it kind of put a bad taste in our mouths heading into the offseason. At the same time, all of those guys that were injured and couldn't participate on the field are that much hungrier. They've seen how hard we've worked without those guys on the field. While they're trying to rehab to get back, they're just anxious to help us. For them not being able to play last year and then also watching us not be able to play in the bowl, that affected all of us. Having those guys that were watching and injured, they're back, and they want to achieve even more.
Payton Wilson was one of those who missed games last season. What were some of the ways you helped keep his spirits up?
Payton is one of my best friends. We're former roommates. There's no bad blood, though; he just moved in with his girlfriend. Payton is awesome. He loves the game of football. He loves competition. He loves everything that comes with the game. For that to be taken away from him the way it was, I could relate to him with my injury. I just kept giving him positive reassurance. He's very self-motivated. He knows what he can accomplish on the field. I told him, "Once you get back out there, it's full go. Once you get going on defense, we need you to step up as a leader. We need you to bring up the young guys." He's fulfilling that role tremendously.
Never miss the latest news from Inside Pack Sports!
Join our free email list