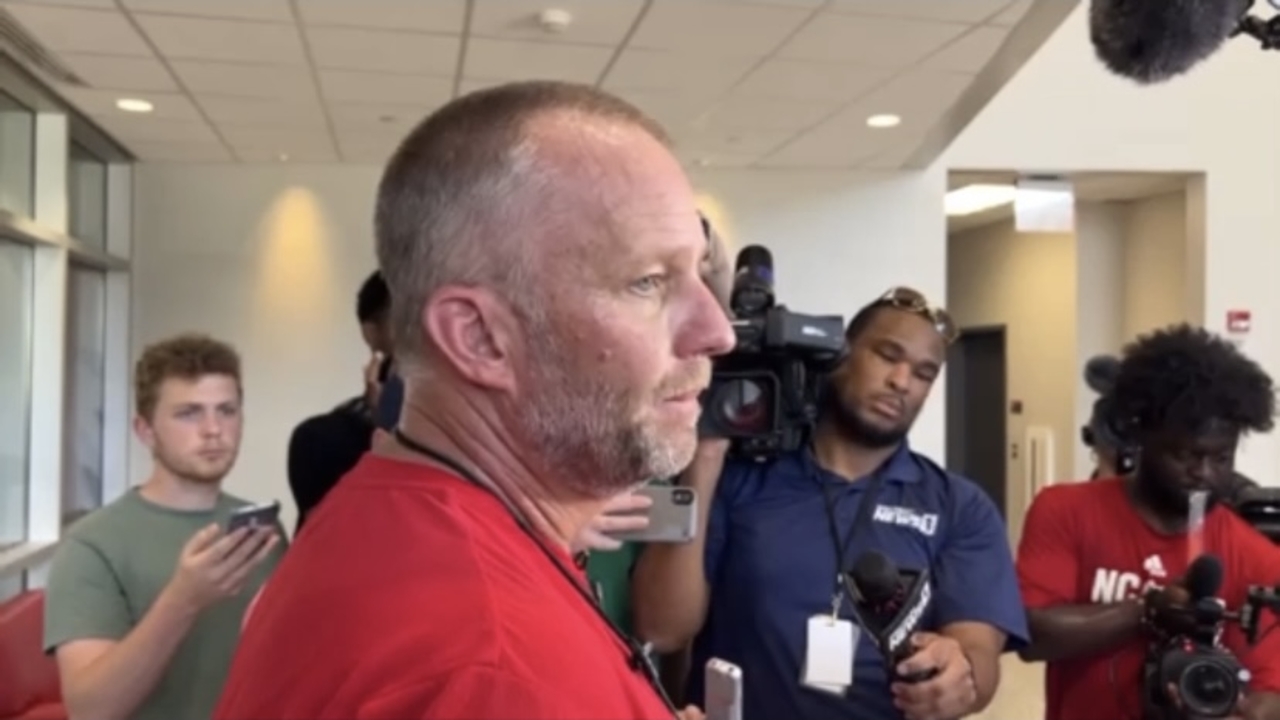 Photo by Daniel Wilson
NC State Football
DOEREN: "Last year's stats won't win this year's games"
---
NC State head coach Dave Doeren met with the media following the Wolfpack's first day of fall practice on Wednesday.
Note: Click the video in the player above to watch the press conference.
---
On how the first day of practice went...
It was fun to be back out there. It makes your heart feel good, being back out on the field doing what your love in life professionaly is. It was kind of special seeing some of our players back out there [like] Payton [Wilson], CJ Clark, Isaiah Moore. So many of them. To have them back on the grass, it's a great feeling as a coach to see those guys and just some of the emotion they had coming out there again putting a helmet on.
As far as practice, there was good energy, as you would expect on day one. Devin Leary has a great command, I was impressed with Jack [Chambers] coming in and learning the offense late, just his ability to learn. And MJ [Morris], both of those young quarterbacks. It was a great first day. You can see the experience factor on defense and you'd expect them to be a little bit ahead of the curve.
On what the team learned from last year's injury adversity...
Unfortunately for all of us, tragedy and injuries in football put life in perspective and make you assess and take inventory of what you have and how much you really appreciate certain things that you maybe take for granted, like practice. Some of these guys that were probably more excited about games, now they know every day they can be out on the field is a blessing. You never want a guy to have to be injured, but the lessons that you learn as an injured player are very valuable. We're gonna have a lot of that from last year's guys.
On how the team is handling the outside hype...
We talked about all that stuff since January. Last year's stats won't win this year's games. We've got some key pieces we have to replace, particularly on offense and at punter. There's a lot of work to do and we're not gonna earn any wins listening to things or hearing things from [the media]. It is appreciated and these guys have earned the opportunity, but I think they're very aware of what we have to do and where we want to be. Make no mistake about it, we're excited to play other people. We're excited to get back out on the grass, and I think that whole experience has left a big chip on our shoulder.
On if he thinks this could be one of his best defenses...
If all the things stay as they are, then yes. But we've got a long way to go with the health factor and all those things. If we can keep these guys on track, we have a chance to be really good on defense.
On if a team of this caliber practices at a higher level...
The older guys do, for sure. They're in a different shape than the younger guys, like the heat didn't bother the guys who have already been through this stuff. That leadership rubs off, and there's truly a visible difference as a coach when you're seeing a first- or second-year player and comparing them to a fifth- or sixth-year player.
On Anthony Belton...
He's had a tremendous offseason. From January all the way through the summer, he's one of the guys coach [Dantonio Burnette] pointed out has changed his body in a good way. He's in great shape, he's bending well, he's long. As you know, he's got really good measurables. He got a chance to learn from the best last year and I think you can see that he really took that to heart.
On how Jordan Houston goes about his work...
Quietly, behind the scenes just working and waiting his turn. Making plays where he can make plays, like he did with the blocked punt last year against UNC. Today he caught a depe ball, did a really nice job on the route. He's ready. I'm excited for Jordan. Not a lot of players would wait their turn in today's college football and he has. I'm pulling for him.
On the strength of the linebacker group...
It's the most experienced my top three have been. I think behind those guys, we're fortunate that Devon Betty and Jaylon Scott have played. We've got to get Caden Fordham going and get him some reps, because we're gonna be counting on him. Replacing Levi Jones, you guys know how many things he did. That's a big focal point for us right now, trying to figure out our SAM linebacker spot. You've got Jayland Parker and Jordan Poole as guys to watch there.
On what being more consistent means for Devin Carter...
I think it's not letting his emotions get the best of him. He's an emotional player, which we like, but he needs to control that and not let them control him. That's something that comes with maturity.
Never miss the latest news from Inside Pack Sports!
Join our free email list