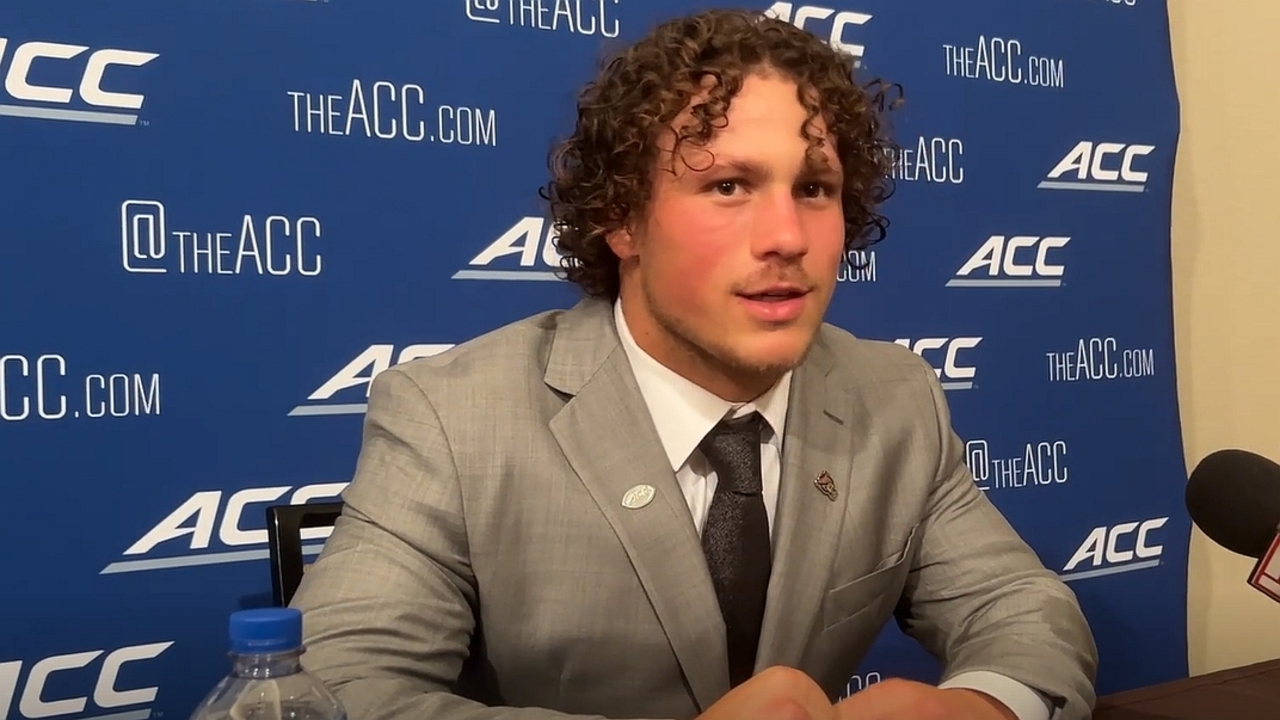 NC State Football
Star Linebacker Drake Thomas Stresses The Importance Of Culture, Chemistry
---
NC State star linebacker Drake Thomas touched on a variety of topics with the print media at the 2022 ACC Football Kickoff. Here is additional video from his sit-down interview.
NOTE: Click the video above to watch the interview.
---
Is this a ACC championship or bust year for NC State?
I wouldn't really necessarily put that kind of pressure on myself or our team. We just want to approach every single day, try to be our best selves, best version of ourselves. Take it one day, one week at a time, and then see where we're at at end of the day.
Well, obviously, when you look around the locker room, you notice there's a really good chance...
Yes. Yes. Obviously, we have big, big goals for ourselves, and we really want to leave a mark, leave a legacy at NC State, and make kind of a change in, I guess, the way the nation looks at NC State football.
Obviously, your brother, Thayer, could have very easily gone to the NFL draft this year, but decided to come back. Was there any conversation that he had with you regarding that decision?
Yeah. Obviously, you guys saw the post. Everybody coming back. The momentum we had, and it just kind of speaks for the culture we have in our locker room. Everybody loves each other, and everybody enjoys being around each other, everybody loves playing on the field together. So, when everybody's announcing, "Oh, I'm coming back. Run it back. Run it back," in his head, he wants to be a part of that too. And I'm really lucky, I'm very happy that he decided to come spend one more year in Raleigh with me.
Has that culture always been like that? Or has it been a process to develop it to that point?
Definitely had to develop it. When I first got there, my freshman year in '19, we had just lost Ryan Finley, Kelvin Harmon, Jakobi, Pratt, all those guys, NFL guys. So, we had some older guys try to step up into those roles, and I would say it was unsuccessful. We won four games that year. So, that kind of speaks for itself.
Just after that, it was kind of like a hopeless feeling. Your first taste of college football is... You can go look at the scores. We were getting blown out every single week. And that was my first taste of college football, and it was like a punch in the mouth. I got hit in the mouth. And from that point on, it was just like, I never want that feeling again, whether it was in the building the relationships we had between coaches and players, whatever it was. And just since then, we've been constantly building on it, just trying to make it better, and just be a great place to be, and that's really where we're at right now.
Was there specific moment or a game that you kind of felt like that culture shift really resonated with you and with the team?
I wouldn't say a game because I feel like culture is built in the off season, through the workouts, the shared adversity and stuff like that. So, during that 2020 off season, especially COVID, we all got sent home, so it was even harder to try and build that. So, we were trying to build a culture. We're trying to kind of start over. We're trying to find our identity, and we can't even be with each other. So, that was difficult. But we stayed in contact, we held each other accountable, we were checking in on each other, trying to make sure we were getting our workouts in. And that just really spoke a lot for our team and what we were trying to do, what we were trying to get changed.
Are there things from that summer you've taken into the off season that have followed, whether it be the constant check-ins or anything like that?
Yeah, I think it just helped us learn how to keep each other accountable. Just make sure that we're all staying on our P's and Q's, and we're taking our responsibilities and getting them done every single day.
Out of the young linebackers, anyone's been catching your eye so far?
Yeah, we got lot of guys that have played in that room. You got, obviously, me, Isaiah and Payton. Jaylon Scott started games. Devon Betty started games. And then you got Caden Fordham is a freshman from Jacksonville, Florida. Really good player. Torren Wright just got there. A true freshman. He's a kid that has a lot of potential. Jordan Poole's another kid that... great athlete, has a lot of potential.
There's so many guys in that room that have potential, and there's so much talent, and it's really, really fun to be a part of that.
Never miss the latest news from Inside Pack Sports!
Join our free email list