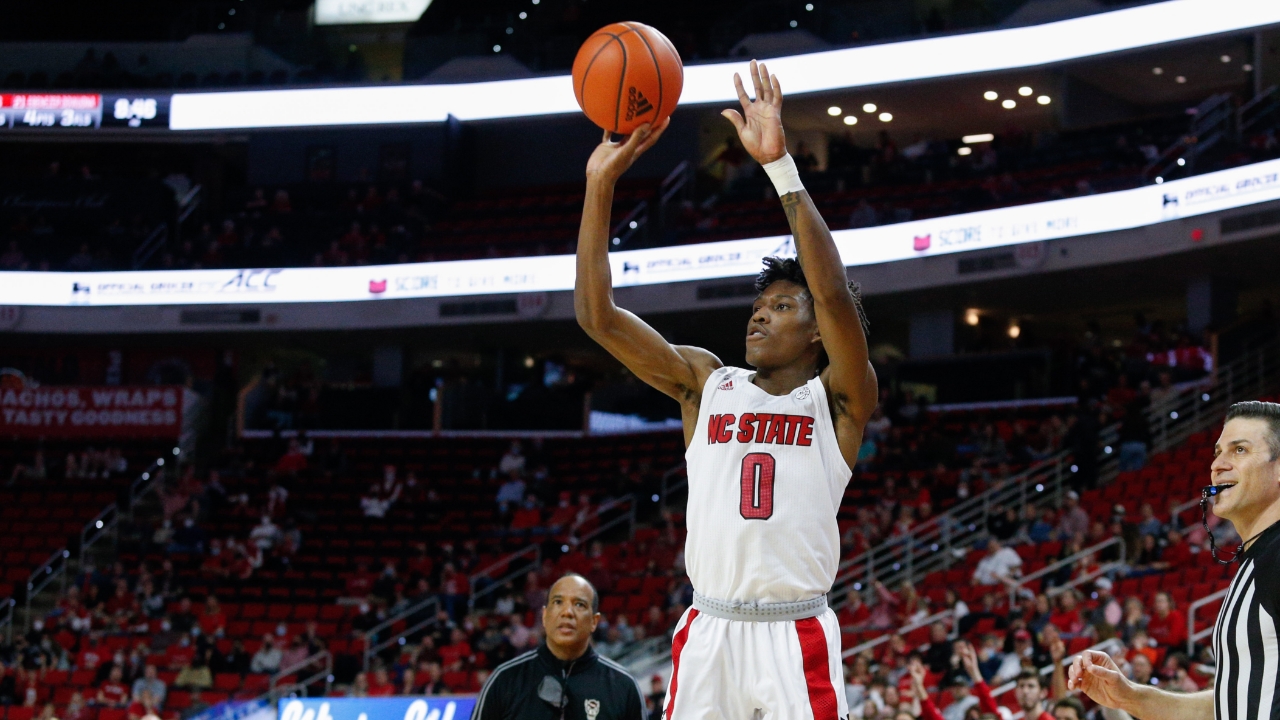 Photo by Steve Murphy/Inside Pack Sports
NC State Basketball
Terquavion Smith: "It's Like Family Being Around NC State"
---
NC State guard Terquavion Smith met with the media to discuss his experience at the NBA Draft Combine, the Wolfpack's upcoming season, and more.
NOTE: Click on the video in the player above to watch Smith's interview.
---
On when he decided to return to NC State…
It was probably my last day. I had a workout with the Hornets. After that, I got a little feedback. The feedback that I got made me turn to come back to school.
On discussions with Kevin Keatts regarding what he wants to work on this season…
Coach already knew. Coach was already in the loop when I was in the process. It was easy for him to know.
On taking the criticism during the draft process…
That was easy for me. I like to learn, so anytime I can learn and work on my game, that's the easiest thing.
On how much his love for NC State influenced his decision to return…
It played a big role. Being able to meet people and start networking, the school itself is an all-around great school.
On accepting a leadership role as a sophomore…
It does [excite me]. Knowing that I come from leading a school, I feel like I could be that guy.
On getting compared to Jordan Poole…
I like that comparison. That's a good comparison to me.
On the biggest takeaway from competing at the NBA Draft Combine…
I would have to say working on my game and learning new things from veterans that played in the league or people who played professionally. That was probably the biggest thing for me.
On his relationship with Jarkel Joiner…
I worked out with him since I've been back. That's my guy. I'm ready to play with him. It'll be good having us in the backcourt.
On what Joiner does to bring out the best in him…
Energy. He brings energy just like I bring energy, so even if I don't have energy right away, I know he's going to have energy.
On the biggest thing learned from last season…
Just playing for the front of the jersey instead of the back. That's really it. If you don't do that, then you're not going to win games.
On the main feedback he got from the draft process…
Really, just getting stronger and being a lead guard. That was the main two things.
On if the current climate with Name, Image, and Likeness influenced his decision to come back…
Well, NIL wasn't a reason I came back. I came back because we have a great team, new coaches, the same head coach, and because I love NC State in general.
On the enticement of NIL…
No, for me, it's not about the money. I'd do this for free if I could. I feel like it's just an accessory.
On how much being a college student affected the decision to return…
That played a role. I enjoyed last year. I enjoyed being a freshman here. It was like family being around campus with the team and coaches.
On what he works on to become a better shooter…
I use the gun to keep my shot high-arcing and being able to hit open shots, but I'm really working on being in the weight room all offseason. That's one of the biggest things.
If any of the feedback he received was unexpected…
Not really. It was all the same but in different ways.
On if he's eating more to bulk up…
With that, I eat a lot anyway.
On his ideal weight…
175-180 [pounds]. I'm at 169 right now.
On seeing the newcomers enter the program…
It's fun for me knowing you're going to have a new team with different types of players. It's new bonds where you can start fresh. Watching that from a distance is fun, but I kept in contact with those guys even when I wasn't here.
On what it would mean to help NC State reach great heights…
That would mean everything to me. To win games for the fans and the people that support NC State, that would mean a lot.
Never miss the latest news from Inside Pack Sports!
Join our free email list