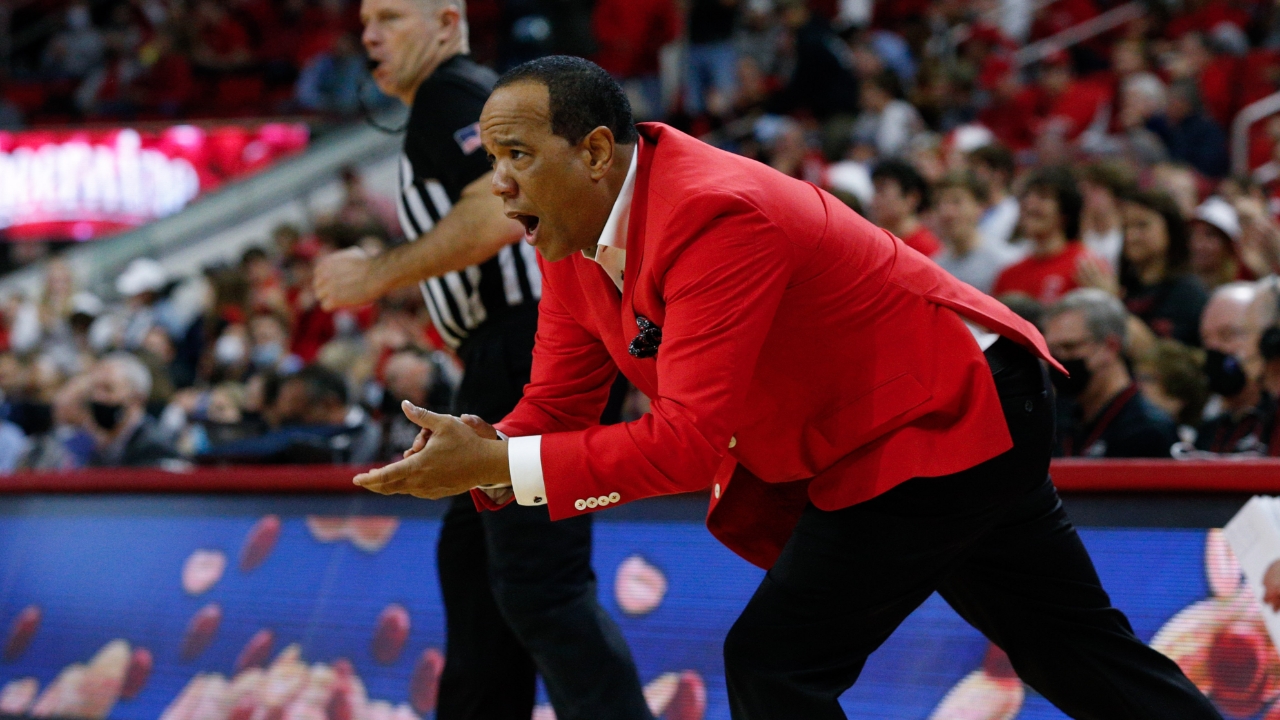 Photo by Steve Murphy/Inside Pack Sports
NC State Basketball
Kevin Keatts: "There's No Such Thing As An Offseason"
---
NC State head coach Kevin Keatts met with the media Wednesday afternoon to discuss the Wolfpack's upcoming season, his new coaching staff, and much more.
NOTE: Click on the video in the player above to watch Keatts' press conference. A transcript of Keatts' comments will be updated below.
---
On the dialogue between Keatts and Terquavion Smith regarding the NBA Draft process...
You know, I've had a lot of guys who went through the process in my entire career when I was an assistant coach, when I was at UNCW, and even at NC State. Terquavion and I probably had the best communication of anybody that I've ever dealt with. It was just him and his dad, and then he had an NCAA-certified agent that we'd have some conversations about. Every step of the way, we talked about, any time he went to a team, how he thought it went. If I could get some feedback for him from some of those teams, I'd try to get it even though, most of the time, I could not. I even went to Chicago and had a chance to watch him. One of the reasons I think he's back is because he saw an opportunity. Our relationship has always been strong throughout the process, but he wanted to make sure he was a 100-percent first-rounder. This is a kid that has a big ego and loves to compete. He probably wanted to be a top-20 player instead of not knowing if he's going to be 20-30.
On the feedback Smith got from scouts…
We've talked about some improvements that we could have in the summer. When he's out there, he has to make better decisions. He was a freshman. He had a lot of freedom, and they want to see him make better decisions with the ball in his hands. One of the biggest things is we want to add some weight to his frame. It's hard to add weight during the season, and the summer is the best time to do that. If you see him walking around with four or five pizza boxes, that's why. We're trying to add some stuff on.
On this being the busiest offseason he's ever had…
I think I echo this for most coaches in college basketball: there's no such thing as an offseason. Lose the word "offseason." Basketball now has become 365 [days], 24/7. We're busy. You have so many different situations. You've got the transfer portal now where they have to let you know by May 1. In our situation, we had two guys that went through the NBA process. [That deadline is] June 1. It's [about] balancing everything. You've got to hold scholarships. You've got to recruit. You've got to recruit your own staff. You've got to make sure your guys finish out academically. It's been a very busy spring and summer for me which I expected.
On the reworking of the coaching staff…
This has nothing to do with our former coaches. I thought they did a really good job also. I can point to a lot of great things when you talk about APR and changing and what some of our guys have done in development, but I do think we have new energy. When I went out and looked for guys to bring in, I wanted three guys to come in and bring a different energy and some guys that could come in and bring different ideas. When you stay in a program for a certain amount of time, I think everybody gets stagnant. I'm excited about those guys because I think they're able to challenge myself, challenge our players, and bring some different stuff to the table.
On who's arrived on campus…
We've got everybody on campus outside of Dusan [Mahorcic] and D.J. [Burns]. Both of those guys have to graduate from their universities.
On meshing the newcomers with whether or not Smith returns…
It was hard. You're saying, "What do we need if Terquavion stays in the draft? What do we need if Dereon [Seabron] stays in the draft?" When we're recruiting, the guys we're recruiting are asking questions like, "Who do you think is coming back?" "Who do you wan to play with" is one question I ask those guys. It's trying to match all of those pieces and trying to figure who you may have back. Honestly, it's a guessing game. I didn't know if we were going to lose both of them. I didn't know if we were going to get both of them back. I'm excited that Dereon has the opportunity to pursue his dreams and stay in the NBA Draft, but I'm really excited that Terquavion decided to come back and run it back for us and have a good year for us, like he did last year.
On having potentially four centers for the upcoming season…
If you ask those guys, none of them would say they're centers. Let's just say we've got more post guys. How about that? I'm excited. Listen, Ebe Dowuona and Jaylon Gibson were dealt really tough hands. I know people would say, "Tough hand? They got the opportunity to play." But I don't think either of those guys expected to play right away with the minutes that they played. That being said, when we added D.J. and Dusan, that gives us three really good players. Ebe Dowuona's gotten a lot better in the short amount of time between the end of the season and now, but it gives us some bodies that we didn't have last year. There were some times I was looking at you guys, figuring out if one of you played center back in the day and if I could throw you in. I figured there was nobody out there that could do that.
On if he learned that he could never have enough bigs…
We didn't have great point guard play that we'd thought, and we didn't have a legitimate veteran post guy. That really hurt us. When you look at Jericole [Hellems], he's more of a perimeter guy even though he played some [at the] four. You could say, "Hey, you could never have enough post guys," but most teams don't have but two legitimate centers on the roster. In our situation, we ended up with one, and then with Covid and different injuries, we really struggled. It has me thinking that maybe I should have three, and I do have three which is what we want.
On the status of Ernest Ross and Greg Gantt…
Ernest Ross and Greg Gantt have been making positive strides in the spring. Ernest just got cleared for full contact. Because of the time sitting out, Greg's gained some weight. Now he's back to 219. We want to get him to 215 where he's more explosive. With both of those guys, we've kind of taken it slow, but both of those guys will be ready by the time we get to the season.
On Smith's commitment to NC State…
I think he screams NC State basketball. Think about this: in the portal world, you've got NIL, you've got a little bit of everything going on, and this young man says, "This is my school. I'm coming back." The relationship with Terquavion, his dad, and myself goes back to when the kid was 15 years old. I know everyone will say this now, but I told everyone he's a top-100 player. Very few people believed me at that time. Then, he was probably about 130-135. We offered him, and everybody's like, "This kid can't play in the ACC." Even his dad called me back and said, "Coach, did I hear you right? Did you offer my son a scholarship?" I said, "100 percent." Relationships do matter. I know in this time and age, it sometimes doesn't appear that way, but I think they certainly trust in the fact that I'm going to do right by Terquavion and push him to get where he wants to go.
On pushing Smith into more of a leadership role…
It's the craziest thing. When we take him out of the game, the energy on the bench goes to another level. When he's in the game, the energy on the floor goes to another level. We challenge him to be more of a leader. He's really a shy kid. He may come off as a shy kid, but he's maturing. He's getting better in that part of it. He's probably one of the most competitive guys I've ever met. When we're having practice, he's going to be really good. As soon as you say, "First guy to 10," he goes to another level. I'm trying to get him to be a leader all the time, not just during the competition part of it.
On Smith's readiness to be a leader…
He has no choice. He is locked in, and he's going to be the leader. He's been through a process most guys haven't been through. He had the chance to sit down with some NBA officials and personnel and got feedback. I think it's great, what he went through. […] There's three guys that played a lot of minutes that's returning: Ebe, Casey Morsell, and Terquavion. When you play the most minutes, you've got to be thrust into that leadership role.
On having older transfer players with experience…
It's really good to be old. I know in today's world, everybody'll tell you the older you are, the better opportunity you have. I'm still waiting for somebody to tap me and tell me that Jarkel Joiner's not real. Man, you want to talk about a guy who's oozing with enthusiasm. He's a great leader. He's positive. He's the one that's like, "I can't wait for Terquavion to come back so I can have the opportunity to play with him." He's been great. It's been really good to have some older guys. At one point, we were handing out fruit snacks and all of that other stuff because they're so young.
On if he takes inspiration on what Iowa State and Wake Forest did last year with the transfer portal…
I look back at NC State. I look back at us. We were pretty doggone good. When you look at my first three years, we won 20 games. We did some great stuff. There could have been some opportunities for the NCAA with the NET before the pandemic. We didn't have a good [2021-22]. We can point to a lot of different things. Ultimately, I'm the head coach, so I take full responsibility of our season last year, but I look back at us and say, "How do we get back to where we were at" and "Was this just a one-off?" I think it was. We addressed a lot of the issues and concerns that we had. We wanted to go out there and get bigger, stronger, and older, and I think we did.
On how much Breon Pass has improved and where he fits on this team…
I think Breon Pass will be one of your favorite guys. He plays hard. He's a great teammate. He can really, really shoot the basketball. He's really matured. I've seen a guy that was a part-time basketball player become a full-time basketball player. He brings toughness. He brings grit. He can defend. He's going to get a great opportunity this year. I'm really excited about it.
On if he feels any pressure heading into this season…
I feel the same pressure I felt my first year, my second year, my third year. It's basketball. I'm the coach. I don't like to lose. I've never really been part of losing, and I don't want to make that something that happens all the time, but I don't feel any more pressure than I did when I took the job. When I go into a program, I want to win, and we want to be great in every area. We have a lot of things we have to get better at.
On if he has to tell the players not to listen to the outside noise…
It's funny. The things we think the kids buy into, I don't think that they buy into it as much. I think our guys understand. A lot of the guys we went out and recruited, they understood our situation. They understood what type of program they were coming into, and they didn't look at just that one year. They looked at the whole body of work. When you look at Jarkel, Jack Clark, D.J., and Dusan, they were like, "Coach, we just want to get back to winning. We want to win, and we want the opportunity to advance this program." I think our kids are blocked out about all the outside noise and are just trying to figure out how to be the best version of themselves.
Never miss the latest news from Inside Pack Sports!
Join our free email list