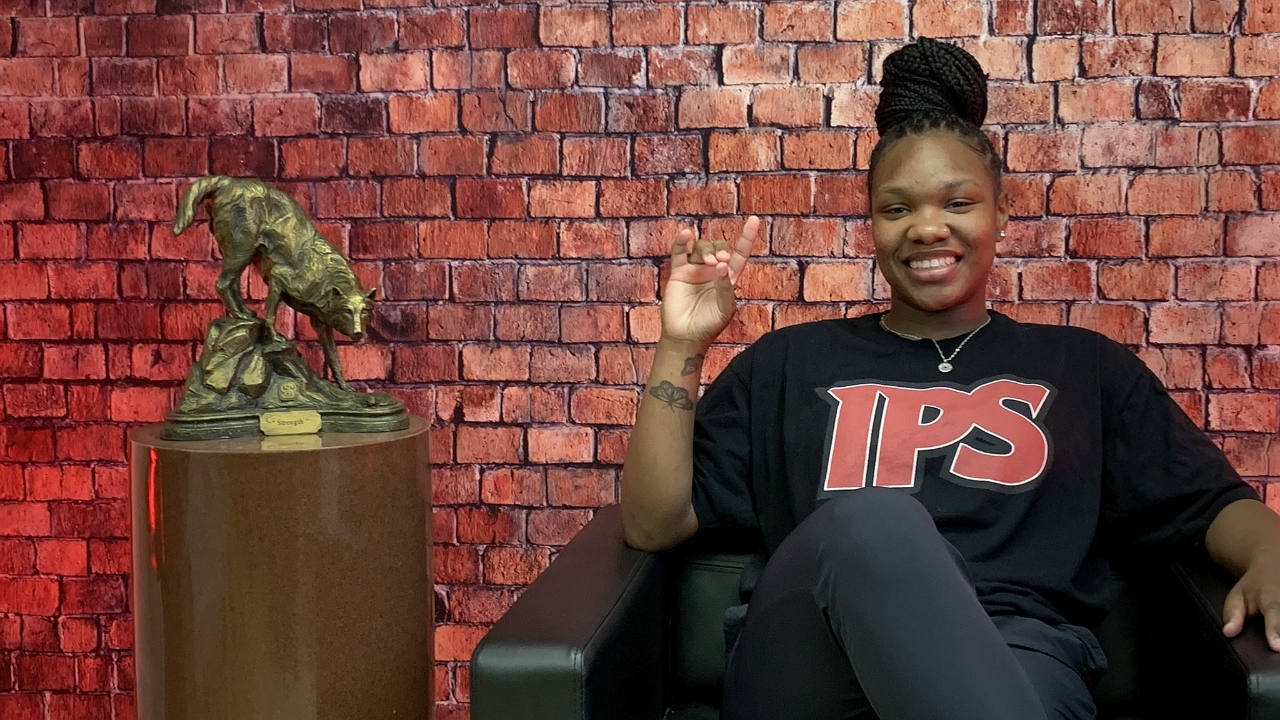 NC State Women's Basketball
NC State Star Diamond Johnson... A Future College Coach?
---
In this feature, NC State guard Diamond Johnson‍ discusses her recent NIL opportunities, joining the Pack of Wolves, potential game improvements, the Pack's portal additions, and much more!
NOTE: There are two ways you can access the content.
The first is by clicking the video player above to watch a streaming video with our comments on the feature.
You can also click the link below and/or the audio player at the bottom of the page to listen. To download the file, right click and save the link below as a .mp3 file to listen later.
---
When the Pack of Wolves reached out to you about joining the collective, what were your thoughts? I know you've seen some other athletes maybe doing it. How interested were you in this?
I was interested, especially because it's affiliated with our school. And when they sent me the email about the overview of what they were trying to do for student athletes, it was a good thing. And I think it's going to help me in the future for future NIL deals and just connecting with other alumni and donors.
That's going to be important for me, especially if I want to go pro, play basketball. Because NC State is majority of fans, so just being able to connect with them, I think it was a good choice to join the Pack of Wolves.
I'm sure when you first heard NIL come about, how excited were you?
...I was really excited.
For a while we've been talking about we need to use our name, image, and likeness to capitalize on what we do on the court, basically. So this is the right time now. I was a sophomore when they started it and I have three more years left. So it's really good. Thanks to the people before us that have been fighting for us to get this.
I'm excited about it. I get to have Diamond Johnson wear my logo on her chest and let her tweet it out to some of her followers.
[Laughing] It's awesome.
I'm giving you an example of how businesses can benefit from this as well, right? I think it's huge for you all because I understand how hard you work. Can you give our viewers just an idea of the daily grind you go through and how this is an opportunity for you to benefit on that, outside of your scholarship?
Yeah. As an athlete, it's really busy. You wake up in the morning, you might have practice in the morning. Then you have class, tutoring, study hall, and then a recruit might come for the weekend, you got to go out to lunch.
So it is really a lot, but I'm surprised that we have a lot of time being though what I just told you, like what the day is really about. But it's really just school work and basketball. That's all you have time for, especially during the season. You can't really go home on vacation, especially if you live far away. You might not even see home till the season over.
But you do it, you sacrifice those things to put in the work and just being better.
The Pack of Wolves has just launched here inside of the last month. So you're one of the first athletes to join and I'm sure they approached you with that. But when you looked at the collective as a whole, what's been the general feel you've got from them, in terms of even made you more comfortable, to make that decision to sign with them?
I think they were real genuine in reaching out. And I told you, I read over everything it said. You know, Molly had been keeping in contact with me lately, answering any questions I have. So I think it's just a supportive feel that I get from people from the Pack of Wolves, and we haven't really started anything yet.
So I can just imagine when we get rolling, once I start meeting the people and stuff like that, it's going to be really good and really fun.
I don't know if it was your first major deal. It was a big deal. The Bojangles spot you did over here on Western Boulevard, that opportunity, that exposure. What was that like for you?
It was really fun.
Obviously that was one of my first deals, and it was just fun just to see that it's a change going in the right direction far as with student athletes. It's just preparing us for the future more and just helping us with our finances, because we're going to need to learn how to budget and spend things on some things that we might not need and stuff like that.
So it was really cool. It was nice making some biscuits, getting out of my comfort zone a little bit. So it was really nice.
Let's talk some basketball. Big year for you this past year, obviously your first year at NC State, and you guys made it to the Elite 8, were unable to get past UConn, but right there had that opportunity. How excited are you about this upcoming season? And obviously no one, even for yourself individually, it's going to be even a much bigger opportunity as well.
Right. I'm very excited.
Obviously, I went to Rutgers before, so I kind of played that role at Rutgers. And I played a different one at State which was being the 6-man. So I think this season is definitely big for me and big for our team. We got a lot of people coming back, and we got new transfers. So I think this year is the year that we can still keep at that piece, or even go better than what we did last year and that's our goal.
You had a big freshman year at Rutgers and you chose to leave that program. When you made a decision to leave Rutgers, was it almost kind of a ... I don't want to say natural fit, but was that almost right away one of the schools you were attracted to because of the relationship you had already?
It definitely was like a natural fit. WIth my decision ... I had five schools, but it really was between Rutgers and NC State. I remember, I didn't even want to call Coach Moore, tell him I wasn't coming. But I still felt like Rutgers was the right feel at that time.
But once I knew I was transferring, I basically knew where I wanted to go because I already had a relationship with them since they recruited me out of high school. So it was definitely a natural feel.
So when you entered the portal, how soon did they reach out? How quickly was it? I mean, did you know right away?
I did. Every school that basically recruited when I was in high school, they reached out, it was like that. So I basically had to turn my little contact off, because it was like a lot of stuff coming back to back, but I already knew where I wanted to go.
I was really impressed with you this year. Even if you may look at your numbers and say, "Maybe they took a little step back." I think for you, this is the first time maybe ... Well, I don't even want to say maybe, I know in your life you probably were coming off the bench. Because, I mean, you're a top 10 recruit out of high school, you've always had a ... and not to say you didn't have a big role this year. You did, but that has to be an adjustment. How big of an adjustment was it coming off the bench?
Well, I came in thinking I was going to work my way into the start lineup, but once I knew what my role was like... I honestly transformed into being what I needed to be for my team, which was going to be a sixth man.
It was definitely an adjustment. I think I made the most of it. It was some ups and downs, but I still was happy that we got far to where we got as a team individually. I think I did pretty good in my role. So next year, just going to be a step in the right direction from basically my freshman year to my junior year.
I wanted to get your take on, you talked about the new transfers you're bringing in. Were you able to give them some advice in not necessarily in making the choice, but just in terms of transitioning from being a transfer NC state in terms of you having to go through it already?
Obviously I think Mimi, she was a transfer. So she basically like knew … She'd already done it. So basically they would just ask me questions about the school, about the coaches and stuff like that. So that was my job to tell them what it really is and how they going to like NC State because for sure, I love it. The fans are supportive; just basic general information that they need to know in choosing their school.
What has your first year in Raleigh been like?
It's been really nice. I had to find my way around certain food spots and you know, fun spots like that. So my teammates, they would help me with that. Raleigh is a nice city. I love going downtown. It's just reminds me more of like a city, because I'm from Philly. So it's right up my alley.
What's your go-to spot? Do you have one in Raleigh?
It's called Lee's kitchen. It's a soul food so it's a Caribbean spot. It's really good.
Activities away from basketball. What are some things you like to do?
I like to go shopping. Love shoes, anything fun for real. Bowling. Go-karting, I usually say all that type of stuff, going to the movies, might go out somewhere. My teammates just ... I like to go out. So if you tell me to come on and we going somewhere fun, I'm there. So I just like to be out, just like to be moving.
As a point guard, scoring or passing, do you have a preference?
[Laughing] Scoring.
Okay. Hey, nothing wrong with that.
But we're working on the pass because I like scoring.
I was just blown away by your efficiency as a freshman at Rutgers... 90, 50, 40 club, you rarely see that. Your ability to shoot the basketball. Was that something that you've kind of always had since you first started?
My brother, he actually started training me and that's the first thing, working on mid-range and floaters, then we develop into the three-point shot. I think I always had a pretty nice shot, but the thing that I had over a lot of girls my age is speed and strength. So I think the shot just developed, but as I saw my shot fall, I knew it would open up more opportunities for me on the floor to get to the basket or set up my teammates to get an open shot.
So shooting is definitely a huge part of my game that I work on a lot, because like I said, it opens up everything on the floor.
Your float game, obviously you need it. Again, for me, one of your biggest strengths; is that something you work on as well?
I have to. Those girls are tall.
I definitely have to, and I definitely try to perfect it just because I know I can always get to the basket every single time, but that's definitely one aspect of my game that I work on.
You have a lot of international experience as well. You were with the USA team this summer. How much has that helped you transition to different teams? You're interacting with different levels of talent, different types of players. How much does that help you transition NC State?
It helped me a lot. I'm definitely a team player. Whether we have all stars or pro stars, I think I could fit into any type of team where I could play at. And it helped me this year for being 6th man, because you had five starters, five seniors that came all the way back. So just being a good teammate and cheering them on with any position I'm in there. So that's what really helped me playing on different teams with different people in different levels.
Did you follow the transfer portal closely? Were you keeping an eye on ... Who are you looking to bring in here?
I was following, I think I looked on the website to see who transferred. Who's still available. Still not. Yeah. We tried to recruit Ashley Owusu from Maryland. We tried to get, I can't think of the other girl's name, but we tried to get a lot of top 10, top 25 kids that were good in high school and good at that team they were previously.
What do you think of the additions?
I think we have good pieces. They're definitely good pieces. They are the positions we needed. We needed a post player and a forward. So I think we got all the pieces we need to be elite... So I think our goal is just to stay at the top.
Was that a transition for you also coming to a team where you all are essentially the hunted now? Was that something different or is that something you kind of even always felt playing with Boo and coming up through high school, you really were used to it?
Yeah. That's something I always felt, I always wanted to be at the top. At Boo we won the Run for the Roses in Kentucky and we got to the Nike championship.
I think it's always been there and that's always been my goal. That's where I'm at mentally, and I think that would never go away because you always want to be at the top. Once you start from the bottom and get to the top, you always try to stay there.
There's a lot of Boo Williams influence on this team. Did that play much of a role in your decision to maybe look at NC State?
Yeah, it definitely played a role because I knew how good they were and I knew that I could play with them because we obviously played before. We have chemistry on and off the court. Just to build a relationship is a big part, including school too.
I want to ask you about one play. Go back to the UConn game. I broke down this play a lot because you guys ran a high ball screen in regulation and you had a step back, a little bit of a window there. When you think back on that.
I do think back on it, but at the time I saw two defenders, to my right and my left. I think I just did a snatch back and I saw a little bit of space, but I wasn't too sure to shoot it.
Whatever, even though I think I still should have shot it, but yeah, I passed it off and then we just went into overtime as the worst-case scenario. We weren't down by one or anything.
The only reason I ask you about that play, I just wonder as a player, do you think about plays like that... "Man, that was a shot."
I do. I could have took it. I should have took it. I definitely do for sure.
Life after basketball, obviously you have pro aspirations. You're going to be a pro basketball player, but what are your goals after basketball is over? Do you have ideas on what you'd like to do?
I definitely want to coach on the collegiate level.
You know, Power-Five school. Definitely want to coach. I just always been the type to know how to read defenses, so I think that's a strength that I take on and I can go into coaching with it.
What are your goals? This upcoming year? Both individually and obviously as a team?
Individually, I want to win player the year. I want to be on an all-defensive team. I want to be ...
Let me stop you right there. A lot of folks may not know that about you, right? Defense is one of your focal points. You've always been a really good defensive player and I think your offensive game maybe overshadows that a little bit of time. So that's a focus for you.
Yeah. I definitely take pride in the defense. I don't want anybody scoring on me. I just don't like people to have room to talk about me defensively, obviously, whatever it is.
So I think as a smaller guard, you have to be a good defender to go to the league, and just to show that you can't just score the ball, that you can do both sides of the floor.
And then team goals. I didn't mean to cut you off, but you had team goals?
My team goals, I definitely want to win the ACC championship again. Make it past the Sweet Sixteen and Elite Eight... just do more than what we did this year.
That's definitely my goals.
Never miss the latest news from Inside Pack Sports!
Join our free email list