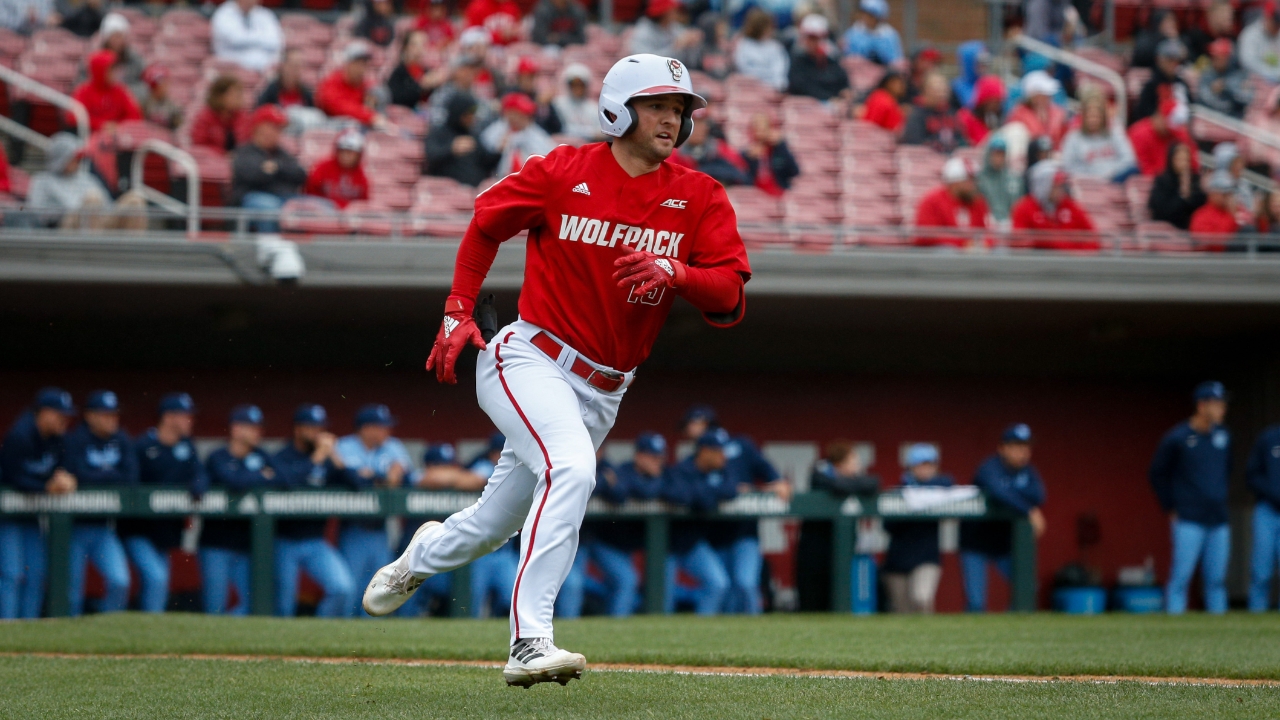 Photo by Steve Murphy/Inside Pack Sports
NC State Baseball
Dominant Start Propels Wolfpack Past Visiting Spartans
---
NC State (33-17) concluded its non-conference portion of the season with a dominant victory over UNCG (25-27, 9-9 SoConn) Tuesday evening at Doak Field, 20-2.
J.T. Jarrett, LuJames Groover, III, Tommy White, and Dominic Pilolli each clobbered home runs as the Wolfpack's offense pummeled the Spartans with nine runs in the first inning and seven runs in the sixth inning.
Justin Lawson (5-3, 3.45 ERA) picked up the win after striking out five Spartan batters while allowing one run on two hits and one walk in three innings. David Harrison followed with 1-1/3 innings of relief but left after yielding a run on two walks. Carson Kelly succeeded Harrison for 1-2/3 innings of shutout baseball before Garrett Payne pitched a scoreless inning in the seventh to seal the mercy-rule-shortened win.
Noah Soles started the Wolfpack's first-inning onslaught with a bases-loaded double that drove Devonte Brown and Groover home. Jarrett followed with a three-run shot that also plated Soles and Josh Hood. After a walk to Payton Green, Jacob Cozart added onto the lead with an RBI single. Brown reached base for the second time in the inning before he and Cozart scored on a three-run homer, this time by Groover.
UNCG's Hogan Windish cut into the lead with a solo home run in the top of the third, but NC State would answer with three runs in the bottom half of the inning. Brown reached base on a one-out walk, followed by a single by Groover. White then crushed the 1-0 pitch from Wesley Buck for his 22nd home run of the season, tying Florida State's Matt Diaz for the ACC's single-season freshman home run record. White is now three home runs shy of tying Turtle Zaun and Tracy Woodson for the NC State school record for homers in a season.
After Harrison and Kelly combined to walk the bases loaded for UNCG in the fifth, a wild pitch brought Spartan third baseman Matt Kemp home. State answered with another run in the home half of the inning. Hood reached base with two outs in the inning via beanball before Soles doubled into left-center field to drive him in.
Pilolli began State's sixth-inning scoring splurge with a solo home run to center field. Green followed with a single, followed by a double by Cozart. Two batters later, Groover got plunked to load the bases. After Green scored on a wild pitch, Cozart scored on a Spartan error as White reached first base. Hood subsequently plated Groover with a single up the middle. Soles followed suit as White came home on an RBI single. Jarrett then drove in Hood with a double to left-center before Green reached on another UNCG error that allowed Soles to score.
The Wolfpack next hosts Wake Forest for the final ACC series of the season. NC State's three-game set versus the Demon Deacons begins Thursday at 6:30 p.m.
Never miss the latest news from Inside Pack Sports!
Join our free email list