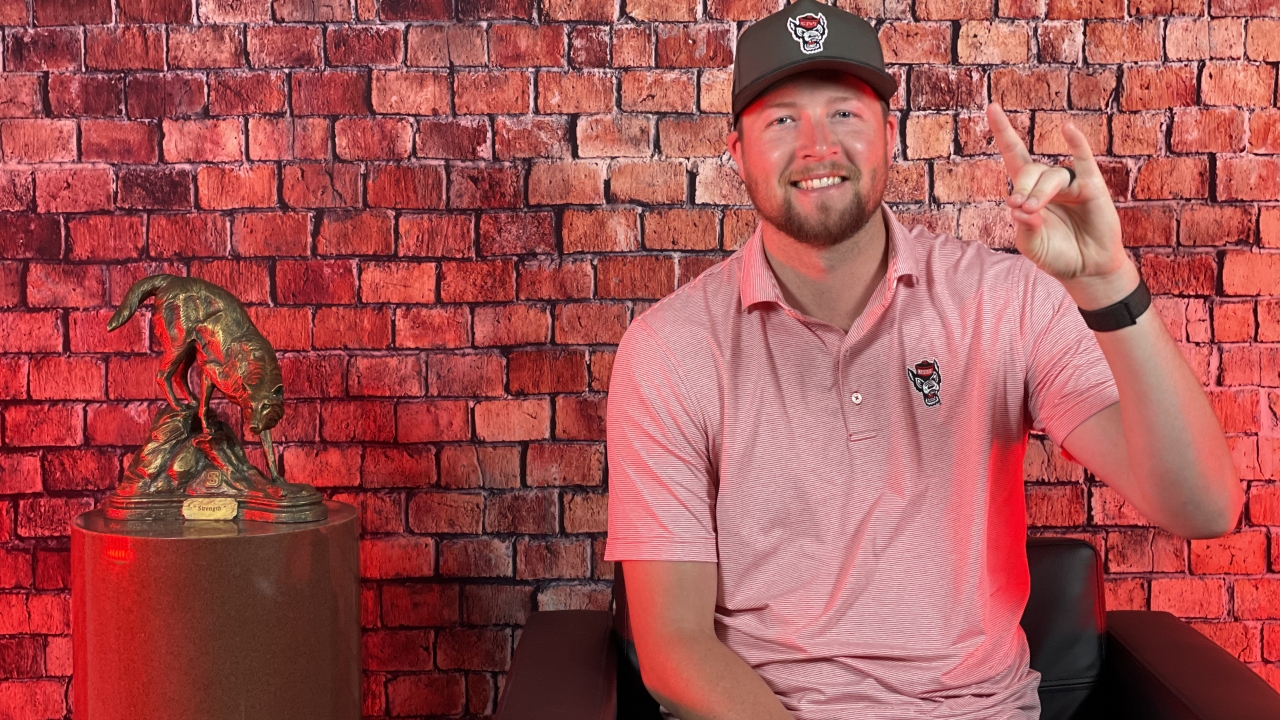 NC State Basketball
Scott Wood Shares Some Of His Best NC State Memories
---
In this feature, former NC State star Scott Wood talked in-depth with Inside Pack Sports about his time at NC State and much more!
NOTE: There are two ways you can access the content.
The first way to access is by clicking the video player above to watch a streaming video with our comments on the feature.
You can also click the link below and/or the audio player at the bottom of the page to listen. To download the file, right click and save the link below as a .mp3 file to listen later.
---
"Obviously Sydney and Monte Towe recruited me, and Monte's 15 minutes from my hometown. So I got to know him really well. So I created that bond really early on. And then when Debbie came in and they decided to go a different direction, it was hard because I mean, there's just a lot of what ifs.
"I had started every game in my career up to that point. You don't know if a new coach comes in and maybe you don't fit his style or anything like that. So, I just kind of sat there and I was probably a foot and a half out the door to Notre Dame, and Monte Towe caught wind of it. One of the coaches that was getting let go, he calls me and basically says, 'Hey, listen, you've created a name for yourself. You've played and started every game of your career. You're on pace to set a bunch of records at NC State. They will forever love you if you just stay. You're a fan favorite.'
"As soon as he kind of said it and it kind of sunk in with me, it's like NC State has everything I've ever needed, ever wanted. I knew Mark was going to be the coach at the time, and Monte is literally saying, 'Hey, you need to stay,' and he just got fired.That's all I needed to hear, and to this day it was the best decision I ever made in my life.
"Obviously Julius [Mays] played a big part in it because of that connection early on with coach Lowe and Monte was established a little bit earlier than probably what some other schools had. So, I was blessed to be with Julius because I always pushed to be as good as he was every day in practice.
"I was getting some feelers and I know after, as soon as NC State started reaching out, a lot of other people started to do it, but then I really got hot going into my senior year on the AAU circuit. I think we were in Orlando and I had 40 in two games, like one was Houston Hoops and one was another one. We ended up finishing third in that tournament and it was a big tournament. I don't think it's big anymore, but it was a big tournament at the time. Billy Donovan and a few other big coaches started reaching out and my dad said, 'Hey, this is up to you. You've got a commitment to NC State, whatever you want to do.' I said, 'I'm a hundred percent comfortable with... NC State's always been here. They were here when I was a little bit younger and maybe not so much on other people's radar.' So I had that comfort level and I knew it was a good fit.
"[Most memorable moment] is a tough one. I'd have to say probably that Sweet 16 game, just how much support the fans showed throughout the process, and I'm a little bit weird in the fact that I remember probably the more negative stuff.
"The games I lost, the games I could have played better. The things I could have done a little different; I tell everybody my senior year we were preseason six, and looking back on it I just wish I'd have been a better leader.
"I don't... maybe it's punching a couple guys in the mouth. I don't know what exactly it is, but you look back on that, but that Sweet 16. I tell everybody, I've been to some really special events in my lifetime, and that's definitely one of the best you can ever experience.
"It's even more to basketball. It's just the city, the university, obviously the focal point is on athletics, but you know, my daughter's named Raleigh. I mean, if that doesn't tell you anything, I mean, that's just how much I love this place, but looking back on it, I was thankful for Monte Towe. I mean, a guy that literally gets fired and tells you need to stick it out here. That just says a lot about the university and the type of athletes that have come through here.
"They've taken care of me. I tell everybody, every dime I've ever made, any connection I've ever made is because of NC State. Marion, Indiana's great, but Raleigh is home. They may have raised me, but this is my real home. I met my wife here. She played softball at NC State, which also probably played a big part in it, but I can't see any other place in the United States to raise my family.
"I've never seen a person be able to score the way TJ [Warren] does. We could roll the basketball out and put any defender you want. Put Patrick Beverly on him, TJ Warren will go get a bucket. But also a lot of that is that he was always in the gym. He was always working. He never settled for how good he was. You could tell him he's the best. The next day he's still going to be in the gym. So he is always working on his craft, always getting better. And even to this day, I said, he's going to be an all star. We just got to get him healthy, but he's going to be an all star and I'm ready for it to happen.
Never miss the latest news from Inside Pack Sports!
Join our free email list