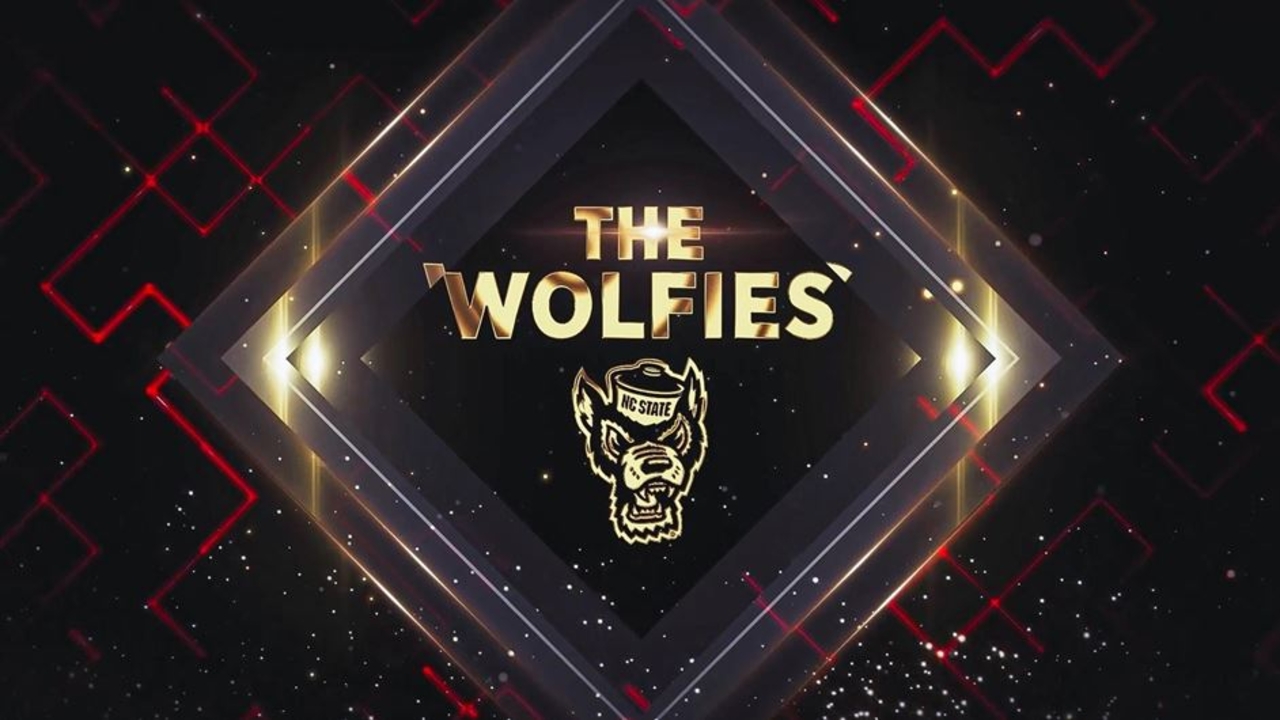 NC State Football
NC State Athletics Celebrates With The 2022 Wolfies
---
After celebrating virtually each of the past two years, the NC State Athletic Department gathered at James T. Valvano Arena at Reynolds Coliseum for the 2022 Wolfie Awards on Monday night. The gala event showcased the best of Wolfpack Athletics over the last calendar year.
Hayden Hidlay (wrestling) and Jaeda Daniel (women's tennis) were honored with the H.C. Kennett Award, which is the highest athletic award at NC State that is given annually to a superior student-athlete who demonstrates the finest attributes of good sportsmanship and team play. This year, J.P. Kennett (the great grandson of H.C. Kennett, the former Wolfpack Club president that the award is named after) was on site for the presentation.
Hayden was honored after wrapping up a decorated Wolfpack career as the team's first-ever five-time All-American. He placed third at the 2022 NCAA Championships after earning three wins over top-six seeds over the course of the tournament. Hayden finished his career ranked second in program history in career winning percentage (.909) and third in career wins (110). He has also been recognized as an Academic All-American multiple times, and he is completing a graduate program after earning his undergraduate degree in May of 2020.
Jaeda garnered the honor after becoming an All-American in doubles after the conclusion of the 2020-21 season. She helped that year's Wolfpack squad to a program-best appearance in the NCAA Final Four and reached the NCAA Doubles Championships round of 16. She has since earned career-high singles (No. 8) and doubles (No. 2) rankings this season as the team wraps up its 2022 dual match campaign. A 2021 ITA Scholar Athlete, Jaeda is the team's SAAC representative and is also on the leadership committee for Pack United.
NC State also recognized its All-Americans and Academic All-Americans across all sports, as well as the MVPs for each team. The winners for the Wolfpack's yearly awards are as follows:
Rookie of the Year
Awarded to a men's and women's freshman who has had a significant impact on their team's competitive success.
Terquavion Smith, Basketball: Terquavion set the NC State freshman record for three pointers made in a season with 96, which also led the entire league. He averaged 16.3 points, 4.1 rebounds and 2.1 assists per game and earned a spot on the ACC All-Freshman Team.
Abigail Rencheli, Tennis: Abigail went unbeaten in the first NCAA Tournament run of her career, with her victory against No. 52 Marta Gonzalez of Georgia securing the team's NCAA Final Four berth. She posted a 16-5 overall record in singles play and ended her rookie season ranked nationally in both singles and doubles.
Comeback Player of the Year
Awarded to the student-athlete who has overcome injuries or significant adversity to be a productive member of their team.
Devin Leary, Football: Devin suffered a season-ending injury in October of 2020 that required next-day surgery. He spent five months rehabbing the injury and returned to lead the Wolfpack to one of the most successful seasons in school history. He set the new single-season program record of 35 passing touchdowns and boasted a .657 completion percentage mark to rank third in the Wolfpack record book.
Heart of the Pack Award
Awarded to student-athletes throughout the 2021-22 year who are good teammates, give great effort, have an exceptional attitude and are mindful of themselves and others. Winners were chosen from the year's monthly recipients.
Leon Krapf, Men's Soccer
Hannah Wander, Volleyball
Kay Yow Award
Presented by the Wolfpack Club to a women's student-athlete who exemplifies outstanding academic achievement, athletic achievement, community service and a true spirit of teamwork.
Jakia Brown-Turner, Basketball
Chris Combs Award
Presented by the Wolfpack Club to a men's student-athlete who exemplifies Chris Combs through a lifetime love and passion for their sport, being a great team leader and showing an ability to stay strong through adversity.
Easton Paxton, Golf
ACC Scholar Athlete of the Year
Recognizes the top men's and women's scholar-athlete at each ACC institution. The respective honorees must be in their last year of athletic competition.
Eric Knowles, Swimming & Diving: A materials science and engineering major with a perfect 4.0 at NC State, Eric is a six-time All-American and a two-time ACC individual/relay champion. He has been honored as a CoSIDA Academic All-American each of the last three years and earned an ACC Postgraduate Scholarship. Eric plans on going to earn a Ph.D. in the field of electronic materials.
Sophie Hansson, Swimming & Diving: Sophie won four NCAA titles last season, including sweeping both of the breaststroke gold medals at the 2021 meet. She is a 22-time All-American and an 11x ACC individual/relay champion. Academically, Sophie has been honored as a member of the Academic All-ACC Team each year of her career and was a CoSIDA Academic All-American in 2021. She also was a recipient of an ACC Postgraduate Scholarship.
Individual Performance of the Year
Awarded to a men's and women's student-athlete who had an outstanding performance in a competition.
Kacper Stokowski at NCAA Championships, Swimming & Diving: Kacper won the 100-yard backstroke at the 2022 NCAA Championships, claiming the first title of his career after finishing as the runner-up last season. His 44.04 time kept him at second in program history and was the sixth-fastest performance in NCAA history.
Katharine Berkoff at NCAA Championships, Swimming & Diving: Katharine repeated as 100-yard backstroke national champion in dominant fashion. Her winning time of 48.74 was an American record, marking the first for any women's swimmer in NC State history. She now owns the NCAA, ACC, American and US Open top mark in that event as the first-ever woman to break the 49-second barrier.
Elly Henes at NCAA Championships, Track & Field: Elly won the 5K at the 2021 NCAA Outdoor Track & Field Championships in 15:28.05. Her title marked NC State's first individual outdoor national champion in any event since 2002.
Team Performance of the Year
Awarded to a men's and women's team that had an outstanding performance in a competition.
Baseball at NCAA Super Regional & College World Series: NC State baseball defeated top-seeded Arkansas on the road in a winner-takes-all game to advance to the College World Series for the first time since 2013. After dropping the series opener, the Pack created history with 6-5 and 3-2 wins in the final two contests. NC State went on to open its time in Omaha with wins over Stanford and Vanderbilt. In what ended up as its final game of the season, the team was left with 13 players due to COVID-19 complications and did not back down but went toe-to-toe with defending champion Vanderbilt.
Women's Basketball comeback win over Louisville: The fourth-ranked Wolfpack overcame a 14-point deficit headed into the fourth quarter to knock off third-ranked Louisville in a game that ultimately decided the ACC regular-season title. NC State outscored the Cardinals 31-8 in the final period and shot 78.6 percent in the fourth quarter to win by a 68-59 score. NC State went on a momentum-shifting 17-0 run over four minutes to regain a lead with minutes left, its first since the first quarter.
Head Coach of the Year
Awarded to a men's and women's head coach who led their team to success during the season.
Dave Doeren, Football: Doeren's 2021 Wolfpack football squad finished the season ranked in the final AP poll for the first time since 2017. The team's 9-3 record marked the third nine-win season in Doeren's tenure, more than any other coach in school history. NC State went 6-2 in ACC games, with its 13 league wins over the last two years ranking second in the ACC. Doeren's team also went unbeaten at home, the first squad in 35 years (1986) to accomplish that feat.
Laurie Henes, Cross Country: Henes led NC State to its first NCAA title, its fifth-straight Southeast Regional title and its sixth-straight ACC crown. She was named ACC, Southeast Region and National Coach of the Year for her efforts. Henes has brought together a group of women who are like family, an aspect that translate onto the competition court as five women were named All-Americans in the team's championship victory.
Pride of the Pack Award
Presented annually by Director of Athletics Boo Corrigan to student-athlete who embody principles of trust, accountability, passion and empathy. Recipients also commit to upholding those core values for their teammates and other student-athletes to follow.
Isaiah Moore, Football
Grant Gibson, Football
Elissa Cunane, Women's Basketball
Team of the Year
Awarded to a men's and women's team that had an outstanding season.
Baseball: The 2021 NC State baseball squad turned in one of the most historic and memorable seasons in history. The team won 24 of its last 30 games to reach the ACC Championship title game and went 3-0 in the NCAA Ruston Regional to earn a Super Regional berth against top-seeded Arkansas. The team came back from a game down to win the series and advance to the College World Series and was one win away from advancing to the championship series. NC State tied its highest finish in program history with a No. 3 national ranking. The Pack captured the hearts of fans across the country and became America's Team because of the grit and determination they showed despite facing adversity.
Cross Country: NC State women's cross country capped off a dominant season by winning the first NCAA title in program history and the first for any Wolfpack team since 1983. The team tabbed wins at the ACC Championship and the NCAA Southeast Regional and never finished lower than second in any meet during the 2021 season. The entire scoring group at NCAAs garnered All-America honors for the most such citations in program history.
Chancellor's Cup
Awarded to the men's and women's teams with the highest cumulative GPA in the previous spring and fall semesters.
Men's Golf
Women's Cross Country
Never miss the latest news from Inside Pack Sports!
Join our free email list