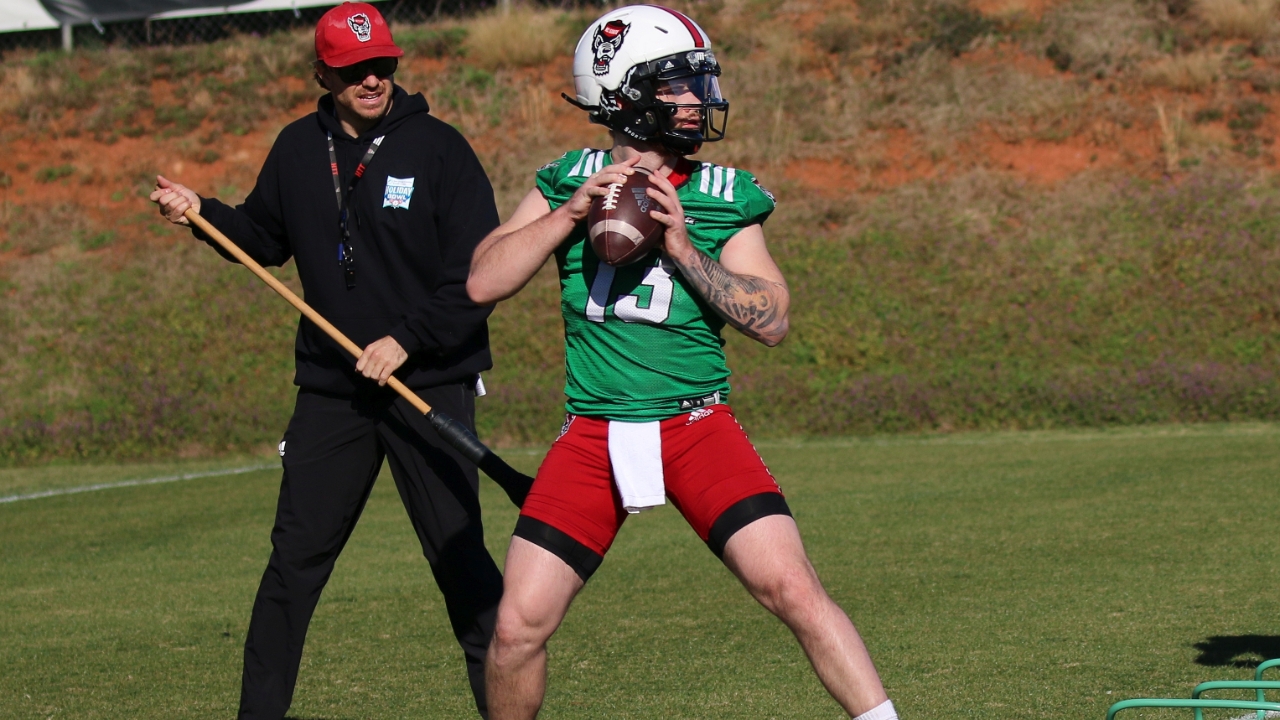 NC State Football
LOCKER ROOM REPORT: Spring Game
---
Following the NC State football Spring Game on Saturday, quarterback Devin Leary, receiver Anthony Smith and defensive back Tanner Ingle met with the media.
Note: Click the video in the player above to watch the press conference.
---
Devin Leary
On the spring game...
I felt good. I felt really comfortable out there. Really confident in all the guys who were out there, too. It's really just doing my job, being able to distribute the ball to our playmakers on the outside and let them make the plays. I thought it was a really successful day for us on both sides of the ball.
On getting to show off in front of the crowd...
It was fun. It felt like just back to old times. The past couple years with COVID we weren't really able to have the full spring game experience. Now being able to go out there and have Gigi's Playhouse too, at the end of the half that was awesome. It felt back to normal.
On the growth and ability of Smith...
I've seen tremendous growth in him. I think it really starts with him embracing the competition. Him embracing that guys like Emeka [Emezie] leaving means someone else needs to fulfill that spot. Credit to him, this offseason he's been working his tail off. Obviously we all know he's fast, but other routes as well and being able to have a different dynamic as a receiver. As well as blocking, too. He's been doing a really good job this offseason of breaking down his game and getting the best possible.
On Anthony Belton and Tim McKay at left tackle...
Both of those guys are their biggest critics. They're very hard on themselves. The biggest thing that I've seen from them this spring is that they get better each and every day. Coach Garrison coaches all those guys really hard, and they take it off of film. Mistakes that they made at practice, the next day they don't make that same mistake. Being able to see that growth from both of those guys stepping into a new role, it's really good to see being back there.
On Fred Seabrough's big spring game and his progress...
He's progressed tremendously. He was a guy who we knew coming in was going to be a good playmaker for us. He's big, strong and fast. For him it was just getting those reps. Having Chris [Toudle] and Trent [Pennix] out gave him that opportunity, and he definitely seized the moment. From last year to where he's at now in spring, it's day and night. Being able to have him as a target out there is going to help our offense even more.
On working the flats and the importance of those playmakers...
Yeah, I think it all just begins with the defense. Whatever defensive look we're getting, if they're dropping eight or bailing then we've got to be able to have that threat to dump it into the flat and let those guys get some yards after the catch. Really just being able to take what the defense gives us and let all the playmakers do what they do.
On if he likes the big expectations around the team...
Honestly, I just block out the noise. That's what I do. That's what we all do here. Something that we've been preaching ever since last season is that at the end of the day it's going to be NC State vs. NC State. As long as we don't beat ourselves and get better each and every day, that's all that matters.
On if he likes the expectations more as opposed to being able to sneak up on people...
It doesn't matter to me.
On being a leader and keeping the team focused while they're away...
Yeah, I do. I think what is really great about this team is that we have so many great leaders. They kind of set the standard that everyone else follows up on. We like to hold each other accountable. That all started back during COVID. We would partner up and make sure that whoever your partner was was doing the right thing when we weren't able to be at the facility at the time. Nothing changes now that we have a little break after spring ball. It's a little bit of time off mentally, but physically everybody has to stay in shape and it's up to the leaders to keep the standard the standard.
Tanner Ingle
On how beneficial the spring was for the younger guys…
Oh man, extremely beneficial, especially considering this year we're already an older team as is, so now it gives those younger guys a lot more opportunity to go out there and get that game experience they need. Because overall for our team, it helps to build depth. Having those younger guys out there getting the reps they need, getting the experience and live reps they need, it allows them to get better and actually get those real game reps they need to go into the fall season in case one of us gets hurt.
On what one player benefited the most from the spring…
Sean Brown, Sean Brown, Sean Brown. That man has been balling, he's had a hell of a spring. He came in, first thing came in willing to learn. Overall, I feel like Sean Brown has benefited tremendously over the spring. He's really elevated his play, he's kind of making me scared.
On how the team handles the high expectations…
We don't pay any attention to that. In this building, we're just focused on what we're focused on. We're worried about getting better one percent every day at a time, we don't worry about the expectations that the media has for us.
On if he prefers having low expectations…
Either or, it really doesn't matter. Either way, we've just got to put the ball down and win the game.
On specific areas the defense wanted to improve on...
We wanted to improve on disguise overall. As a secondary, we wanted to take some of those PI calls that we got off tape. That was a big emphasis over spring, just making sure our disguise on defense has been a lot better so people can't tell what we're doing anymore. And also just playing more clean in the passing game. I think we've done a good job with that this spring.
On the guys out there Saturday doing well in terms of gap assignments...
Yes, sir. There's going to be MAs on the tape. We've still got some young kids who are still learning. But overall people come in every day and they're willing to learn and go out there and put in the work to be better. Today we did a really good job on defense.
On if it's hard for him to dial it back for the spring game and in practice...
Always. Even now I'm a fifth-year senior and I kind of get snipped at sometimes in practice just because of how I play. It's just a situation thing. How I play, you've just got to live with it. It is hard to dial back, but overall I"ve got to do a better job.
Anthony Smith
On building chemistry with Leary...
To be honest, it's just consistent reps. Whenever we have a throwing session on Saturdays, I'm there. I'm one of the first guys there in my session. It's just getting reps with Devin. That's really been the main thing.
On having the opportunity to play a bigger role in the fall...
Opportunity is great. It's very exciting that I get the opportunity to be able to work. I love to compete. Just to be able to compete, not knowing even if I'm going to get the spot, but having the opportunity to compete is the biggest thing for me. That's the most exciting part.
On the high expectations this team has...
To be honest, we just all kind of lean on each other. Nothing gets over our head. Nobody gets too big headed when they hear the good talk about how we're doing this spring and how good players are doing. We all just lean on each other and help motivate each other. We don't really listen to the outside sources. We just kind of stay within us, pretty much.
On if he likes it like that or on if he'd rather sneak up on people...
I definitely like that. It's just about us. Every day we're not really worried about who we are playing or what's happening, it's just what we can do today as a team to get better.
On his confidence in his abilities...
I'm pretty confident in my abilities. I know I've worked. I know I belong here. I'm always confident in my abilities, know I can make the plays I'm supposed to make. I'm pretty confident in my abilities and doing whatever the coaches need me to do.
On if one of his goals is becoming more of a complete receiver...
Yeah, that's definitely been my goal in the offseason. I know I'm fast. I know I can take the top off the defense. But my goal is to be an all-around receiver; blocking, underneath routes, deep balls. All of that. I've just been working hard at every route in the route tree other than just the deep balls.
Never miss the latest news from Inside Pack Sports!
Join our free email list