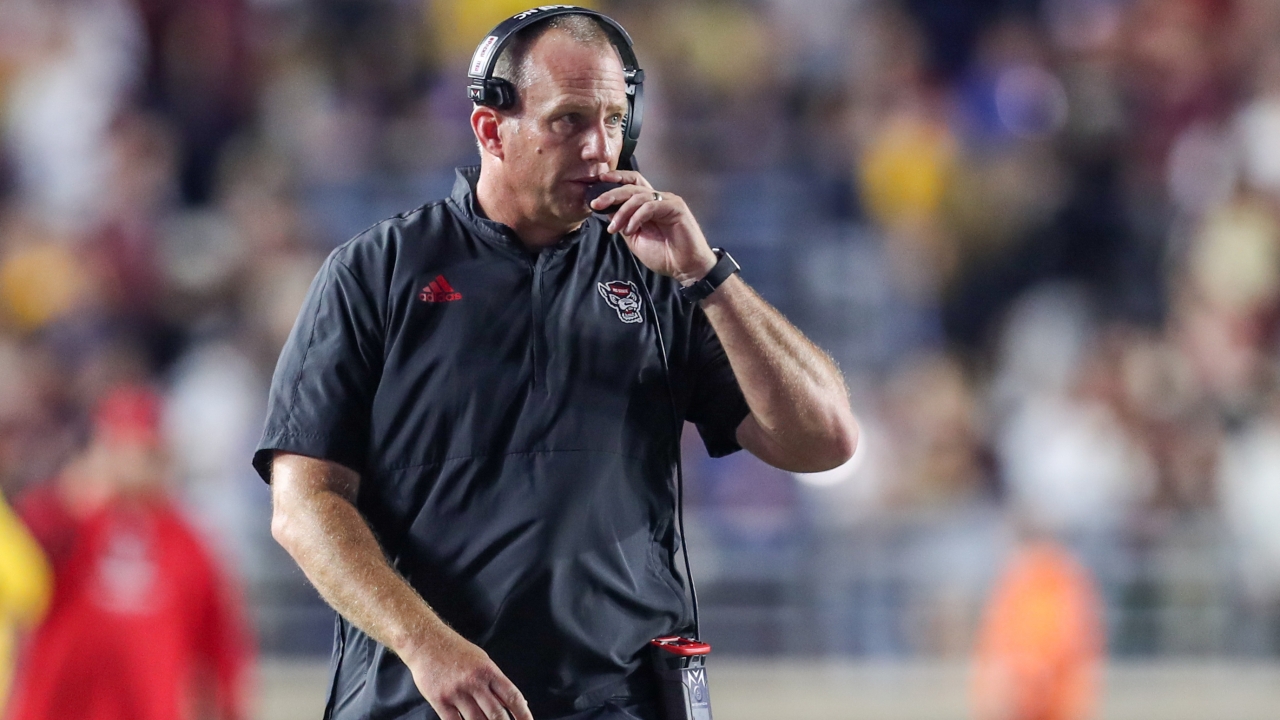 Photo by Paul Rutherford-USA TODAY Sports
NC State Football
Doeren: "We're excited to see who emerges"
---
NC State head coach Dave Doeren met with the media Wednesday afternoon to discuss Chandler Zavala's waiver, the team's spring practice progression, Icky Ekwonu's draft status and much more.
NOTE: Click the video in the player above to watch the press conference.
---
On Chandler Zavala's status…
His initial waver was denied. We're in the appeal phase now. Boo and the admin side of things have worked with our compliance office to hire an attorney to help him in his battle. That's where we're at, so we're just waiting for all the fact finding to be done from an attorney standpoint, and then he'll present his case to the NCAA and we hope for the best on that. No resolution at this point.
On if there's any position group that has eased his worries…
I don't know if we're worried, I think it's more just wanting to see how the competition plays out. We feel like we have good, competitive depth. It's more who is gonna step up and be consistent and earn the trust of the staff, kind of be the replacement in areas where we lost players. We're all aware of where those areas are. There's multiple placers, whether you're talking about the left tackle position, the running back position, where Emeka [Emezie] and Dylan Parham were on offense, our punter. Every day [we're] evaluating those spots and we're excited to see who emerges. It's still practice and as you know, we have a lot of work here in the spring and the summer, plus fall camp, to kind of get to where we need to be.
On if there are any defensive linemen who have taken advantage of extra reps…
Davin Vann is probably the most productive guy this spring, he's really had a good spring. He's worked really hard, he was a lot more inconsistent a year ago than he's been this spring, so we're excited to see that from him. Josh Harris at one time post-Covid was at a really bad place weight wise, but he's done a tremendous job, he's below 315 pounds [now]. He was above 350 for a while, so this is great improvement for him, his stamina, his quickness; he's always been super strong. So those two guys, I would tell you are really playing at a high level. It's been fun to see Travali Price and Claude Larkins getting a lot of work. They've both shown moments where they can help us. I think this is very important, these next six practices, to allow us to get them the information they need for their summer program and what they need to do to take the next step.
On how much background work he does before bringing in a transfer…
A year ago we took four guys and all four of them helped our football team, even though Cyrus's injury limited him for the second 10 games of the season. His presence has been felt leadership wise, and Cory [Durden] was all-conference, Chandler Zavala was on pace to be one of the better guards in the ACC prior to his injury, and [Derek] Pitts played in every game for us and did a lot of good things. There is tremendous vetting that goes into the process for us. Obviously we have a need, in our opinion, to recruit someone who is older, usually that happens when you have an injury on your roster or a player transfers that you were expecting to develop into the next guy. As you know, we're very proud of the team and the culture we've created here, so we don't want to bring someone in who doesn't fit. So we do lean on not just our staff, but our players for what they think of the guy when they get a chance to meet him and spend time with him. Also the follow up questions we ask, if it's an offensive lineman asking the linemen, for example, what they think of him, if'd fit in the room, if he's a guy they'd be excited about playing with, how did he treat other people. If they don't fit, then we're not gonna take them.
I think Darryl [Jones]' situation is different because he was coached by coach [Joker] Phillips at Maryland, so he had inside information that normally you don't have. We had it with Pitts because coach [Tony] Gibson coached him at West Virginia, even though he came here from Marshall. Those few instances we felt like maybe we had more information than we normally would, and that's ideal because at times you can take the guy and as you know, it doesn't always work out from a playing standpoint. They may not win the job, maybe someone from here emerges ahead of them or they may get injured and don't win the job because of that. You don't want them to be unhappy or turn into a sour person in your program. So you just have to be really upfront with them, don't promise them something, don't overpromise and underdeliver when it comes to playing time. Be transparent and live up to what you talk about and let them do the homework of what you can do.
On what he's seen from the running backs group…
They've been very steady. Jordan Houston looks like a veteran, he's taken a lot of reps here in practice the last two seasons, he knows our offense, he's playing fast, he's very confident. He's an explosive player with the ball. I think Delbert Mims has improved as a runner and a ball catcher. He's always been a really competitive tough guy, he's in good shape. And Demie Sumo is a guy that could come on the scene for us and be an explosive player in our backfield, a big play guy. He does a lot of things well, very consistent for a younger player. Michael Allen, it's great having him here early. He's learning, he's getting more comfortable with the offense. And Micah Crowell, who we moved to running back, hasn't had a ton of reps yet, we're still working him back, but when he's been out there you can tell it's natural for him as a ball carrier, it's not something that's foreign. It's just been a long time since he's played football, so we're trying to take our time with him and give him a chance to knock the rust off and build his confidence back. We like the room, we think we have a good blend of old and new, and the guys, all five of them that are getting reps - DeMarcus Jones makes six - all six of those guys have different things they bring to the table.
On if there is any player he thinks has taken big strides and can see breaking out…
Savion Jackson is a guy, I said this last year, had he stayed healthy I think he could have been an all-conference player. Losing him and CJ Clark early last year, they were both really playing good for us. For sure Savion would be one. Jayland Parker is a young linebacker that's had probably the best spring of anybody from a production, day-in day-out standpoint. He's really playing good. On offense, Anthony Smith would probably be that guy that's shown consistent improvement day-in-day out. [He's got] big play ability, he's blocking, playing more confident. Those guys probably would fit the bill there.
On Icky Ekwonu's pro day and NFL Draft potential…
We're hearing first round, top-5 pick most common. Whether it's first overall, we know the Jaguars really like him, we know the Jets really like him, the Giants really like him. These teams seem to be the most involved in talking about him with us. Pro day was really just bench press for him, he did everything else at the NFL [Combine]. He did a great job on the bench, but he was really there more to support his teammates. He was front and center cheering guys on in every drill and showing his love for his team. I think he put himself in a great position at the Combine, he did a really good job. I think he answered all the questions we get, usually about what type of person he is, how's he gonna learn football, can he play multiple positions. They get him in those interviews and I know he killed it. I think he's done everything he can do to this point, and now it's really gonna come down to who wants to take him over somebody else or the needs of their club. His pro day was great, our guys had a really good day yesterday.
On how the spring game will be run...
We haven't gotten there yet. We're going to wait and see where we're at. We've still got four days of work. I know everybody wants to know. It'll be a game format, whether we're tackling or thudding will be determined. I want to make sure we're getting what we need to out of that day. I know it's a televised event. But for us, it's more about where we are at health and safety wise with our team. Being able to play live on television is a good evaluation for us. If we can, we will. If we don't think that's prudent, we won't.
On what having a potential top-five pick in the draft does for the program...
Bradley Chubb going sixth was a great moment for our program. If Ickey can go higher than that, that would be incredible, not just for him who is going to be the most benefited guy from those transactions for he and his family. But it again shows what we do. It shows how we recruit certain players and have the ability to develop a Garrett Bradbury, Bradley Chubb and now Ikem Ekwonu. They deserve a lot of that credit, too. They're the ones who did the work. We just set up the program for them, and they took the prescription to heart and played really well and did all the things they needed to to develop their bodies and minds. We talk about how we do things, and it just proves the point more than anything. It gives great credibility on a national stage and continues to showcase what we can do to develop players.
On what he's seen from the young offensive linemen...
I think Anthony Belton, we're really excited about how he's come on. He's a young tackle. Anthony Carter from Butler High School came in here a few years ago with a knee injury. He's had to rehab himself back to practicing, and he's really doing a good job. Patrick Matan is a young offensive guard and tackle, he can play both and has come on. I think Lyndon Cooper is a guy who has changed his body and is getting better. He can play center or guard. I'm excited about what we're seeing day in and day out from those guys. It's been fun to see the older guys coach them, too, and how they're just trying to instill the dynamic of that room and what is expected from that room and how they've embraced the culture of it. It's a really good room right now. Coach Garrison has done a tremendous job.
On the left tackle position...
Yeah, there's options. Between Bryson Speas, Anthony Belton and Tim McKay, those three guys are probably, as far as the returners, most likely. Obviously we're still recruiting as well. We'll see where that goes. I think if we were going to roll the football out there today it would be one of those three. Every day it's great to see the competition and see them go up against Savion and Davin Vann. They're getting tested. So, they're playing against really good players, and that gives us an evaluation that's very realistic for the fall.
On Ben Finley's progression and on MJ Morris...
We're excited about Ben's progress. Night and day different from last spring with him. I think he's got a really quick release. He's very mobile. The process has slowed down for him mentally. He was almost self defeating last year. He would have a bad play and it would carry with him. He's learned how to go to the next play and just move on. He's very clued into the consistency that he needs to have for the 10 people around him while playing that position. I'm excited about his future. He keeps making the same type of improvement day in and day out. He's in a good spot. He's just got to keep going and play. As far as M.J., he's not here yet, so I can't really tell you. Once he's on campus I'll be able to tell you that. We're excited to get him here, but he's not here yet.
Never miss the latest news from Inside Pack Sports!
Join our free email list