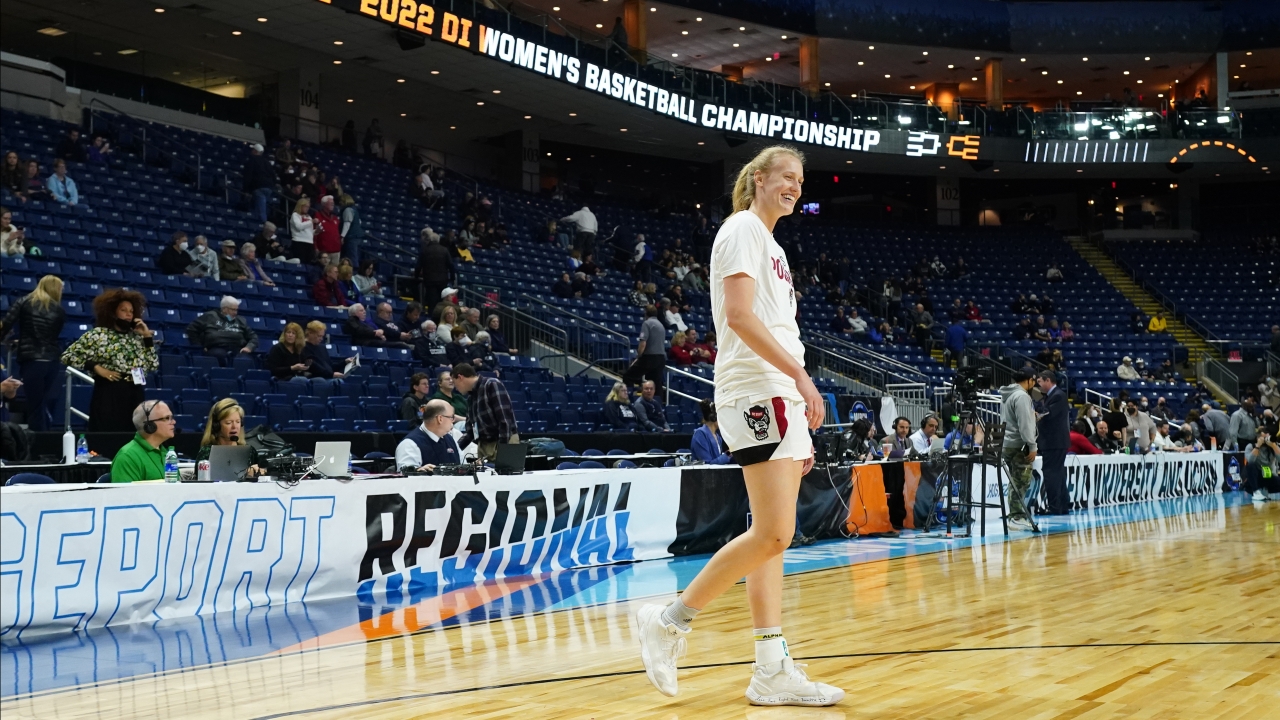 Photo by David Butler II-USA TODAY Sports
NC State Women's Basketball
LOCKER ROOM REPORT: Pack Women's Basketball Falls in Double Overtime Versus UConn
---
NC State head coach Wes Moore, guard Jakia Brown-Turner, and center Elissa Cunane met with the media following the Wolfpack's 91-87 loss in double overtime to Connecticut Monday evening in the NCAA Tournament Elite Eight.
Brown-Turner led the Pack with 20 points against the Huskies, including a game-tying three-pointer with less than one second remaining in the first overtime period. She also added eight rebounds and five assists. NC State's lone representative on the Bridgeport All-Regional Team, Cunane added 18 points on 8-for-13 shooting from the floor while also pulling down nine boards.
---
Opening Statement
WM: First of all, just couldn't be prouder of our players. Come in, tough environment, great team, and went toe to toe with them. That's the way they've been for the whole season. As great of players as they are, they're even better people, and it's just been such an honor to be around them and to work with them. Again, hats off to UConn. [Paige] Bueckers, we were trying to do some different things, but obviously I didn't do a good enough job getting us in a position to maybe slow her down. She had a great performance. They've got a really good team, and like I said, I wish we would have seen them at the Final Four instead of here, but that's the way it works.
Jakia, that was a big shot, silenced a loud crowd. How were you able to deal with the crowd throughout that game?
JBT: Well, I just tuned the crowd out and just played hard for my team, did everything I could to get stops, rebounds and score, just anything to help the team. I really didn't hear the crowd. Like when I'm on the court, I get zoned out.
Elissa, I know it's difficult now, but can you put into any perspective how far you guys have come as a program during your time here, and to get to a point where you're playing for a Final Four spot in double overtime?
EC: Yeah, I mean, this journey has been incredible, and this team has done so much and accomplished so much. Although this is hurtful right now, I am proud of all that we've done this season, and even to be playing in this game. I couldn't be more proud of the team.
Elissa, this is your last year, of course, and Kai [Crutchfield] and Raina [Perez] are not here on this stage, but I feel like being that you're their teammates and being that this is your last year, you have earned the right for everything you guys have put in to be on this platform and speak. If you could just speak about Kai and Raina and also if you want to include yourself.
EC: Yeah, I mean, you have Kai, who came in here as a little freshman. She's been there for five years. She didn't play much coming in freshman year. She battled for her spot. I couldn't be prouder of how she performed her senior year and graduate year, I guess you could call it. So I think her transition and the way she stuck with this program means a lot. And I think [Kayla Jones], as well. K.J. stayed for five years. She didn't play a lot coming in freshman year, and those two both just battled and fought through adversity, and they stayed with this program to end up here and to take us to two ACC's and take us to the Elite Eight. And then Raina coming in for just two years. She didn't know what she was getting when she came for just one year and then got her graduate year too. The impact she had on this program was exceptional. She took us to new heights. I think every single person leaving this team has contributed a lot to it. There's also still a lot left on the team, and I think Jakia has got some big shoes to step into.
JBT: I love my teammates. I love especially the seniors. I've been playing with them for a while. They play hard. They help us, they help me. They've been helping me since I was a freshman. They just taught me a lot. I learned a lot from them.
Elissa, you guys didn't have the greatest first half tonight but you fight back and force the overtime. That's something you guys have done consistently, not just this year but the last couple years. How fitting is it that you kind of went out fighting and went out punching with this group?
EC: Yeah, you know this team has absolutely no quit in us. I think you can see that even if we start off a game bad, not hitting shots or something, we're not going to give up. I don't think for a second on that court we gave up or stopped fighting. That's just something we instill in each other. We know who we are and we know what people we are, and we aren't going to give up for our team.
Jakia, Kai wasn't having a great game and all of a sudden hits that three-pointer in overtime. Can you talk about the confidence you have in her and what she gives to the rest of you?
JBT: Well, we know everyone on our team can shoot, including her. She was open, we ran a play specifically for her, and she took a shot. I took the shot, I was open. I'm sorry, I'm really upset.
Obviously, the WNBA is next for you, and I'm just wondering if you could take me through what you're bringing to the league and specifically how much you think the toughness you showed tonight is kind of your carrying tool, the number one thing you want to bring into the league?
EC: I'm just excited to have that next step available, and I'm just going to bring everything I can. NC State has made me into a great player, a great person, and instilled hard work into me. So I'm just going to carry that through basketball and just through the rest of my life.
Elissa, you said Jakia has some big shoes to fill now that everyone is leaving. As a senior going out, what would you tell her about next year, how to lead this team and follow in you guys' footsteps?
EC: You know, K.J. kind of said this in the locker room. This team has a very selfless identity. We don't care who gets the shine. We don't care who scores what each game. I think keeping the identity of this NC State program, we've never been one to boast about our own selves, though. I think Kia is completely capable of that and I think from a leadership standpoint, she's got to make sure everybody understands Coach Moore, understands what he's asking, and knows that if you put in the work that he asks for, you're going to see the results.
How much do you ladies -- I know you were ranked the No. 1 seed and I know from the way you play, you played like you knew you were a better team then maybe some people on the outside may not have seen because it is the bracket that UConn is in. How much did you use that as motivation, like when you come in, like us against the world? It kind of seemed like that tonight. It didn't seem like you were an underdog, it looked like you were coming in as the No. 1 seed and you were looking to win and show why you are.
JBT: We knew it would be hard coming in. Getting this far in general is hard. I know everyone was saying that it was UConn's backyard or whatever, but we just came out, played for each other, and we gave it all we had.
EC: Yeah, like we were No. 1 seed for a reason. We proved that over the whole course of the season. I think coming in here we knew we were capable of. We were supposed to be a No. 1 seed, and so we came in with that attitude.
It felt like it was a title fight; both teams were throwing punches and you guys had the punch at the end of the first overtime to send it to another one and they seemed to have one extra punch with Paige. Is that kind of how you saw it in a sense?
WM: Yeah, you know, as you said, we kind of fell behind again and had to dig ourselves out of a tough situation. I'm really disappointed I didn't call another time-out there at the end of regulation. It's touchy there, was a tie game, so you don't want to leave time on the clock for them to have a chance to win it in regulation, but we should have got a better look than we did. That's what I'm going to have to live with for a while. I wish I had that possession over. But like I said, I couldn't be prouder, as you mentioned, just a battle back and forth, and not letting the crowd or the name on the front of those jerseys bother them, faze them. They just came to play, and they're unbelievable. I mean, it's just -- can't say enough about them. Just the journey, again, they're great kids. As good a basketball players as they are, they're better people. Like I said, it's an honor to be with them, work with them.
You guys were down 10, couldn't buy a three, and then Diamond [Johnson] hits the two shots at the end of the third, start of the fourth. Seemed like the mood in the building really changed. Did you get the sense you weren't going to need another comeback at that point and you might be able to carry that momentum through the quarter?
WM: Yeah, I don't know, like I said, they're such a great team, they're so talented, and you know they can flip it on you in a hurry. And you're right, Diamond hit a couple of big shots there and switched the momentum for us. But yeah, again, you knew it was going to be back and forth. They were going to make runs. Like I say, we didn't do a very good job on Paige Bueckers. 10 out of 15 shots, you've got to try to make somebody else shoot it, and we didn't quite get that done. But they're a great team. The thing is they played all year long without Paige Bueckers and then they got her back, and Fudd was out a long time, also. You know when everybody is healthy they've got a shot to win it all. It makes it that much harder to swallow when you didn't quite get that done.
The journey that you guys had this year, I know you didn't get the result that you wanted, but what does this year do for you and the program and the seniors you had on this team and what they've done to build this into a national brand?
WM: Yeah, what a legacy they have now. Again, another step would have made it a better legacy. But definitely got all effort and heart that you could ask for out of them. But yeah, I can't say enough about that group and what they've done, not only hanging banners in Reynolds Coliseum but also just the lives they've touched and the people that just have really bought into our program and all. I don't know, we're losing four great players, so I'm probably fixing to get dumb in a hurry. But for a few years there, they've made us look pretty good.
Was there something specific that you thought -- I know you mentioned Paige, but was there something specific you thought made the difference down the stretch in those overtime battles, either something that UConn was doing or that you all failed to do?
WM: Well, I think first of all, again, we needed to get it out of her hands. That's what we tried to do against Notre Dame late in the game Saturday was we tried to make somebody else hit a shot besides Olivia Miles. And tonight we were going to try to trap her some, try to ice her on one side of the floor, and we just didn't get it done. I'll have to go back and look at the tape before I can really speak on what happened. But I think we went into the game and we knew it was about possessions. You look at the turnovers and the rebounding and the results from it, they outscored us 14-3 off second-chance points and they outscored us 16-6 off turnovers. That's 21 points. If we could have done a little bit job there, if we could have handled their pressure a little bit better, and took care of the ball. I thought the first half we were uncharacteristic. I look up, I see somebody throwing it in that hadn't thrown it in all year. I see us trying to in transition throw the ball to spots that we don't need to throw it. I just thought we were a little out of sync. Fortunately they were able to turn that around in the second half. We were 1-for-10 in the first half from three, and we knew we could turn that around, as well. They don't blink. They keep coming. Couldn't be prouder of that.
I was wondering, I asked Elissa about the graduates that were leaving. She talked about everybody. She kind of elaborated on her, but given an opportunity now coming from somebody else because she didn't -- because nobody else had an opportunity, I was wondering if you could speak a few words about Elissa, everything that she contributed.
WM: Yeah, wow. When we were recruiting her, we knew in our system, the way we like to play, that she could be really good. She jokes about my accent and me saying on the phone, our four out, one in system, you're going to be really the key, the center point. But she's been so much more than that. That's what makes everyone around her better, because when she's scoring inside and when she's doing those things, then that opens things up for everybody else and people have to focus on her, they have to pick their poison, are they going to double her and leave shooters open or are they going to go one-on-one and let her score. She's kind of what our offense is built around. But just in every way, she's been -- you wouldn't believe some of the stuff. She'll go see a kid play high school or bitty league or something, just show up just to make them feel good. She's been very active in our Pack United on campus. Just every phase, she's such a great person. That's what makes everybody follow her, because they know her heart is in the right place.
I wanted to follow up on that, about Elissa. I'm curious what you made of her physicality tonight, especially against Olivia Nelson-Ododa and Aaliyah Edwards and how you've seen her grow throughout her career and how you assess her WNBA readiness.
WM: Yeah, I thought she kind of got off to a slow start. The first half she kind of struggled at first with that physicality. She just kept coming, and she sometimes early in the game maybe is a little too excited, has to slow down some. But I thought she got settled into it. The next level, I hope they -- sometimes in the WNBA it's more of a five-out system, which she can definitely step out and shoot the three, but I just think she is really effective scoring inside, as well, and hopefully she'll be in the right system that allows her to use her full repertoire offensively. Again, I'm sure she'll continue to get better. She's been that way with us. I think she now runs the floor better than ever and things like that. She just worked really hard on every aspect of her game.
You've referred to UConn maybe five times as being a great team, but not to your own team as a great team, which it is. One of the key stats is you guys shot 48.5 percent against the second-best defense in the country. I don't know when the last time somebody shot close to 50 percent against UConn, but it was a long time ago.
WM: Well, again, I think their defense sometimes gets overlooked because they're so efficient offensively. But that's why I've said, I think they're so good on both ends of the floor. You've got some teams that are really great defensively, but I don't know if they can score well enough, and then other teams maybe can score but can't stop people. I think they can do both, so I do think they're great. But oh, heck, we just saw, this team just came up here essentially on the road and gave them everything they wanted. So I don't have any doubt that I've been blessed to be around a great team. Like I said, I said great players but also great people. We do have a great team. I think character and those things matter, and tonight that character almost got us over the hump because a lot of teams in this environment down 10 would have packed it in. They just don't -- their heart doesn't do that.
On the TV broadcast after the game, Geno [Auriemma] spoke very highly of you and your program. Did he say anything to you after the game when the celebration was going on, and if so, what does it mean coming from someone of his stature to pull you to the side and compliment you on your program?
WM: Yeah, he was just very complimentary of how this team fought. Yeah, I mean, he's a legend. What do you say? It was an honor to go against, but again, it's the players, and they're the ones that make the plays and that put on the show for everyone. You know, again, I have so much respect for him and what he's built here and the success that this program has had over such a long period that that's what makes you want to win even more, when you have those opportunities.
Never miss the latest news from Inside Pack Sports!
Join our free email list