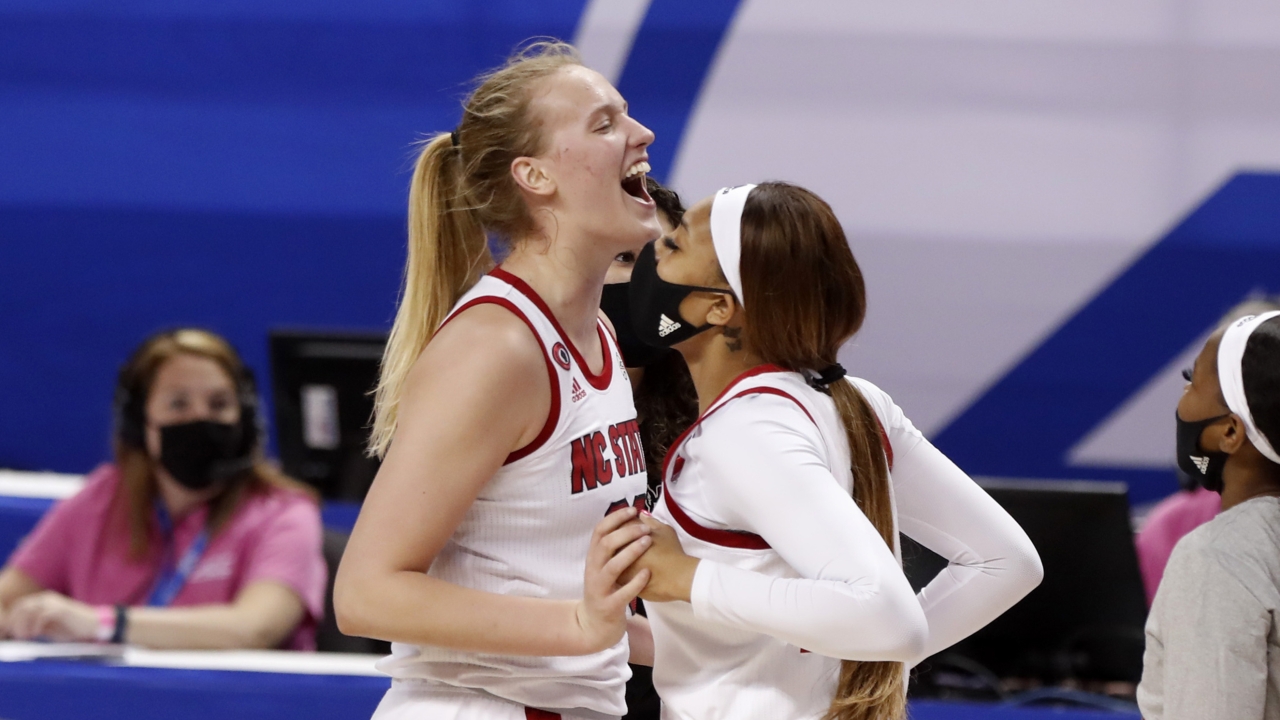 Photo by Ethan Hyman, News&Observer
NC State Women's Basketball
Cunane: "We're going to bring it"
---
NC State center Elissa Cunane and forward Jakia Brown-Turner met with the media on Friday ahead of the Wolfpack's upcoming Sweet 16 game against Notre Dame.
---
On what's changed about the team since the last time they played Notre Dame...
BROWN-TURNER: After that game I think we learned a lot. I think we learned how to play together and do the things that we do, like playing inside out and getting stops on D. So I think playing our game was the biggest lesson from that loss.
On if the program has to make a Final Four to be considered an elite program...
CUNANE: I think it's one of our goals for sure, however you want to consider our program. I think internally it's something that we all want and we're all fighting for. I think we've made this team great along the way with our championships, but I think it definitely is time for us to take that next step past the Sweet 16.
On being the No. 1 seed in the Bridgeport Region with UConn as the No. 2...
CUNANE: You know, we're going to take the games one step at a time and we're going to have a winning mentality with whoever we step on the court with. It doesn't matter where we are, who we are, who we're playing against, we're going to bring it.
On if playing Notre Dame is easier because they're a more familiar oppponent...
BROWN-TURNER: Well, first, no game is easy. We are going to prepare. We know they're in our conference and this is one of the main games that we really were looking forward to getting revenge back. We know we're going to have to play hard. We looked at the film and we know what we need to do, and we're prepared.
CUNANE: Yeah, I can second what Jakia said. It's not easy to play a team and it's almost harder to play them twice. I think playing another team from our conference, yeah, we're familiar with them, but we lost when we played them before, so I think it's going to be a tough game to come out for.
On how to draw from the experience of playing in the Sweet 16 before...
BROWN-TURNER: Well, we know the loss in the Sweet 16 was heartbreaking and we don't want to feel that feeling again. We know we've got to come out and play tough and play hard and just play our game and win it.
CUNANE: Yeah, I think what that looks like for us is really focusing game by game, looking at it on the scout, focusing on every little thing we can do. I think it starts on defense for sure, box-outs, rebounding, the little things, going for 50/50 balls. Starting the game just strong, even if our shots aren't falling, attacking, trying to get to the rim or trying to force stops on defense. It's all the little things that make up a toughness game.
On what Cunane has learned this season from being a focal point for defenses...
CUNANE: Yeah, I think it's something that I've just had to learn from and develop from, knowing when teams focus in on me more, we have four other scorers on the court. So learning how to pass out to them, knowing where the double-team is coming from and then knowing my teammates' strengths, knowing who's going to cut to the basket and where I can find them at. I think just knowing when they double-team and when their defense is good inside knowing that that opens up the outside.
On what the pace of play will be like against Notre Dame...
BROWN-TURNER: Yeah, I definitely think that we need to play our game, look at inside out and getting it inside and then looking to pass -- for the post player to pass it out and just moving around the court and just taking good possessions.
On how a deep NCAA Tournament run affects potential NIL prospects...
CUNANE: Honestly, yeah, I think there's been a lot of opportunities over the entire season. I haven't really looked to see if they've increased over the tournament these past couple weeks. But for me, I'm just kind of focused on basketball right now. There's a lot going on besides basketball, like school and just life. For me I haven't really focused on it. I'm here to play in this NCAA Tournament and that's my main focus in life right now.
BROWN-TURNER: Yeah, I'll have to agree. I'm focused on basketball right now, and hopefully the opportunities that have come to me understand that as a basketball player. I'm just worried about the tournament right now.
On if they've gone back and watched last year's Sweet 16 loss...
BROWN-TURNER: Yes, we definitely -- well, I've definitely watched the game over, and we just didn't play hard enough. Indiana, they outworked us, and I think this year we know that we have to play hard, we have to play defense, we have to get offensive rebounds. Like Elissa said earlier, we have to do the little things in order to get to the next step and to keep winning.
CUNANE: Yeah, I second that, as well. Definitely watched the game, and it was tough. Tough heartbreaking. It makes you want to get out on the court and play more basketball. I think that's kind of fueled us to be where we are now and just knowing that I don't think we had the identity as a team as we wanted to have that game that we've had this season and doing the little things.
On what the team's identity is...
CUNANE: I think we're a tough team. I think we're an offensively-minded team. I think whenever we come out, our offense is usually there in games. So I think this year our focus has been to really be a defensive team, to come out from the jump, to get stops, to get rebounds, and to limit the other team of what they're good at. If we know someone is a three-point scorer, trying to stop the three-point; if they're a driver, try and not let them attack. I think our identity has been an offensive team, but this year it's kind of shifted to a defensive team, and we're going to come out and jump on you.
On if they feel like they're getting more support from the NCAA this year...
BROWN-TURNER: I definitely think it's definitely better than last year. They've been giving us gifts -- that's not really -- they've been giving us gifts, and they've just been supportive. You see it everywhere now, and people are constantly talking about it and getting more people to look at women's games. I think it's improved since last year.
CUNANE: Yeah, I think it's improved, as well, and even just the buzz around women's basketball is growing and it's because people realize that we are full of talent. I think in the future everyone just like continuing to speak out and stand up for themselves is going to help us just continue to move forward.
On what matchup is going to determine who survives and advances...
BROWN-TURNER: I think the matchup that is going to win every game is the team that's the toughest that day, that's going to score and win the game, and that's going to be us.
CUNANE: Yeah, I think just like being locked in, taking it one game at a time.
On how they feel like their point guards are playing right now...
BROWN-TURNER: Well, I think they're playing great. They've been playing great all season, and they help us -- they bring the ball up the court, they make great plays. I trust them, so I think we're going to go far with them.
CUNANE: Yeah, I think Raina [Perez] has the experience of being in the tournament, and I think Diamond [Johnson] has the confidence to be here. Even though she hasn't been with us the past couple years, I think knowing that she has the confidence to come in and do what the team asks of both of them.
Never miss the latest news from Inside Pack Sports!
Join our free email list