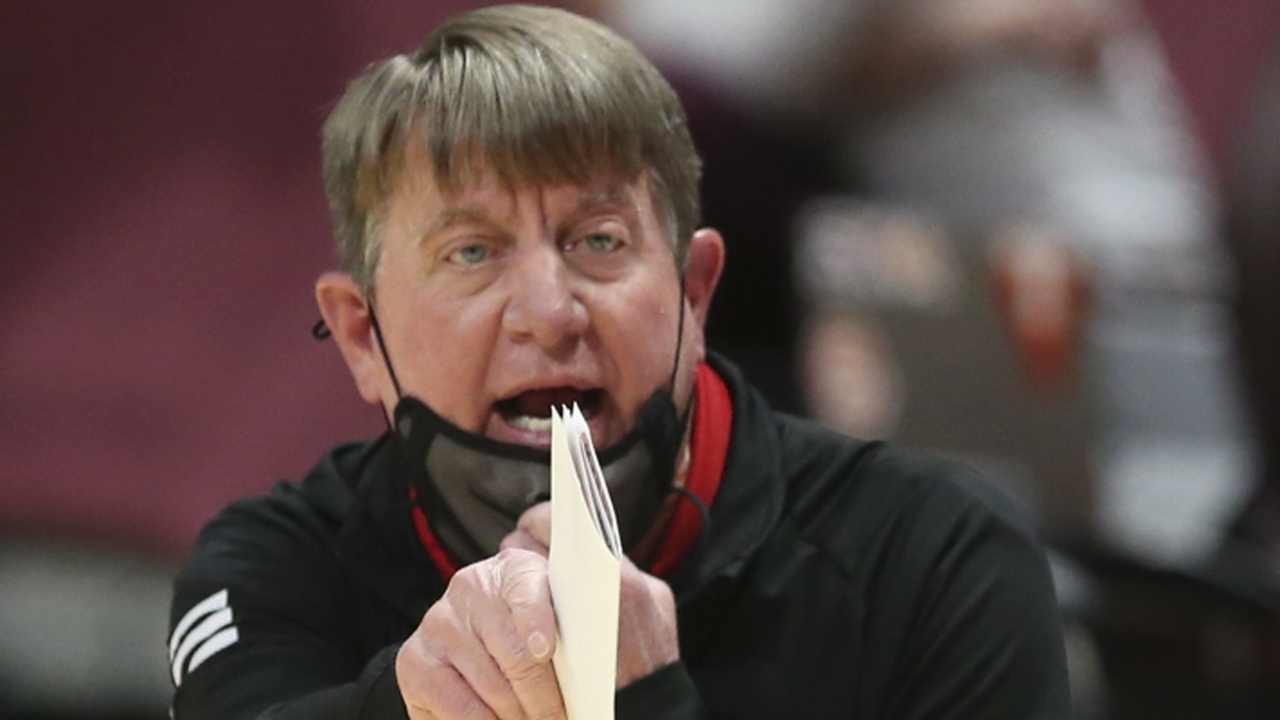 Photo by (AP Photo / MATT GENRTY, The Roanoke Times, Pool)
NC State Women's Basketball
Moore: "We need to take another step or two"
---
NC State head coach Wes Moore met with the media on Friday to preview the Wolfpack's upcoming Sweet 16 game against Notre Dame.
---
Opening statement
We're excited to be here, obviously. Getting here is not easy, so I'm proud of our players and what they've been able to put together. Obviously we're facing a familiar foe, so we know it's going to be a challenge. We know how good they are. Hopefully our experience from the past few years will benefit us here this weekend.
On how the team has changed since its last loss of the season, to Notre Dame...
Well, again, I like the way we're playing now, obviously, but you have nights. We didn't shoot the ball particularly well that evening. We missed some shots. But, again, you've got to give credit to their defense. But Dodson is who really, I thought, hurt us in that game in particular. We didn't really have an answer for her. I think she got seven offensive rebounds. We've got to do a better job in that regard.
I just think this time of year, and I say it all the time because I was around Pat Summitt some in my early coaching career, she would say offense sells tickets, defense wins games and rebounding wins championships. We've got to be a great rebounding team this weekend if we want to be successful. I think transition offense and defense, hopefully we've gotten better in those areas, but we're going to continue and need to grow.
I just think at this time of year, too, I think we learned it last year, you've got to have a lot of toughness, and so hopefully the experience we have on our roster will help us in that regard. We're going to have to -- it's win or go home now. We've got to really bring it, I think, every possession of every game.
On if it's easier to play Notre Dame because they're familiar, and what makes Notre Dame go...
Yeah, they have been. Yeah, I think as far as making it easier, it maybe makes it easier on the coaches because you already have film and scout and things like that, and obviously head to head -- in our case we lost, so we need to look at everything we did and adjustments we need to make. Then I just think Notre Dame is a young team, and so I just think they've continued to grow. Ivey has done a great job of bringing them along, and they've got so many weapons.
Olivia Miles makes them go, just transition and penetrate and kick. Mabrey, if you give her the smallest gap, she's going to knock down a three. I think seven threes in the last game. Citron to me is one of the best freshmen in the country, as well, somebody that you really have to account for. Westbeld, Brunelle, those two at the 4 position both deadly, and like I said, Dodson is the one that really hurt us the first time. I just think they're all playing better collectively and hitting on all cylinders. You're going to have to defensively be really locked in on strengths, and they've got a lot of strengths so that's a big challenge.
On how playing in Bridgeport with UConn in the region affects things...
Yeah, right. Where else would you want to be, right? I mean, heck -- I've actually been up here before when I was at UT Chattanooga, and this is how old I am, I'm trying to remember if this was the exact place we played. I think it was. So I've been up here before. They love their basketball up here, so I know there's going to be a lot of energy and all that, but we've got to worry about Notre Dame. We lost to them earlier, so we've got our hands full. Our focus right now is on that game.
On what he takes from Notre Dame's big game in the second round...
We'd better guard better than Oklahoma did or we're going to be in for a long night. Again, they've got a lot of weapons, and when they're all hitting -- let's face it, that's why you play these games. Otherwise you just throw stat sheets out. You've got to go out and do it that day. You're right, Oklahoma ran into a juggernaut. We've just got to try to, like I said, take away some of their strengths and slow them down a little bit and hope we're playing well. At this time of year that's what it's all about.
On what factor pace of play will play in the game...
Well, like I say, Olivia Miles makes them go, but Dodson will go out and go, run to the rim. Westbeld, Brunelle, Citron, they all get out and go, and then you've got to worry about Mabrey getting down the court spotting up for the three. Transition D will be critical. We've got to try to get back, match up quickly, and try to stop the ball and make them get in the half court. Because, like I said, as you mentioned, they played really well in transition, and I think that's their best offense. Got to try to slow that down.
On how to stop Notre Dame from scoring inside the paint...
Well, like I say, Dodson is a great player and she really had her way with us last time. It's tough because they also have great shooters around her. It's not like you can help off and cheat somewhere because if you do, they're going to have open threes. Mainly you've just got to -- your players have to really have a lot of energy, a lot of urgency, trying to help in, close out, recover, maybe dig, whatever, pressure the ball a little bit more so the feed is a little bit tougher. But then keep her off the glass. Like I said, seven offensive rebounds against us last time. Most of those result in points when she gets those rebounds. Got to do a better job there and just battle. She's a great player.
On if he and the team went back to watch last year's Sweet 16 loss...
Yeah, we haven't gone back and watched it in a while. We did look at clips early in the season and talked about it a little bit. But no, I think they all -- again, we have three players that chose to come back for their fifth year. I know a lot of that had to do with me, getting to spend an extra year with me. I'm sure that was it. No, they want to rewrite the last chapter, so that's why they came back is for this opportunity. So I think they understand what it takes.
I thought Indiana was tougher than us a year ago, just to be real honest. I just thought they took it to us and they had a veteran team and they were hungry. Hopefully that experience a year ago and then also really working all year long to get back to this point will be a benefit for us.
On how he thinks NIL is affecting players' mindset and recruiting...
Yeah, you know, I think the NIL is a great thing for the student-athletes, for them to have opportunities to benefit from their achievements and accomplishments. Obviously as a coach, we're supposed to kind of stay out of that. We're not supposed to have -- we're definitely not supposed to use it for recruiting or enticements or anything like that. I know Adidas who's our sponsor just came out with an NIL program for our student-athletes, and I think it's a great -- like I said, a great trend. I think in any situation, the more you win, the better. If that opens up opportunities for them, I think it's a great thing.
On if the program needs to reach a Final Four to be considered elite...
Well, I think that's fair. I think we need to take another step or two. We understand that. It's nothing to take away from what this team has accomplished. To win an ACC regular season championship, to win the tournament, as well, to have the No. 2 NET in the country - we played an unbelievable schedule. Nothing is going to take away from that. But I agree we need to take another step or two, and again, that's why a lot of these players chose to come back for their fifth year to try to make that happen.
On what his team's experience looks like on the court...
I think it shows up in confidence, not panicking, even if you get off to a slow start or whatever, believing. This team last year went to South Carolina and to Louisville, both of whom were ranked No. 1 in the country at the time and won. So I think they've experienced that. This year we went to Indiana, we played a great schedule, so I think you draw from all those experiences. And like I said, the ACC, you look at it, we've got four teams in the Sweet 16 still playing, so I think the night in, night out challenges that you face there, I think all those things are a benefit. Just like I said, just playing together and being on this stage for four and sometimes five years, I think hopefully gives you a certain level of confidence.
On what a tougher NC State team look like and who leads the way for the team being tougher this year...
Well, I think it's a team -- I think it takes the whole team. At this level, one or two players getting it is not going to be enough. I think the toughness shows up defensively being locked in and just little things, beating people to a spot and making them shoot jump shots instead of lay-ups, boxing out every possession. Just being on edge, ready to pounce, ready to make a play when the opportunity presents itself. Just physically, mentally being able to rise to the occasion.
Never miss the latest news from Inside Pack Sports!
Join our free email list