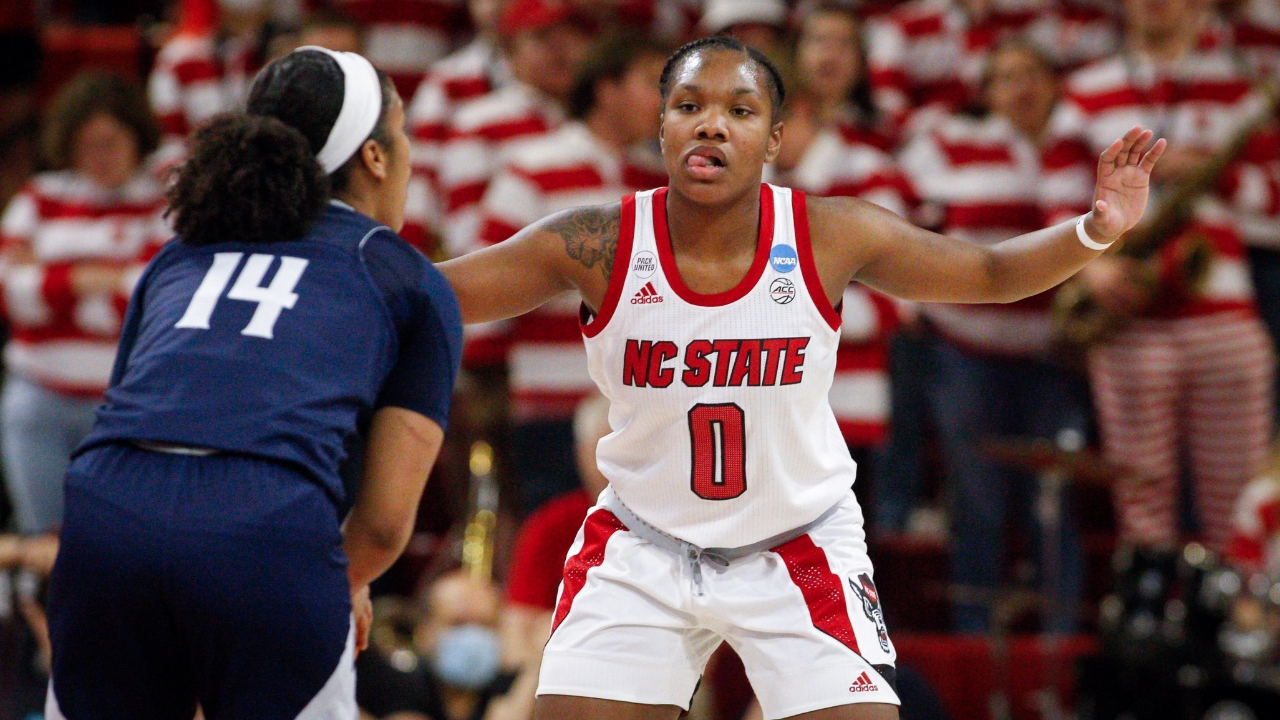 Wes Moore
Cunane & Johnson
NC State Women's Basketball
WATCH: Moore, Cunane, Johnson Preview Second Round Matchup Versus Wildcats
---
No. 1 seed NC State head coach Wes Moore, center Elissa Cunane, and guard Diamond Johnson met with the media ahead of the Wolfpack's Monday afternoon matchup versus No. 9 seed Kansas State.
NOTE: Click on each respective thumbnail to watch each press conference in the player above.
---
Elissa Cunane & Diamond Johnson

Elissa, I was wondering, you know, kind of during the season you're somebody who watches other games in your off time, do you pay attention to what the other top players around the sport are doing?
EC: Yeah. Yeah, I do. I watch as many games as I can and just highlight film and all that. You can always learn from other players and different match ups that happened. Like, oh we played this team and this team is playing them. For sure. I think I stayed up until 12 o'clock last night trying to watch all the women's games going on. I try to watch as much basketball as possible.
So did you watch [Ayoka] Lee's 61-point game against Oklahoma? What did you think?
EC: I didn't but we have the clips ready to watch them later.
(Laugher)
Elissa, we talked to Kai [Crutchfield] and Kayla [Jones] the other day and they were talking about when you go into an aggressive mold, it's like okay there she is. You've been scoring a lot of points in the last few weeks. Have you felt yourself being a little more aggressive offensively and trying to find your shot a little bit more?
EC: I think so, a little bit. I know that every single person on our team is capable of scoring, but then obviously everybody has their off nights. When it's time for me to step up and have an on night and score more for the team, I'm ready for that. If it's a night where everybody is spreading around the scoring, I'm ready to play that role, so it's kind of whatever the game calls for.
Diamond Johnson, is this everything you expected when you transferred from Rutgers? Are you where you want to be?
DJ: This is definitely everything I wanted. I wanted to play on the big stage, play with great players, play for a good coach. We are finally here. We have been talking about March since the beginning of the season. And we have to take it one game at a time. We're ready. I feel it.
Diamond, this is for you. Coach Moore talked about -- he's talked about it all year. Not only you but Jada [Boyd] accepting the role of coming off the bench. Everybody wants to start. Kind of talk about that buy-in and accepting that role and responsibility of being that person coming off the bench and providing the spark.
DJ: Once I knew what my role was, I try to do the best that I can in it. There's days where I feel off. I got to play that role for my team, not be selfish. It's been good to me. I honestly like it. We need spurts off the bench, keep the momentum going, that's what I try to provide for my team. Do a little bit of everything. That's what helped us get here. Everybody played their role, and played it right. That's why we're here today.
Elissa, looking back at the box score Ayoka had 19 against you in the earlier match up. A lot of those came late after the game was decided. What did you do defensively to neutralize her, and what do you have to do this time? How have things changed since that game?
EC: We're going to keep it pretty much the same. We kept her below her average, I remember that game. And obviously we came out with a W. So I think just focussing whether we're going to be in front, behind, three quarters. Whatever we're going to do defensively just buying into that and fighting every single possession. I remember last game letting up a little in the fourth quarter, I still think about that to this day. Battling through every possession throughout the whole game will hopefully keep her under that.
Elissa, this is a follow-up to the question for Diamond. Coach Moore said a bigger difference is having the bench, having more depth. Can you tell a difference in having -- I'm not saying low quality reserves -- but reserves who could be starters? Has that been a difference for the team this year?
EC: It's huge. Not everybody is going to have a good night. It's basketball. There's bad nights. When you have someone who is having an off night and you have someone like Diamond who can come in and score a bucket as soon she touches the ball, you know. That's going to help our team out. Foul trouble, just being tired, off nights. Whatever it is. And then you also look at it in practice. You got Diamond and [Raina Perez] going against each other every day in practice. You have all of us playing against each other in practice just makes our team better as a whole. Wanting to be in that starting position or even have more minutes. Everyone has to fight for minutes on the team. Everyone is always battling. And there's never an easy day in practice or an easy day.
Diamond, you said earlier you kind of like it. Do you see a difference watching the game starting from the bench, and you break it down different as opposed to starting right away on the floor.
DJ: I get to see different things. I try to tell them from the sideline what's going on, whether they helping, over-helping, doubling the post or going under screens. Just trying to tell them to make the read. When I go in I try to adjust and do what I've been telling them to do. It's definitely a blessing to see what they don't see sometimes.
Elissa, I want to talk with you, because I've been following two of your assistant coaches, Erin [Batth] and Nikki [West], who both were great post players in their day. And I believe this is the first time that Erin has been able to coach someone for all four years, which is you. I know she was big in your recruiting. So what do those two mean to you, having their experience playing your position in the ACC, and what have you learned from them.
EC: Honestly, E.B. has been here the longest for me, and she's the one I watch them with. And she's the one that tells me to go up there and watch film with her and I ask and she's always like, yes, yes we can do everything. And she's the one in the gym with me too. If I ask her for a workout, or we watched the game and be like let's work on that tomorrow. She's always the one, making notes for me during the games and in practices and helping me out. Coach Nikki is almost like -- almost like a good-cop, bad-cop relationship. Coach Nikki is going to yell at you and tell you to do it. And E.B. is going to be the one to coach you along a little bit. The dynamic of them, they just help me so much. I'm super thankful, and I get almost emotional when I think about her being here for all my four years, and really being solid over the four years.
Elissa, Camille [Hobby] has gotten better and better as this year has gone along. For you, how have you seen her game grow through the last couple years?
EC: She's probably one of the most competitive people on the team. Even in practice, she's not going to let someone try to block her shot or score against her. She's taken her role into her head and been like, I'm going to play my hardest and do what I can with her minutes. And also just in practice battling it out. That's one reason I've gotten better over my years because I had to go against every day in practice. And every time she comes in, she does great. If we're in foul trouble or anything, we'll just pick up and there's no drop off. I think she's going to be a really great player.
Diamond, one thing I noticed looking at Kansas State's roster, their guards are pretty tall and long for the guard position. I think they are all about 6'0" or 6'1". What kind of challenges does that present for you, or do you see that as an advantage if you can be quicker?
DJ: I basically been playing against taller guards all my life. So that was good. But it's definitely a challenge. They longer, lanky, you know, but I do have quickness to get a step ahead. Playing against taller guards make me better, makes me focus on my shot more, creating space more. I like playing against taller guards, even in practice, everybody is taller than me expect for Raina. She thinks she's taller than me but she's not. Even in practice I try to guard someone like Jakia or Kai so I can learn how to guard bigger guards more. It's definitely a challenge, but it's been good to me going against taller guards.
With Raina, I think she is perhaps one of the most underrated point guards in the country with what she does. She played basically a perfect first half yesterday. Diamond, what is the benefit when you get to play together, and just overall do you feel like Raina gets the credit she deserves?
DJ: Playing with Rai, I love playing with her. We know where each other are on the floor, we get out in transition, pass the ball up the court. Whenever she's tired, someone is pressing her, I come help her get the ball and vice versa. Rai is definitely a good point guard. I think she don't get as much credit as she deserves, but she's really solid. She probably one of the best point guards I saw. And this is my first year seeing her. I saw a little bit last year, but this year I actually get to see everything, everything in practice and in games. Rai is definitely a great point guard and I love playing with her.
EC: Yeah. I definitely don't think people talk about Raina enough. She's our point guard, number one seed in the tournament in the country. So I definitely don't think so. But I think she goes out there and doesn't care about that. She shows it every night why she's our point guard, and why she can do anything in the world for us. Whether it's points, assists, whatever role she needs to play that game. Yeah, I don't.
First of all, Elissa, senior Day was senior Day, you had a ceremony and everything. But you knew you would get more games here. Tomorrow is it for you at your career in Reynolds, do you have a favorite Reynolds memory? How do you process your emotions of playing your last game here?
EC: Yeah, for senior night, I did think, like, okay, yeah it is senior night, but we'll be back in this building. But I'm excited about it. And honestly my favorite Reynolds memory, besides games, I've had games and it's been loud in here. I still remember when I committed to NC State and came here eating a soft pretzel with my mom and dad and watching a game. I think that's a core memory of Reynolds, just watching everything play. It's going to be crazy, actually it being my last game here. I'm excited for it. I think the crowd is going to be amazing. We saw how many people showed up, sold it out for our first-round game. Reynolds is amazing, the people who fill it are amazing. So I'm excited for one last time.
Wes Moore

Opening Statement
Okay. Glad to be here today, obviously. Appreciate you guys being here. You know, we obviously played Kansas State it seems like a few years ago but it was a few months ago. It's interesting to see how they have evolved and got a lot of young players now in the starting line up and, of course, it's all centered around Lee. And trying to slow her down obviously is a big challenge, and then when they have a lot of people that can knock down threes around her, we know we'll have to play well. Liked the way we played yesterday. A lot of people get involved, a lot of people scored the ball, I thought we did a good job on the offensive boards which has been a point of emphasis and it's good to get back out there and play after being off almost two weeks. So hopefully we got the rust knocked off and we can come out and play well tomorrow.
Coach, you've talked all year about your bench, how it's been a big difference, talked about it yesterday. Diamond was a big player who came in, was all ten, started the first game. What was that conversation like when you had to transition her to a role player and come off the bench for the team?
Well, first of all I don't consider her a role player. You know, we just have seven or eight starters. But she's made it -- she made it easy on me. She's had a great attitude and you know, I talked to her early in the year about hey, why don't we -- this year, let's see if you can be sixth player of the year in ACC and she went out and did that. And I think she kind of liked the idea of having something there. But she's just fit in so well. And again, a lot of it has to do -- she's just a good person and has a good personality and loves the game, so that wears off on everybody else. And like I said, she's made it easy on me just by accepting that and when she's in there, when she goes in there, she gives us a big lift so it's worked out really well obviously.
Coach, the first time you guys played Kansas State, Lee really struggled until the fourth quarter, and by that point you were already up double digits. What was the strategy going in and what worked so well against her?
Well, I don't know. You try to make it hard for them to get it to her, but they are really good at it. I mean, that's what they do. So work inside-out. We prepare three or four different ways to defend her and you would love to just have to use one of them. But if that's not working then obviously you go to plan B and if need be plan C or whatever. So that's what we'll do today in practice is kind of reintegrate those things. But really at some point you have to just hope she misses a few because she doesn't miss very often. And she does a great job of burying, she got good hands, and has a nice baby hook which is really hard to defend. And offensive boards. She gets a lot of stuff there by being able to get position early and finish with the put-back. So it will take a team effort also. The guards are going to have to be really active and helping from the weak side and maybe digging down a little bit and so it's a team effort for sure, trying to slow her down.
Wes, earlier in Elissa's career I remember you saying that she needed to get more of a mean streak. And she has developed an aggressiveness over her career. What went into that process and do you see it really coming out more when she's presented with a challenge like [Virginia Tech's Elizabeth] Kitley and now Lee?
Yeah, I do think Elissa has a competitive streak in her and wants to perform well. So I think probably when she's faced with someone like Lee who is a really great player, definitely gets her attention. But, you know, I think Elissa has been pretty consistent throughout her career. Most of the time she's going to show up and do her thing. And I do think, you know, it's tough. You want to stay out of foul trouble. You have to make sure you pick your spots and sometimes you may just have to back off and all those things because we need Elissa on the court as well. So I think she's, you know, again, sometimes can be aggressive and go for the steal or whatever and you just have to make sure you stress to her, we need you in here over the long haul. You have to be pretty smart about it. Yeah, you know, again, her and Camille make a pretty good tag team. And also the guards. We have to have everybody helping on Lee. You realize she scored 61 against Oklahoma, right? That's what she's capable of doing. Definitely going to draw some attention.
I know everybody is talking about Lee. But [Serena] Sundell had a great game. I think she had 20 points as a freshman. How do you feel about players who have good games against you and familiar -- what do you feel about that?
She had 5 out of 11 threes in that game. I preached all week, we're going to make somebody else be the leading scorer against Lee. We did. Congrats, coach, great strategy. But no, Lee had 19 and Sundell had 21. So, you know, that's the scary part. I mean, it's hard to cover all of them. And obviously we'll try to do a better job on her and we'll have Kai matched up with her. But still when you're focused on trying to slow down a great post player it makes it a little bit easier for everybody else around them. So we got to play with a lot of energy, a lot of urgency, getting inside out, flooding down, flooding back out, all those things. So just got to be real active.
Coach, how has the step been received by the team and how is neighbor Ron doing? Can we get an update on him?
I haven't talked to neighbor Ron the last day or two. I know he was at the game yesterday. But the players -- they get a kick out of it. We were able to switch it over to Kansas State immediately after the game yesterday so when she got on the bus they could update that. It's been interesting to hear them talking about it, and they just say it reminds us that we need to just focus on one. Don't look at the big old bracket. It doesn't matter. Look at this next game. From that standpoint it's been good. Yeah, Ron, we appreciate Ron.
Wes, you mentioned Lee's 61-point game yesterday and today. I was wondering how much that game is a part of the scouting report and how much you focus on an outlier like that?
Yeah, well they played Oklahoma twice. The next time they played Oklahoma, Oklahoma switched up the way they were playing. It's interesting to see those adjustments and, you know, the thing is there's -- like I said, there's several ways of doing it. But you also got to recognize what are we good at doing? I like sometimes fronting, but we hadn't done a real good job with it. And I don't get it really because I just tell them, act like you are on offense and you are posting up. When they are on offense they know how to do that. But what's that you want them to do is really post up big, try to crab walk them down a little bit. And for whatever reason we stand straight up and they throw a lob and they go get it. But we -- you got to do what you do well but at the same time, like I said, you have to have a lot of options. Something isn't working we're going to try something else and hope one of them works. And again, great player and -- but a part of it too they have other people around her, as we mentioned Sundell hit five threes on us. They have other people that are capable of having a day like that. And that can mess us up your plans in a hurry. There will be fans up there yelling, why aren't you guarding her? Hey, we have to pick our poison here, you know.
Never miss the latest news from Inside Pack Sports!
Join our free email list