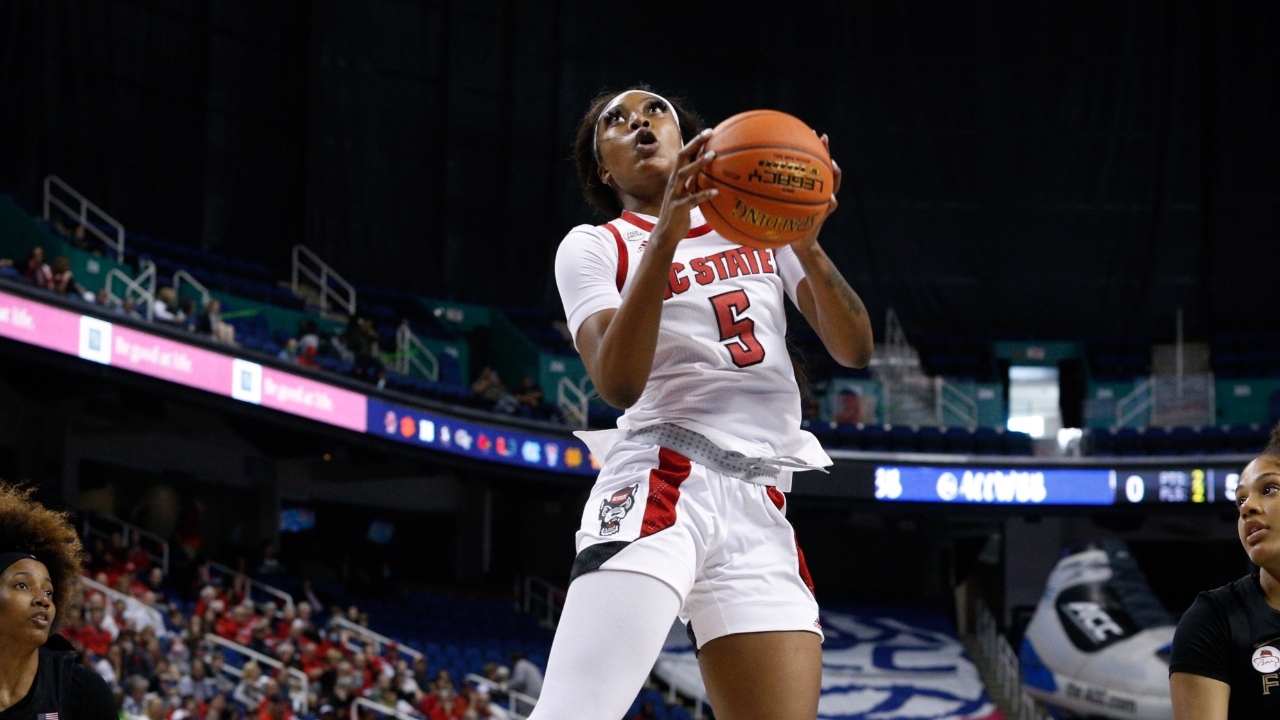 Photo by Steve Murphy/Inside Pack Sports
NC State Women's Basketball
LOCKER ROOM REPORT: Wolfpack advances to third-straight ACC title game
---
NC State head coach Wes Moore, center Elissa Cunane and forward Jada Boyd met with the media following the Wolfpack's 70-55 win over Virginia Tech in the ACC Tournament semifinals.
NOTE: Click on the video in the player above to watch the press conference.
---
WES MOORE
Opening statement
Well, first of all, I want to tip my hat to Kenny Brooks and Virginia Tech. Obviously they were shorthanded today with a couple of their key players injured, and yet they gave us all we wanted. I'm not surprised; Coach Brooks does a heck of a job, and his players are -- they're going to compete until the final whistle. Glad to get by that one. I told them afterwards, get healthy, get those kids healed up, and let's go make a run in the NCAAs and represent the ACC. I'm confident they'll do that.
Proud of our players. Again, it wasn't always easy or pretty. I thought we did a much better job on the offensive boards today. That's been something we've been trying to emphasize. Again, they made it tough on us, mixing up man and zone. And then when you have a lead and they're pressing, you've got to decide do you want to press the issue and try to score, but if you do that now, you're shooting quick and giving them more possessions. But I thought our players made good decisions and handled it well. Obviously Elissa [Cunane] playing here close to home has been really, really good; double-double, 20 points, 13 rebounds, impressive. Then Jada Boyd, I think the last month or so has been playing at a whole 'nother level. She makes a big difference for us when she is because she can help us on both ends of the floor, and just did a great job today, as well.
Again, but we had a lot of people. Raina [Perez], we kind of slipped up and let her get her third foul in the first half. That was my fault, our fault. We've got to do a better job of that, but Diamond [Johnson] filled in and then Raina gave us a big lift when she came in off the bench and hit some big shots. Again, great team win and proud of what this team has been doing. I've been riding their coattails now for four years, so it's been a good ride.
On how he thinks his team defended against the 3-pointer…
Yeah, again, they've got three of the best three-point shooters in the conference, maybe even four. I mean, they really do a great job of knocking those down. I thought we did a nice job of getting a hand up. We still have to get better at avoiding screens and being able to get back up. We also talked about allowing them to miss and trying to limit our fouls and their free throws. We knew they shot 22 free throws yesterday. Today they shot 16, so they did a really good job of spreading us out, and when they went to a little 5-out offense and attacking us in the gaps. It's just, they're tough. They're hard to guard because you've got to respect the three, but yet they're pretty good off the bounce, too. I thought for the most part we hung in there pretty well. It's definitely something we want to clean up in the next couple of weeks. But yeah, again, pretty nice job of limiting Sheppard's -- I think maybe the all-time three-point shooter. She's really, really good. I thought we did a nice job of getting to her and making it tough for her to get an open look.
On bringing Cunane out from the post in the third quarter…
Well, we felt like with the 4 player they were showing big a lot, really getting up there, so we kind of wanted to let our 4 player set the pick-and-roll. And then obviously Elissa shoots the three so well, got a lot of confidence in her ability to do that, so it gives us a chance. With Jada Boyd, when she's rolling in there, it's hard for them to contain her on the block or inside, and with Elissa knocking down the three. So we just kind of reversed roles a little bit. They also -- a lot of teams are going to double Elissa but they may not our 4 player, our forward. So kind of cleans up the paint a little bit for that person, and if you decide to help and double down, Elissa usually is going to make you pay. Yeah, just kind of role reversals almost.
On how the team defended Georgia Amoore…
Yeah, you know, again, as a coach you're sitting there, every possession is life or death, and I'm feeling like she's eating us up, because again, she gets to the rim, she knocks down the three. Kai was on her a lot most of the day, and it's tough because Kai, we're asking her to guard somebody that's really hard to guard from the three-point line all the way to the rim. I'm still on her all the time, one minute contain, the next minute you've got to get over the pick and take away the three. So you can't win, right? I thought she did a nice job on her, and again, that's kind of the way we try to roll is have her take on somebody that we really respect as a scorer, and we definitely do that with her. She still got double figures, scored 12 or whatever, but you're right, we made it hard. She had to earn them.
ELISSA CUNANE and JADA BOYD
On why Cunane's jaw dropped when she looked at the stat sheet…
CUNANE: Honestly, my jaw dropped when I saw I had four turnovers. I knew I had a couple, but I didn't know I had four. But we just pointed out like our points and our rebounds. I'm just proud of J.B. for coming out here, coming off the bench, getting 16 points. She just played amazing tonight, so I was proud of her for that.
On how much Virginia Tech not having Elizabeth Kitley affected the game…
CUNANE: It was just different. They were trying to draw fouls inside, so you couldn't really attack as much with Kitley there. You had to be a little bit more gentle with them. But I think also on the offensive end they were able to attack more, so being like a 5 player, we had to guard the 4 players a little bit more, like them attacking shooting threes. I think they still obviously played a great game. I think it shifted things. A little bit more mobile game, I guess you could say, but yeah, definitely missed her out there and hope she's okay.
On what Jada Boyd's mindset entering the tournament was…
BOYD: Just coming in with a dominant mindset, knowing that I know what I'm going to do and hoping to get to the championship. Just playing for another goal gives me confidence, and moving towards the goal feels good.
On Cunane's approach to beating double teams as the game went on…
CUNANE: I just had to slow down a little bit more. I think I got out of the control a couple times, and didn't finish as strong. So I just had to slow down and just go up through the contact and just finish better. I knew they were going to fall in the second quarter and beyond, so just be patient with that.
On what the season has been like for Boyd after struggling with an injury…
BOYD: It was a struggle mentally at first, but with the help of my coaches and teammates, they carried me along the way.
CUNANE: No matter when J.B. gets her minutes she's going to come in and dominate. So it's just what we need her to do, whenever she comes in, she's going to get rebounds and dominate points.
On if having championship game experience makes tomorrow's game any different…
CUNANE: We're still excited to be back. It feels a little different because we've had experience now. We've been in the big game, I guess, three times now, won it twice. But we still have to come out there with the same mentality. We have to dominate and we have to take it every game at a time. So we can't look past it and say, we've won it before so we're going to win it. No, we have to respect who we're playing and really study the scout and be ready.
On what helped the team dominate on the glass…
CUNANE: We saw in their game yesterday that Carolina got a lot of O-boards, so that's one thing that we've really been focusing on even the past couple months, just rebounds, rebounds. And I think without Liz in there, they didn't have as much size, so we knew we could crash and just try to get rebounds.
Never miss the latest news from Inside Pack Sports!
Join our free email list